Henry Winkler Is a Star on 'Barry' and at Katz's Delicatessen
Thrillist goes to the famed home of pastrami in New York to talk about his HBO show and meet some fans.
Photo by Noah Fecks for Thrillist
Photo by Noah Fecks for Thrillist
Almost as soon as Henry Winkler walks into Katz's Deli, the famed pastrami slinger on the Lower East Side, the crowd starts to take notice, and they are emphatically not shy about sharing their affection for the man who became famous as the Fonz in the '70s and now stars in HBO's Barry. He's happy to entertain them.
"I just met you last night," a woman says. She's in town from Pittsburgh and encountered him the previous evening at his other favorite New York spot, Burger Joint, an unassuming restaurant nestled in a Midtown hotel. In quick succession, a mother approached him. "My daughter is dyslexic and is really inspired by you," she says. He goes over to meet the girl. As we settle into a table for our photoshoot and interview, a Katz's staff member walks by. "How are you, Mr. Winkler?" he says. "My favorite guy."
Winkler doesn't want to create a scene, so he declines some selfie requests that come in the middle of our interview, but he does dole out compliments. "Are you a couple?" he asks one pair. When they answer yes, he responds, "You are the cutest." He can't resist offering the two guys at the table beside us for a photo when he learns they are from Britain. They came all the way here. They might as well get a souvenir.
According to Winkler himself, which role he's getting stopped for is a generational matter. To many, he's still Arthur Fonzarelli from Happy Days, but to the younger generation, he might be Coach Klein from The Waterboy or Barry Zuckerkorn from Arrested Development or Dr. Saperstein from Parks and Recreation. His series of books about a dyslexic hero named Hank Zipzer have reached young people who suffer from the same learning disability he has and their parents. Fans of niche alt comedy know him from Children's Hospital, and his supporters in the middle of the country, he says, like the travel-slash-reality show he did with George Foreman and William Shatner, Better Late Than Never. But in the third season finale of Barry, which airs this coming Sunday, he does what he says is the most intense work of his career in a one-take sequence set in a garage. "It is almost as if the drama gods waited until I was ready," he says.
Over the course of this run of Barry, Gene Cousineau, the pompous acting teacher played by Winkler, has essentially sold his soul. Gene's attempt to confront co-creator and star Bill Hader's titular hitman about the murder of his girlfriend goes awry, but eventually leads to Barry, in an attempt at retribution, getting Gene a bit part on a popular television series. Suddenly, Gene's long-dormant career has been revived as he's credited with helping rehabilitate a struggling veteran—Barry—through acting. So Barry killed the person he loved! Who cares? He gets to be a star again. "Honest to God, and not even trying to be cute, it is exactly America," says Winkler, whose Twitter account swings from progressive activism to fly fishing. "Money will move emotion out of the way."
The question Winkler says he asks Hader and co-creator Alec Berg at the beginning of each season is whether he is going to die. So far, Gene has evaded murder, but he's tiptoeing up to the edge. They are planning to start shooting the fourth season in August, which means Hader is busy planning what kind of man Gene will become. "I wanted to go to breakfast with Bill," Winkler says. "I said, 'Hey, you want to go to breakfast?' He said, 'I'm writing. I'm under the gun. We can go for a walk.'"
Winkler has learned to put his trust fully in Hader and Berg, whose instincts can diverge from his completely. "I get the script, I read it, and I think, 'I have a sense of what I'm going to do,'" he says. "And then you talk to Bill and/or Alec. Their thoughts were nowhere in my mind when I was doing my homework. And you learn, they are both at the top of their game and they are both creme de la creme, each in their own way." When I ask for an example, Winkler leads me in a quasi-acting exercise using a scene from Episode 6 where Gene's agent, played by Fred Melamed, breaks into his house and sits on his bed to wake him up and tell him good news. Winkler asks me what I would do if I was in that situation: "Would you remain lying down?" I explain that no, I wouldn't. "I thought for sure, 'I am now going to jump out of bed,'" he says. Berg and Hader told him to do the opposite.
While Winkler still has dreams of acting opposite Meryl Streep and being directed by Martin Scorsese, he's relishing the opportunity to work with filmmakers like Hader, who are just at the beginning of what are sure to be long careers. And likewise, these creators have seemed to recognize something beneath the lovable facade Winkler's projected on and off screen since Happy Days. He appeared in comedian Jerrod Carmichael's debut feature On the Count of Three in a small role as a child molester. As for getting into the psyche of the monstrous and craven: "I never think about it," he says. "It's my job." His job, he explains, is to further the visions of "geniuses" like Hader and Carmichael. He recently did a project with a first-time filmmaking team in Israel. "I'm able to hear, and then try and give them what it is they want," he says. "And I know enough now to be able to be part of that process. I adore it."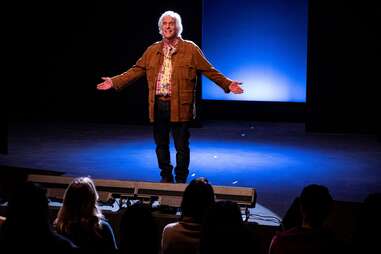 Winkler talks the way he prepares his Katz's pastrami sandwich, which he requested be "juicy": With experience and precision. He takes the top slice of bread off to liberally apply mustard and then reassembles it in an open-face style. "Otherwise I will never get it in my mouth," he explains. It's the kind of practiced work you only achieve when you've consumed too many of these delicacies to count. Sure enough, Winkler's image lives at Katz's multiple times over; he appears in a couple of the countless celeb photos that line the walls. Before he departs, he poses for a new snapshot with the current owner, Jake Dell, who inherited the place from his father and his uncle. Winkler has been coming to Katz's for decades. He recalls taking his Happy Days co-star Ron Howard here in the 1970s when they were working on the Garry Marshall sitcom that made him a star.
As we're wrapping up our chat, a couple comes over to ask for a photo, and he indulges. (He understands the impulse: He says he plans to ask country singer Brandi Carlile for a picture when he sees her in concert at the end of this month.) "I think you're the greatest television actor that ever lived," the man says. "And I think you're absolutely right," Winkler cheekily replies. They're from Oklahoma. That's where Bill Hader is from, he tells them, which they already know. "Can I just say, I'm very happy to meet you," Winkler says as they bid their goodbyes.
I ask him if he's honed his process for interacting with fans over the years. "I don't know what I would have done if I was not an actor, but I love being on the earth," he says. "And these people, look at that. How wonderful."