Hear Elisabeth Moss Rock Out in This Exclusive Track From Her New Movie 'Her Smell'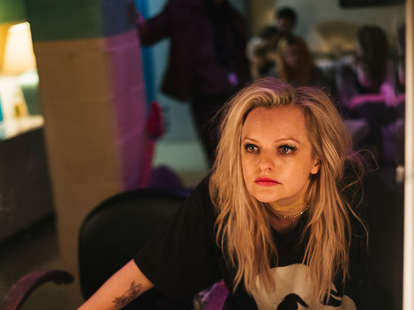 Gunpowder and Sky
Gunpowder and Sky
When Her Smell first introduces to Elisabeth Moss as Becky Something, the frontwoman of the rock band Something She, she's absolutely terrifying. Moss overruns green rooms and a recording studio as a monster in mascara, a harbinger of doom, speaking in a sort of cracked-out verse full of batshit prophecies. There's a horror movie tension to Becky's presence, and for almost an hour and a half it feels like it won't end. Becky seems hopeless, like she's destined to destroy herself and possibly everyone around her in the process. But then Alex Ross Perry's film veers in a different direction. It mirrors the five-act structure of a Shakespearean tragedy, but instead of continuing its descent into madness, it offers the possibility of redemption, maybe something resembling hope.
That's why there's something so thrilling in the grand finale song, "Breathe," which we're premiering exclusively on Thrillist. It's performed by essentially the entire female cast. Moss, Agyness Deyn, and Gayle Rankin make up Something She. Cara Delevingne, Ashley Benson and Dylan Gelula are the upstart Akergirls, who worship at Becky's feet even as she threatens to consume them. Finally, Amber Heard is Zelda, the woman Becky regards as a pop sellout.
The track is written by Alicia Bognanno of the band Bully, and it has an infectious punk rhythm and cathartic lyrics. In context, it's a love song between these women, who have all seen Becky at her worst. But there's also something fatalistic in the lyrics as Becky wails, "Nothing's forever, this much I know, this much I know."
While Perry was inspired by the path of Guns N' Roses, the music of Her Smell takes cues from Bikini Kill and Hole. Bognanno wrote all of the tunes that are meant to be Something She and Becky originals, though over the course of the movie the band also performs covers, including the opener, The Only Ones' "Another Girl, Another Planet." But the fun, fast rock of Something She and the Akergirls stands in contrast to Keegan DeWitt's throbbing score, which adds a layer of dread to the experience of watching.
Becky's frequently described as a Courtney Love-type, but she's thoroughly her own beast. There are a million things to say about Moss' performance, which is without a doubt one of the most impressive you'll see this year. (Academy, get over yourselves and take fucking note.) But is not just that she's good at ranting and raving, spitting out Perry's bizarrely poetic dialogue that veers from prophesying to nursery rhymes. Becky is an entrancing trainwreck, seemingly aware of her Lady Macbeth qualities and leaning into them. Still, it's what Moss does in the final two sections, after Becky has gotten sober, that makes the whole of her work so amazing.
When she's not under the influence of a substance, Becky loses her verbal flare. It's like her whole personality has gone acoustic. She's filled with regrets -- she's missed a chunk of her daughter's life -- but she also fears the impending threat of relapse. "I don't wanna quit, I just want to be in control of it," she sings about her recovery in a piece also written by Bognanno.
The entire sequence leading up to "Breathe" feels like it exists in Becky's nervous headspace, but it's a different sort of anxiety than the kind Perry cultivates at the beginning of the movie. All the bands are gathered to celebrate the head of their label (Eric Stoltz), and as Something She gears up to perform it's not a matter of what Becky will do, but what she won't do. Her demons are lurking around every corner, in the form of the booze, drug paraphernalia, and friendly fellow musicians asking if she wants to partake. She's afraid, disoriented, but also strangely zen. As a viewer, you worry that if the rock star comes out the monster she used to be might emerge too. There's a glint of that person in her eyes as she launches into "Breathe," but there's also a calm triumph as she jams out with the people who have stuck by her through absolute hell.