Jazz Legend Herbie Hancock Tells Us How He Wound Up In the Sci-Fi Epic 'Valerian'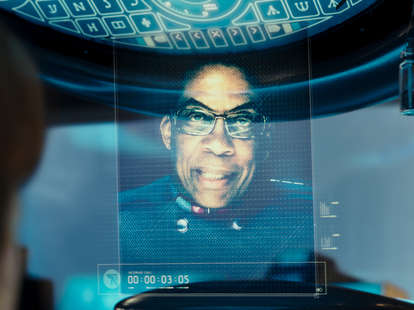 Valerian and the City of a Thousand Planets

| STX Entertainment
Valerian and the City of a Thousand Planets

| STX Entertainment
When Luc Besson offered Herbie Hancock a role in his nearly $200 million space opera Valerian and the City of a Thousand Planets, the pioneering jazz legend didn't need much convincing.
"Are you kidding? I'm a geek," the 77-year-old pianist told Besson, the director behind films like The Fifth Element and Lucy. "I naturally gravitate towards science-fiction films. That's the nature of my being."
Hancock's presence makes sense if you've seen Valerian: While there's a main storyline about galaxy-hopping special operative Valerian (Dane DeHaan) and his partner Laureline (Cara Delevingne), this is the type of movie where it's more fun to marvel at the margins of this coked-out adult coloring book masquerading as a sci-fi blockbuster. Alien critters shit out little glass pearls, Ethan Hawke pops up as goateed space-pimp, and Rihanna makes a show-stopping appearance as a shape-shifting burlesque dancer. The visual mind-fuckery flies so fast you might even miss Hancock's role as the city's put-upon Minister of Defense.
But if you've ever spent a few hours gazing at the vibrant cover art for any of Hancock's mind-bending classics like Head Hunters, Future Shock, or Thrust -- maybe under the hazy glow of a black light -- then the eye-popping world of Valerian should feel like home. It's unsurprising that Besson, a filmmaker who grew up in Paris with a love of scuba-diving and comic books, would find a kindred spirit in Hancock, an explorer of funky -- and occasionally freaky -- musical depths.
"I happen to be a very curious person," Hancock tells me over the phone from Poland, where he's currently on tour with his band. "I've always tried to put things together that people don't normally put together. [Besson] said he's the same way. So we saw eye to eye on a lot of things."
When Besson first reached out to him, Hancock had no idea that he was working on a new film. The two got together at Hancock's house in Los Angeles for an intellectual play-date, a meeting of two artists operating in vastly different fields -- adventurous jazz and kick-butt action movies -- but united by a mutual respect for each other's work. As a teenager, Besson loved Hancock's free-wheeling, innovative records; Hancock had seen Besson's wildly expressive films like The Big Blue, The Professional,The Fifth Element, and Lucy. There was a spark between the two, like a pair of wayward aliens melding minds across the solar system.
"We talked about art and about life," explains Hancock. "And about our vision of life and of creativity and human beings. It was a pretty deep conversation."
Months after Besson pitched him on his dream project, an Avatar-scale adaptation of the influential French comic series Valérian and Laureline, Hancock was whisked away to Cité du Cinéma, a seven-soundstage studio complex founded by the filmmaker. Hancock was just fascinated to see Besson work. He met DeHann and Hawke, but didn't get a chance to film any scenes with Rihanna. (Though in one of the film's more out-there moments, her chameleon-like character Bubble does transform into Hancock's straight-laced military commander.) Later, he was called in by Besson to shoot some additional footage in LA after the shoot had wrapped.
This is hardly Hancock's first brush with Hollywood: The composer won the Best Score Oscar in 1986 for his inventive work on the jazz drama Round Midnight, in which he also had a small role, and he's made appearances, often as himself, in films like Indecent Proposal, Hitters, and last year's Miles Davis biopic Miles Ahead. You might even remember his original scores for Michelangelo Antonioni's hip existential thriller Blow Up in 1966 and Charles Bronson's controversial shoot-em-up Death Wish in 1974. Talk about range.
But oddly enough, for as synapse-busting and transporting as his music can be, no director or studio has ever called on him to record a score for a science-fiction film. It's a total missed opportunity. (Valerian's music was composed by the prolific Alexandre Desplat.) Despite his love for the genre, Hancock insists he doesn't need rocketships on screen to take you on a journey. Every Hancock creation is a trip to parts unknown.
"I would love to do that," he says when asked about penning music for a sci-fi epic. "But I'm able to explore new territory through emotions. Emotions provide such a variety of expressions and experiences. That in itself is a territory that's never depleted. That in itself is like a galaxy. Human emotion. How we respond to things. Consequently, I'm able to travel that kind of space territory regardless of what type of film I might be working on."
What type of star-speckled musical vistas are in his future? His last record, a globe-trotting collection of imaginative covers called The Imagine Project, was released in 2010, and he's been teasing a follow-up in interviews for the last few years. In 2015, he told Billboard he was in the studio with Kendrick Lamar-affiliated artists like the bassist Thundercat and the producer Flying Lotus. Earlier this year, saxophonist Terrace Martin, who is currently touring with Hancock's band, mentioned in a Rolling Stoneinterview that they'd been recording with younger jazz luminaries like Kamasi Washington, Derrick Hodge, and Robert Glasper. Martin promised "some gangster shit."
Hancock doesn't exactly put it that way. He describes the recording sessions for the upcoming project as a workshop-like environment where ideas flowed freely. There's no official release date yet -- he's touring this summer, testing out material on the road, and he says they're still trying to get some rappers who he can't mention yet on the record, too -- but he thinks it might end up getting released in bits and pieces rather than all at once. "Because of technology today, there is no single method of releasing a record project," he says. "There's a lot of flexibility in doing that."
Also, what's the rush? Hancock is clearly enjoying life as a jazz elder statesman, a role that's pretty different from the task-master he plays in Valerian. He's soaking it all up. At one point in our conversation, he looks out his window and notices the arc of a rainbow in the sky. "That's pretty far out," he laughs. "Maybe there's a pot of gold waiting for me."
Or another planet to explore.
Sign up here for our daily Thrillist email and subscribe here for our YouTube channel to get your fix of the best in food/drink/fun.