The New 'High Fidelity' TV Series Is a Cool, Emo Remix of the Original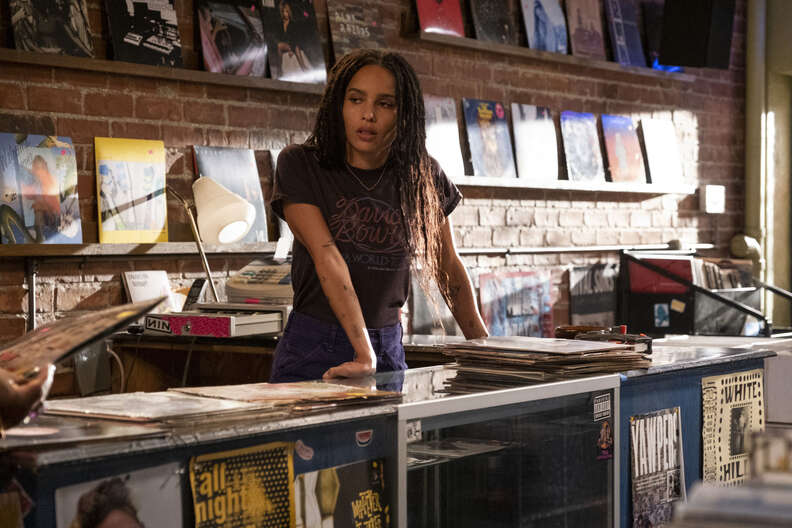 'High Fidelity'

| Phillip Caruso
'High Fidelity'

| Phillip Caruso
In 2018, Disney announced that it was prepping a gender-swapped TV adaptation of Nick Hornby's High Fidelity for its then-upcoming streaming service Disney+. People predictably freaked out online, with the chaotic response largely centered around how Hornby's 1995 novel and its 2000 movie adaptation starring John Cusack follows an elitist record store owner struggling to get over a breakup and documents the character's over-the-top obsessiveness. In short, the general view is that the protagonist is kind of an asshole. Was the Disney-fied version really placing a woman in a role that's very much based around toxic masculinity?
Well, the series moved to Disney-owned Hulu, and the epitome of cool, Zoë Kravitz, signed on to star and executive-produce. So, despite the clamoring, the end result out now on Hulu from showrunners Sarah Kucserka and Veronica West (Ugly Betty, Bull) is actually very cool. The 10-episode series follows a similar formula as the original: Rob (short for Robin), a major music fan and owner of the pretty slow but very hip record store Championship Vinyl, is struggling to cope with her called off engagement to longtime boyfriend Mac (The OA's Kingsley Ben-Adir).
Like the source material, she's obsessed with making Top Five lists, including her Top Five Exes, who she looks to in the show as well as a new guy named Clyde (TV's go-to sweet boy Jake Lacy) to evaluate why she only experiences heartbreak. The show is intentionally cool-ifed for today, set in current-day Brooklyn with Kravitz in the lead, but it's just also a generally enjoyable dramedy that happens to be about being heartbroken and sad, and music sometimes being the only healing power.
It's definitely fair to question why a revamp of the of-its-time High Fidelity even needed to be done, but that would miss something about the show that's important. It seems silly to say, but it's a big deal that Rob has been re-written as a biracial, bisexual woman who is as knowledgable about music as Cusack's Rob was, or many other dudes depicted in shows and movies tend to be. She likes everything from obscure Greek artists and new wave wonders to classics like Nina Simone and David Bowie, and current hitmakers like Frank Ocean. Maybe it's a little frustrating that the show's needle drops (curated in part by Questlove) are rarely recent bangers, but she has an eclectic taste and there's no reason she shouldn't be allowed to have the takes that she has. In fact, it might've felt contrived if all she talked about was, like, universal 2020 opinions like how great Beyoncé is or something. Instead, she's a pop aficionado, and it's exciting to see on screen.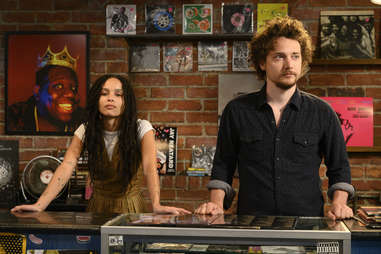 Just as much as her devotion to music gives the show color, it's also like a love letter to those of us who get our dosage of therapy in the form of a record or playlist (a task she takes very seriously). The series definitely keeps Rob's annoying obsessive behavior, but trades what's inherently masculine and demeaning about it for a portrayal of a woman navigating a heartbreak that has warped into depression. Rob is still a jerk at times and messy in her decision-making -- e.g., ditching boys on dates, being self-absorbed, etc. -- but as hard as it is at times to root for her, Kravitz gives a nuanced portrayal of how hard it can be to confront being sad in what's maybe her most developed role yet. (Big Little Lies didn't know what to do with her, but, boy, does it catch you off guard when the series opens by interrupting her mid-sob and having her break the fourth wall to give you her list of her top five exes). It's an interesting remix of the character because while the original criticized Rob's traits, it wasn't that explicit in doing so, and here it's a more palatable (and feminine) depiction of heartbreak.
Even in its mopey-ness, High Fidelity is an enjoyable watch. Sure, some episode plots are better than others (see the episode with guest star Parker Posey, for example) and the update for 2020 can feel shoved in your face (such as the weird influencer party episode), but altogether it'll put you in your feels and its great cast makes it fun. (Rob's co-workers and friends Simon and Cherise, played by David H. Holmes and Da'Vine Joy Randolph respectively, offer some of the sweetest scenes). Kravitz's Rob may seem too cool for the most of us, and can be insufferable in her own way, but regardless High Fidelity makes you want to see her heartbreak through even if her Top Five Exes can't. Since you can't actually swing by Championship Vinyl on a slow day to get a new recommendation, you might as well binge the Hulu series to spend time with this pop fanatic before queuing up a different track.
Need help finding something to watch? Sign up here for our weekly Streamail newsletter to get streaming recommendations delivered straight to your inbox.