How Hippo Campus Uses a Drive-In Theater to Sum Up Debaucherous Minnesota Summers
On their song 'Sex Tape,' the indie band references Vali-Hi, a 56-year-old movie theater outside of St. Paul.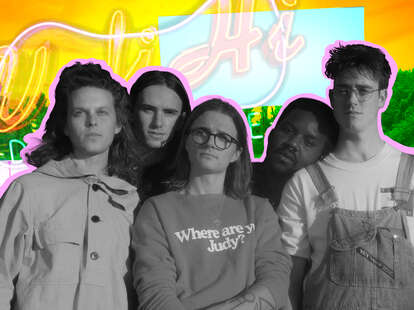 Image by Maggie Rossetti for Thrillist / Photo by Tonje Thilesen
In the Twin Cities, the indie-rock band Hippo Campus are hometown heroes. Not only because they came up in the Minneapolis/St. Paul scene and have since remained active members of the community—opening a local recording studio and launching a supportive music and arts collective—but because of how their music is laced with references to the city that raised them. Listening to the band's discography, you could draw a map from Lake of the Isles to the Northeast, filling it with all the places that impacted their youth.
One of those places makes an appearance on the song "Sex Tape," off the 2021 EP Good Dog, Bad Dream (a release that was actually recorded after but released before their latest album, LP3, which is out now). It's both a playfully snarky song about a friend they fell out of touch with and a tribute to Minnesota summers when they used to cross paths with that former friend, a time when life had a way of feeling effervescent and free. The reference that conjures up the most images of Julys and Augusts of yesteryear is one about "sipping gin at the Vali-Hi Drive-In," an outdoor movie theater that still operates to this day in the eastern suburbs of St. Paul.
According to lead vocalist and guitarist Jake Luppen, the lyric was originally "the Taco Bell drive-in." Ultimately, "Vali-Hi" is what made the cut—in part because they needed "to cover [their] tracks a bit" on what's essentially an indie-fied diss track about a person they've parted ways with, but also because the drive-in inspires memories of teenage debauchery and summer hangs gone by. "It's like a reference to a reference—like this character being from the same area and maybe, possibly hanging out at the same spot as we did a couple times," lead guitarist Nathan Stocker tells Thrillist.
Open since 1966, the 300+-car-capacity drive-in is the kind of place that feels like it's stuck in the past. But even as it remains unchanged, it's like a ritual for new generations of young people. "You just pull up. Cash only. 10 bucks a person," Stocker says. "Just a simple transaction with the ticket lady there, and then you just find whatever spot's available."
"Tune into that staticky AM radio station for audio," Luppen says. "Sounds like shit, but you don't care, because you're not there for the sound of the movie."
"It's all part of the appeal," Stocker says.
Although they remember going to the drive-in as children, the Vali-Hi that "Sex Tape" cites isn't necessarily one of family get-togethers. Rather, it's a beacon of their teenage impulses: the place they went to cozy up to first loves and to smuggle in sips of alcohol when they were still underage. "It's a perfect place to indulge," Stocker says. "In high school, it definitely represented this weird window of opportunity. It's like two and a half—potentially four—hours of cuddling with your crush. It was a good place to hang out with friends, get a little drink in you, and just have a good time. No responsibility. Just a big, open field with hundreds of cars and the mystery of what's happening in those vehicles."
The reference to the movie theater, like "Sex Tape" itself, also represents their time growing up outside of the Twin Cities more generally—a time Luppen calls "suburban and innocent." He says, "All the houses look the same, every yard is manicured, and there's no bugs. You're like, 'Why aren't there any bugs?'"
"There's such an innocence to [the St. Paul suburb] Woodbury that, no matter what you do, can't really fuck that up. But it's also such a horrible representation of lack of diversity and right-wingers. It's like it's also a horrible place, but the sunsets are great," Stocker says. Because drive-ins are basically the essence of nostalgia—a token of mid-century Americana that can be romanticized just as much as it can overlook the insidious nature of the past—the lyrical reference couldn't encapsulate a suburban youth with more acuity.
Stocker says, "I see [Vali-Hi] as a sunset in my brain. I mean, even just the words 'Vali-Hi'—I immediately think of the sunset in Woodbury, because it's like 9:00 p.m., the sun hasn't gone down. It's still light out, and it's pink, rosy-hued skies, and you're kind of drunk. The windows are down—you're not driving, but the windows are down—and it's like it's there for the taking, almost."