Shutterstock/ Jennifer Bui/Thrillist
Shutterstock/ Jennifer Bui/Thrillist
Though pockets of it are still holding strong, most of Brooklyn has been swept by a sea of trilby-wearing millennials with waxed beards, who just wanna give back to the neighborhood with an artisanal dog treat shop, you know? But the New York borough is far from the only gentrified hotspot in America. We rounded up the most Brooklyn 'hood in every single state, based on metrics including trendy restaurants, "craft" cocktail bars, bike friendliness, and, of course, urban expansion. By the time you finish reading the list, they probably won't be cool anymore, so hurry up:

Alabama
Avondale (Birmingham)
Occupancy in this Birmingham 'hood shot from 25% to 75% in just four years as more and more young people discovered its potential. As Fast Company points out, Avondale benefited from a $3 million park renovation and brand-new brewery, both of which opened in October 2011. SAW's Soul Kitchen and grilled cheese food truck-turned-restaurant MELT helped pad out the place's reputation, which is sure to build even higher when the Hotbox dudes' brick-and-mortar spot, The Wooden Goat, opens its doors.

Alaska
Spenard (Anchorage)
Anchorage is still a fairly "new" city in some respects, since a devastating 1964 earthquake took out much of the town. That means it's had less time to hone the indie sectors, but Spenard has still managed. The place used to be way seedier (think ladies-of-the-night seedy), but the area's amassed spots like Tap Root (bar with Mason jar ganache on the menu), Middle Way Cafe (coffee shop with tons of local art), and Title Wave Books (used bookstore that's also the largest book shop in the state) in the ensuing years.

Arizona
Pie Allen (Tucson)
You'd expect a college town like Tucson to cater to the young, artsy coeds. But you might not be prepared for just how far the Pie Allen neighborhood (named for a famous local baker) is willing to go. First there's the Food Conspiracy Co-op, whose selection of bulk herbs and homeopathic remedies would make Whole Foods blush. Two doors down is anotherherbs depot and across the street you'll find Antigone Books, a 100% solar-powered indie bookstore. Keep moving up N 4th Avenue and you'll hit an espresso shop, a vintage clothing store, a tattoo parlor, a recycled art shop, and even one of the best-named bars in America (the Surly Wench Pub). Just to be clear, this is all on one block.

Arkansas
Argenta (Little Rock)
Coffee and comedy are both hugely popular in Brooklyn, and you can get both in the same place in Argenta: The Joint. It serves artisan roasted coffee during the day, and stand-up and improv at night. If that's not your speed, there's always Mugs for even more craft coffee. It's right down the street from Reno's Argenta Cafe, a neighborhood staple that's been satisfying Arkansas with sandwiches, wraps, and pizza for 10 years. The 'hood's changed a lot in that decade, with new houses sprouting up where vacant lots once were, and empty buildings now filled with new business. And while you've been able to get a pint at Diamond Bear since 2000, Argenta is prepping to welcome another brewery: Flyway Brewing is opening soon.

California
Silverlake (Los Angeles)
Over-the-top moustaches. Suspenders. Craft coffee. Over-the-top moustaches and suspenders on people SERVING CRAFT COFFEE? Sound familiar? It should: Silverlake's so hipster, there's a debate about whether it's one word or two. Seriously. It's also home to plenty of little kids wearing Ramones shirts, music venues that double as art galleries, and people dressed in tight jeans and long-sleeve shirts when it's frigging 95 degrees out. Along with its also-gentrified next-door neighbor, Echo Park, Silverlake couldn't be more Brooklyn -- just don't tell the suspendered, moustachio'd barista waiting in line for street tacos. He may not take it well.

Colorado
Highlands (Denver)
I started writing for Thrillist what feels like a million years ago but was only about four. At the time, I was tasked with writing about Denver's new bars and restaurants, and I often found myself in the Highlands. Or Highland. Either way works. Bottom line: it's the epicenter of new Denver. Seemingly the entire neighborhood is currently being converted to outrageously priced modern townhomes, but back in late 2008, Root Down was New York City chef Justin Cucci doing a one-man renovation by turning an old gas station into a restaurant that garnered national attention. Nowadays, many of Denver's finest restaurants and bars are based in LoHi (Lower Highlands) -- the speakeasy Williams & Graham, the beer palace Ale House at Amato's, Linger (Root Down's sibling resto), and because this is Denver -- breweries. Neighborhood faves like Prost and Denver Beer Co. feature huge outdoor patio scenes, and there are also tucked-away gems like De Steeg. Add to that exceptional coffee at Black Eye and a friendly neighborhood butcher with an eye on sustainability at Western Daughters, and it's easy to see why the Highlands are Denver's Brooklyn.

Connecticut
Wooster Square (New Haven)
New Haven: now officially safe for hipsters! Though Yale students have long been warned about venturing into the wrong parts of the city, New Haven's gentrifying with the best of 'em. And Wooster Square is probably the prime example. The place is home to the world-famous Frank Pepe Pizzeria Napoletana and basically the only comedy club in the area, Joker's Wild. Vegetarian eats and organic coffee are available at Fuel. And if you feel like taking pole-dancing classes by the park, well, there's that, too.

Delaware
Trolley Square (Wilmington)
If you've ever looked at a map of the US, you know Delaware is tiny. And if you haven't, you're missing out! Maps are baller as hell. As you might imagine, Trolley Square is not a large neighborhood in what is not a large city: Wilmington. And yet, it's a vibrant, older Irish 'hood with an influx of young whippersnappers attracted to bars like Scratch Magoo's, the stalwart Logan House, Trolley Tap House, and Catherine Rooney's. Brew Ha Ha! provides the coffee for the neighborhood, and there's the requisite spot for brunch that uses organic ingredients, Fresh Thymes. Bring your bike -- it's easy to hop on the nearby Delaware Greenways bike trail with that new fixie.

Florida
Wynwood (Miami)
Wynwood is not a place people in Miami live, but it's certainly a place in which they drink. Ten years ago it was a warehouse district without many places you'd want to drink in at all (unless drinking in alleyways was your thing), but residential development is well underway, and there are plenty of reasons to want to live there: bars like Wood Tavern, Coyo Taco's "secret" drinkery, and Gramps; breweries like Wynwood Brewing, Concrete Beach, and J. Wakefield; and eateries like Wynwood Kitchen & Bar, Joey's, and the newly opened Alter. In the daytime, there are plenty of murals to figuratively drink in, as well as coffee, where Panther's the go-to roaster. If you think art should be confined to the inside of buildings, there are plenty of art galleries to entertain and/or empty your wallet.

Georgia
Little Five Points (Atlanta)
Little Five Points has been nationally recognized for its hipsterdom (see Forbes) and it's easy to see why, when you've got combination comic book-record shops and classic dives like Euclid Avenue Yacht Club in the mix. Acts like Sister Sparrow & the Dirty Birds flock to Aisle 5 (formerly The Five Spot), and serious burger nerds will find nirvana at The Vortex, which has an entrance shaped like a deranged skull.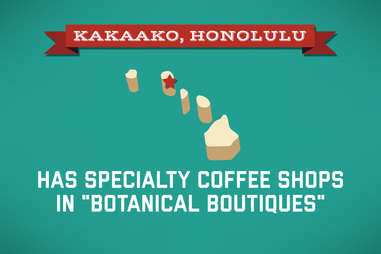 Hawaii
Kakaako (Honolulu)
Kakaako's the kind of place that has sleek specialty coffee shops (Brue Bar) inside self-proclaimed botanical boutiques (Paiko). Getting the picture? If not, perhaps the deconstructed scallop pot pie with lobster reduction at Chef Chai, free graffiti workshops at 808 Urban, or the litany of new buildings planned for development (in 2013, the Hawaii Community Development Authority ball-parked up to 30) will help.

Idaho
North End (Boise)
Idaho might be one of the most conservative states in the country, but walking around the North End of Boise, and just North of Boise State's campus, you could be fooled into thinking it's only full of hipsters. There's plenty to keep the average youngin' happy, including used copies of a David Foster Wallace novel at Hyde Park Books, Cafe Vicino for delicious Italian food, and beers from the year-old nanobrewery Cloud 9. And for a hipster with an outdoor bent, which is to say most people living in Idaho, the North End is conveniently located close to the Boise Foothills trails.

Illinois
Logan Square (Chicago)
Having taken the coolness title belt from its Blue Line neighbor Wicker Park, Logan Square checks all the Brooklyn-y boxes: there's a whiskey bar with an artisanal donut pop-up shop, an indie coffee shop that's a hive of flanneled musician-people (the numbers go up on farmers' market Sundays), and a vintage theater that will play Space Jam at midnight as it serves you Daisy Cutter tallboys. Nary a new restaurant or public-works project can open without the requisite gentrification pot-stirring, although with news of the neighborhood's Discount Mega Mall set to become "Logan's Crossing," a giant apartment complex and retail space, there's no doubt Logan Square will be "over" in the next five years. Enjoy the Negroni slushies while they last.

Indiana
Fountain Square (Indianapolis)
Craft breweries like Fountain Square Brewery are a quick bike ride from a bustling few blocks that include an enormous entertainment complex with duckpin bowling, a game room in Imbibe, a pub in End of the Line, and the smoked meats emporium at the Smokehouse. Just a few steps away there's English-style pub food at Red Lion Grog House, burlesque and comedy at White Rabbit Cabaret, coffee and gelato at Funkyard, and the nerd cultural center/comic-book shop Hero House. And for the hipster who would rather play a board game than watch TV, there are 1,800+ options of board games to choose from at Game Paradise.

Iowa
East Village (Des Moines)
It's okay if Barcade never expands out to the Hawkeye State, because this hip Des Moines 'hood has its own version in Up-Down, a video game bar with 40+ classic arcade selections and skee-ball. If that's not your kinda bar (who are you??), there's live music at The House of Bricks and history at Blazing Saddle, the city's oldest gay bar. You can get all your fancy cooking supplies at the local "culinarium" as well as all sorts of fancy dog sweaters at Jett and Monkey's. And don't forget about Zombie Burger, the crazed burger joint to beat.

Kansas
Delano (Wichita)
Says a barista at Reverie Coffee Roasters just down the block from Delano, "I grew up there when it was gnarly, before gentrification happened." Delano has changed, and it packs in quite a bit of hipster charm in its tiny domain, with the vinyl emporium at Spektrum Muzik, Monarch for ribs, sandwiches, and a whole lot of bourbon (Delano Barbeque Company is another solid option), Hatman Jack's for the fedora of your dreams, and Vagabond for coffee during the day and Kansas craft beer at night. Or you can have a beer in the morning... we're not the boss of you.

Kentucky
NuLu (Louisville)
People in lesser 'hoods will spend a lazy Sunday buying cookies at an artisan bakery, drinking a latte in a coffee shop, and going record shopping. NuLu has all of that in one building, and it's called Please & Thank You. NuLu's delights don't stop there, as RYE on Market offers live music in the summer and bone-in ribeyes at night. A monthly flea market (The Flea Off Market) offers beer and cocktails to sip on while perusing antiques and vintage clothes. It's no coincidence that startups and the creative class are flocking to the 'hood, especially since there's ping-pong, craft cocktails, and tasty pizzas all in one place: Garage Bar. Louisville is clearly all about cramming good stuff in with other good stuff.

Louisiana
Bywater (New Orleans)
The Ninth Ward has national notoriety thanks to Hurricane Katrina, but this particular subset, the Upper Ninth, known as the Bywater, got an influx of artists and restaurants following the 'cane's destruction. Alongside rapidly rising rent prices and Airbnb battles due to the daily change-out of 20-somethings, there's the much-beloved Satsuma Cafe for your daily juice, marrow-topped burgers at Oxalis, secret pop-up-turned-brick-and-mortar pizza joint Pizza Delicious, and live music and wine bar Bacchanal, which has been a local favorite for years, but is facing its battles with noise complaints from newer residents, just like many Brooklyn musical standbys before it.

Maine
Munjoy Hill (Portland)
You'll see "Shop Local: Keep Portland Independent" stickers on many storefronts in Munjoy Hill, and they clearly take that responsibility seriously -- no Starbucks are allowed. (But several indie coffee shops are!) Moving along the sidewalks, you'll spy places with names like Pistol Pete's Upholstery Shop, Homegrown Herb & Tea, and Mama's Crowbar. There's also an arts center and the requisite rent spikes.

Maryland
Downtown (Frederick)
I grew up about 15 minutes outside downtown Frederick, and if you had told me that place was hip 10 years ago, I'd kindly point you to the local headlines about monkey rodeos. But when a friend of mine from the Eastern Shore suggested it might be the Brooklyn of the state, it made a shocking amount of sense. Local hero Bryan Voltaggio seriously upgraded the dining scene with Volt in 2008. Cafe Nola, an organic breakfast spot that also throws late-night dance parties, opened the year prior. Now, the 'hood has independent bookstores like Curious Iguana, a specialty tea shop with 300 varieties, and multiple yoga studios. Plus the not-at-all-cool Civil War Medicine Museum, for ironic afternoon pilgrimages.
Massachusetts
Somerville (Boston)
People used to call the place "Slummerville," but nowadays, the edgiest person you'll find in Somerville is the dude who tries to sneak his vintage leather flask into Bronwyn. (Or maybe the guy who got kicked out of the midnight Blue Velvet screening at Somerville Theatre after one too many Harpoon Munich Darks.) You can pop by Union Square Donuts for a vegan pink lemonade donut, score some sweet secondhand vinyl at Somerville Grooves, and enjoy a Tenacious Tea (rye, tea-infused dry vermouth, honey, orange bitters) on the patio at Brass Union all in one lazy afternoon. Just good luck finding an affordable apartment there.

Michigan
Midtown (Detroit)
Though Corktown also gets mentioned a ton, the gentrified star of Detroit is Midtown. For one thing, it has a Whole Foods -- as noted in a Vice article that also name-checked the area's "fixies and really small dogs." Fair Trade-certified Great Lakes Coffee Roasting Company is just a few minutes away, as is a killer tapas joint by the name of La Feria. Shops like City Bird would look right at home in Portlandia (put a bird on it!), while the concentration of theaters, concert venues, and museums should shake philistines to their very core.

Minnesota
Northeast (Minneapolis)
Every other neighborhood in the country, give up: there can be no more Brooklyn thing in the universe than a restaurant, bar, mini golf'd, and Ferris wheel'd entertainment complex made specifically for adults called Betty Danger's Country Club ("the country club for the 99%," as they call it). It's also worth noting that Northeast has better craft beer than 99% of the country, as evidenced by 612Brew and Dangerous Man Brewing. And after you've had a beer or two is the best time to analyze art, which isn't a problem when there are 400+ artists working in the 'hood, with plenty of gallery spaces around to showcase their goods.

Mississippi
Fondren (Jackson)
Cups has been in Fondren for 22 years, serving craft coffee they roast themselves a couple of miles away. But 22 years ago Fondren did not have a converted middle school with multiple local must-visit businesses (the restaurant Saltine, the concert venue Duling Hall where national headliners stop by, and the taco joint Babalu). Twenty-two years ago there was not a huge hotel and a massive apartment complex being built to support all the young professionals and medical students in the 'hood. There wasn't a sneaker shop called Swell-O-Phonic. And there definitely wasn't a speakeasy in a place that used to be a drug store (now called The Apothecary at Brent's Drugs). In fact, it was an actual working pharmacy until 2009. Now it's a "soda fountain" that serves breakfast all day called, not strangely, Brent's Drugs.

Missouri
Westport (Kansas City)
A big thumbs-up to Cherokee Street in St. Louis for its Brooklyn-esque qualities, but Westport on the other side of the state is the spot. Westport is, first and foremost, an entertainment district. It's where you party and eat like a king -- at Port Fonda for Mexican, at Dave's Stagecoach for the jukebox and a beer, at Kelly's for a Guinness in a pub that's been around forever but where the clientele has, well, shifted, and at Julep for a cocktail with an egg white in it. During the day there's plenty to do as well, whether you want to search for an album at Mills Record Company to throw on your portable record player, grab a coffee at the 20+ year and still going Broadway Roasting, or get secondhand threads at Arizona Trading Company.

Montana
Heart of Missoula (Missoula)
When a place is literally called the "heart of" the city, you can assume there's a lot going on. So get out your pen, because we're going down the list. Heart of Missoula has an art museum, a brewery, a growler fill station and tap room, a distillery, and an old-school theater that's currently under renovation. More interested in the dining options? You'll probably be pleased with the cider-braised pork belly at Red Bird or lobster risotto at Pearl Cafe. Still need more? Fine, go buy all the fancy hazelnut syrups at beverage emporium Liquid Planet, you insatiable hipster.

Nebraska
Haymarket (Lincoln)
Here are a few stats from the Lincoln government to let you know what Haymarket is like. As of 2010, the median age is 24. Most of the residents are single, and they spend lots of money on food away from home and retail goods. These are the people who are hitting up Bourbon Theatre (a remodeled '20s movie theater that's now a hot music venue), Scooter's Coffee (you better believe that place has matcha green tea lattes), Joysticks Arcade Bar (where you can drink Donkey Konga cocktails outta pineapples as you play the actual game), and Maggie's Vegetarian Cafe (sesame tofu salads for everyone).

Nevada
Cal Ave (Reno)
Cal Ave is short for California Avenue, a cluster of shops, restaurants, and bars in Reno that's definitely part of the city's larger makeover. You'll find stuff like the St. James Infirmary, a patio bar with zero medical services, and Sundance Books and Music, a shop that regularly hosts "salons." But there's also chevre pizza at Blue Moon, pickle plates at Centro Bar & Kitchen, and Pilates/yoga classes at Ball Fitness. And if you wander just a block off the actual avenue to W Liberty Street, you're right at the Nevada Museum of Art.

New Hampshire
West End (Portsmouth)
Portsmouth is, perhaps, the crunchiest destination in a very crunchy state, and if you're looking for a particularly exemplary neighborhood, head to the West End. The gentrification is laid out pretty explicitly in this "vision plan" (bike connectivity!) and this profile from a regional magazine ("full of artists creating things"), but it's immediately evident in person that this is clearly an artist-heavy neighborhood. Port City Makerspace gives you tools and workspace for a monthly fee while The West End Studio Theatre proudly claims to be an "off-off-Broadway" sort of place. Once you've gotten your culture in, head over to Craft Beer Cellar for some Belgian bombers and Street for some Thai pork ribs.

New Jersey
Downtown (Jersey City)
The dining scene has covered all the requisite cuisines (Thai, Japanese, Italian, Mexican, Chinese, etc.) so thoroughly, it's added laser-focused restaurants dedicated to rice balls and cookies & crepes. You can also get your bike tuned up at Grove Street Bicycles, pick up retro-style dresses that would make Zooey Deschanel giggle at Vivi Girl Shop, and stock up on vegan makeup at Modern Sage. On the real-estate side, the skyline is getting increasingly cluttered with some of the tallest buildings in the state.
New Mexico
Downtown (Albuquerque)
Bike-sharing program? Check. Saturday farmers' market? Check. Brunch menus featuring "croissant-wiches"? Check. Beloved local brewery which may or may not have brewed limited-batch Breaking Bad beers? Obviously. Downtown ABQ is chock-full of the kind of restaurants, bars, and shops that would make any American Spirit cigarette-rolling millennial feel right at home -- and it's no wonder, considering the 'hood recently completed a 10-year, multimillion-dollar revitalization.

New York
Queens (New York City)
Obviously.

North Carolina
West Asheville (Asheville)
Asheville is the kinda town where local characters like Rob Seven drive their "Emerge-N-See art ambulance" through the folk festivals. And West Asheville does its artsy city proud with an indie coffee shop adorned with He-Man action figures, the tattoo and piercing shop Hot Stuff, a record shop with its own in-house boutique label, and the surprising eats (think Vietnamese crepes) at The Admiral, which is pretty much a concrete bunker.

North Dakota
Downtown (Fargo)
Are there people in North Dakota? There are! What about hipsters? Right again! And since 16% of the entire North Dakota population lives in Fargo, a huge portion of that young creative class calls the city home. Dinner options range from Vinyl Taco (they play vinyl, you eat tacos) to Mezzaluna (New American cuisine, craft 'tails) and Sidestreet Grille & Pub (pizza/sandwiches, a patio to smoke American Spirits on). For fancier eats and drinks in a hotel, the HoDo Lounge or its restaurant will suffice, and, on the opposite end of the spectrum, Rooters Bar is a dive where you can order a cheap shot and play $3 blackjack knowing that all the money you lose goes to the Special Olympics.

Ohio
Tremont (Cleveland)
In now-trendy Tremont, perhaps one of the best examples of changing landscape is Prosperity Social Club. The place, which we even called a hipster oasis, is a '30s ballroom with bikes stacked outside and $2 tallboys inside. Also edging in on the bar scene is the Tremont Tap House, which reps 20+ taps and outdoor Monday movie nights. The combination record store-coffeehouse-art gallery is 10 minutes away, but you can't be a Brooklynite without a vintage feathered hat, so grab one at Eclectic Closet Boutique first.

Oklahoma
Plaza District (Oklahoma City)
Does your coffee shop have a toast menu? If the answer is no, then it's not Brooklyn enough for us. Luckily for the good people of the Plaza District, there's District House, which also makes sure to source its beans from a direct-trade/mostly organic roaster. Since toast isn't exactly a meal, Empire Slice House does beer and creatively topped pies (the Brussell Westbrook with Brussels sprouts!), there's modernized pub food and even more beer on the patio at Saints, and modern takes on the Moscow Mule abound at, umm, The Mule. And because it wouldn't be a Brooklyn without vintage everything, there's secondhand goodness (records, clothes) at Dig It and Bad Granny's Bazaar.

Oregon
Mississippi Ave. (Portland)
How hip and Brooklyn-y is Portland's Mississippi Ave? In the past few years, the formerly quiet neighborhood has seen its buildings fall, condos rise, and prices skyrocket. That's the price you pay when your neighborhood includes a music shop dedicated exclusively to synthesizer equipment, a warehouse that sells only repurposed building equipment, another store that sells only lights, an artisan ice cream shop next to an artisan donut shop next to an eco-friendly burrito place next door to an indie rock venue, a brewery, art galleries, a creperie, a dozen or so sit-in restaurants, a high-end taxidermy shop, and four different clusters of food carts selling everything from Indian fried chicken to vegan BBQ. Oh, and that's all within three blocks. Because who needs cars when you have a bike shop. It's next door to the brunch place that has lines every day, which is next door to a place that specializes in terrariums...

Pennsylvania
Fishtown (Philadelphia)
With a hearty shout-out to the folks holding down the scene in Lawrenceville along the mighty Allegheny, Fishtown is our pick for PA. Where else in the country (nay, the world!) can you find a pizza museum that serves pizza and also has an attached ice cream shop? It's a hipster fever dream that also has the benefit of being some of the best 'za in the city. For music, Johnny Brenda's has bands everyone else in the country will be listening to in a few years, plus DJs and random fun events like US Air Guitar qualifiers. For beers, it's hard to go wrong choosing one at Barcade, and you probably won't notice the taste anyways since you're too busy losing at Donkey Kong. And because no hipster 'hood is complete without a sausage and suds joint, Stephen Starr's take on a German beer palace, Frankford Hall, is here to help.

Rhode Island
West Side (Providence)
Speakeasy with craft cocktails? The Avery. Bar where you're enveloped by kitschy Americana? Ogie's Trailer Park. A place to learn how to stop relying on corporations to make your food for you, and how to properly raise animals and grow food on your own property? Cluck!. And in between learning how to bee-keep and drinking cocktails, you can buy everything artisan your heart desires at SHARE SPACE, where food and music and vintage goods coalesce on a fairly regular basis. Rhode Island might be tiny, but it's pretty much got you covered.

South Carolina
Park Circle (Charleston)
A sure sign of any hipster enclave is a film society, and Park Circle's is known to screen flicks titled Two Raging Grannies. If angry nanas aren't your thing, there's a farmers' market every Thursday from May through October which features tropical swing and Celtic music. A new wine bar (that also serves craft beer, foie gras, and charcuterie) just opened up alongside a yoga studio. Plus, there's The Sparrow, a bar with live music and gourmet hot dogs and pinball machines. The area's seen several renovations (on buildings, sidewalks, etc.) in recent years, so it's looking less and less like the depressed 'hood it was when the Charleston Naval Base & Shipyard closed in '96.
South Dakota
Downtown (Sioux Falls)
Picking the hippest neighborhood in South Dakota is kind of like picking the trendiest saloon in a Clint Eastwood movie, but the downtown area of the state's biggest city is making a solid play for that title. There's pork belly ramen on the menu at Parker's Bistro, award-winning wine on tap at Prairie Berry East Bank, and B-sides aplenty at Total Drag Records. If vinyl's too mainstream for you, it also has tapes. TAPES.

Tennessee
East Nashville(Nashville)
Obviously, Nashville cleared all the hipster music requisites a long time ago. But pockets of the city, particularly East Nashville, have caught up dramatically on the food and entertainment scenes in recent years. There's Margot Cafe & Bar, a cozy dinner spot that used to be a gas station. And speaking of second acts, you can also look forward to a newly fixed-up Family Wash, which looks like a laundromat, but is actually a bar. Teresa Mason's Mas Tacos Por Favor has grown up from a food truck operation to a bustling brick-and-mortar location. But the crown jewel is probably Fond Object Records, a record shop and arts collective that also features vintage clothes, furniture, and a rescue petting zoo. We assume the goats all have impeccably waxed beards.

Texas
East Austin (Austin)
Searching for a shallot boat filled with strawberry vinegar (fermented in house)? All this and much more can be yours if you head over to this working class-turned-trendy arts 'hood. The shallot boat in question is from Qui. For great French food as well as New Year's Eve parties with "occult cocktails" and art installations, there's Justine's. Ranch-to-table spot Jacoby's Restaurant & Mercantile is a few blocks up. The handmade vintage stationery and home decor are at Take Heart. And if you like waiting in line for (very, very good) barbecue, there's of course Franklin.

Utah
9th and 9th (Salt Lake City)
There can be nothing more Brooklyn than a dog wedding in Prospect Park, like in that episode of Broad City, and luckily 9th and 9th's PoshPaws has all the dog tuxes and wedding dresses you desire (and grooming too, if you're into your dog being presentable at his wedding). You can cheers to that puppy party at East Liberty Tap House, with a small curated beer list, and then walk over for an art-house flick at the Tower Theatre, which is run by the film nerds at the Salt Lake Film Society (don't miss the huge Back to the Future event in October). And since 9th and 9th is surrounded by Utah's stunning beauty (and bike trails), the neighborhood offers serious two-wheeled transportation options at Contender Bicycles.

Vermont
Old North End (Burlington)
Burlington as a whole has a pretty impressive food and drink game, although the concentrated cluster in Old North End is something else. Start the day with a tofu scram at Penny Cluse Cafe, feast on fresh wood-fired pizza at American Flatbread for lunch, go watch Paul Dano's Beach Boys biopic at The Roxy to give your stomach a rest, finish up with bone marrow toast and bourbon-braised chicken at Farmhouse Tap & Grill, then grab a pickled ramp martini at Butch + Babe's before closing. If you're wondering how the local scenesters stay so thin with all this great food and booze, it's because they hike.

Virginia
Church Hill (Richmond)
Church Hill is a gorgeous old historic district with cobblestone streets and gas lanterns that's currently in the middle of a massive urban renewal (for better or worse). Mezcal cocktails and breakfast poutine can be found at The Roosevelt, which boasts a James Beard semifinalist in the kitchen. The stroopwafels are at Dutch & Co. The Sunday supper clubs are at The Dog and Pig Show, while the ceramic exhibits are at the Eric Schindler Gallery.

Washington
Capitol Hill (Seattle)
Since this is the land that birthed Starbucks (in which the brand has a seriously legit roastery/tasting room we visited), Cap Hill obviously has Washingtonians' coffee needs covered in the form of Cafe Pettirosso and Victrola. And while breweries aren't even a thing in the 'hood, it still can claim Elysian's original location. Cocktail bars and distilleries are more its speed, and they are legion: Momiji, Sun Liquor, and Still Liquor, which is in the basement of Melrose Market. Oh, and one of the best whiskey bars in the country at Canon. Because booze makes people hungry, there's the famed Quinn's Pub, and on the other end of the spectrum, Big Mario's for late-night slices and 40s. Lest you forget that this land also birthed Pearl Jam, you can see a band at Neumos that might be playing arenas 25 years from now. Nah, that's probably just PJ.

Washington, DC
NoMa
Going to the official NoMa (that's North of Massachusetts Avenue, in case you were curious) site tells you all you need to know. There's a whole tab just for pop-ups! A tab that includes the Wunder Garten and Carpe Librum, a used bookstore whose proceeds benefit nonprofit Turning the Page. The neighborhood is so friendly to bikers, it has seven bike-sharing stations, the East Coast's only Bikestation, and free bike pumps in three locations. The free outdoor Wi-Fi ensures that you can post all the brunch Instagrams your heart desires -- and NoMa Summer Screen ensures you can enjoy food truck eats all while watching Bollywood flicks in the fresh air.

West Virginia
East End (Charleston)
We talked to a bartender at Pies & Pints about what the East End was like when he was growing up. "It's a place people's parents would tell you not to go," he said. The 'hood filled with historic, enormous homes has changed enough where "80% of the people I work with live there," and it's easy to see why. The nationally recognized live-music venue Empty Glass has shows seven days a week, and gives you something to do after a po-boy at Tricky Fish or lamb curry at Little India. During the day, Moxxee Coffee and Starlings Coffee & Provisions satiate the caffeine lovers.

Wisconsin
Bay View (Milwaukee)
Matt McClutchy owns Anodyne Coffee Roasters in Bay View, and lives nearby. He says "it feels a little bit like a retirement village or a resort" because you see the same people at the same restaurants and music venues. Bay View is its own bubble, and it's a bubble we'd all be so lucky to be stuck in. Anodyne moved its roastery to another part of town, but put a pizza oven in its place, so you can grab a cup of coffee for breakfast and stick around for a pizza lunch. Since the 'hood's in Wisconsin, there are also plenty of places for suds, including the newly opened District 14 Brewery & Pub, and beer bars like the 60-tap Sugar Maple, Palm Tavern, and Palomino Bar. For eats, American cuisine at Odd Duck and Three Brothers, a Serbian spot that's "the grandaddy of them all" -- one that we think is essential Milwaukee dining.

Wyoming
Downtown (Laramie)
Being a vegetarian in Brooklyn is normal. Being a vegetarian in Wyoming is... probably not an easy thing to do. But it's easier if you're in downtown Laramie, what with Sweet Melissa Cafe and its soul food without all that pesky meat to ruin it. Those who treat their body as a temple also stop by Pedal House for a tune-up, and then use it to bike over to bars like Front Street Tavern (conveniently next door to Sweet Melissa) or Crowbar for a slice and a Wind River beer. And because everything good in downtown is right next to each other, you can get a freshly roasted cup of joe at Coal Creek Coffee Company and then head a few steps over to the microbrewery Coal Creek Tap.
Kristin Hunt is a staff writer for Thrillist and thinks the upkeep on a vintage shop/petting zoo must be exhausting. Follow her to more manageable operations at @kristin_hunt.
Lee Bresloueris a senior writer for Thrillist and one day will play all 1,800 games at that place in Indy. Follow him to his dreams at @LeeBreslouer.