What the Ending of 'Hobbs & Shaw' Means for the 'Fast and Furious' Universe
The movies in the Fast and Furious cinematic universe have a tendency to grow bigger, bulkier, and more crowded with each entry in the NOS-powered series. Though the title of the new action-comedy spin-off Hobbs & Shaw suggests a paring down, focusing only on Dwayne Johnson's hard-headed government agent Luke Hobbs and Jason Statham's reformed criminal mastermind Deckard Shaw, the title is actually a bit of misdirection. In addition to memorable turns from cast members Vanessa Kirby, playing Shaw's equally lethal sister, and Idris Elba, cast as the villain yet again, the film also features two "surprise" celebrity cameos that could potentially point this splintering-franchise in a new direction.
In the context of the Fast-verse, size matters. Fittingly, the over-stuffed final third of Hobbs & Shaw is the most satisfying, most ridiculous part of the movie, ditching most of the belabored banter and Mission: Impossible-style spy plotting in favor of some absurdly staged car-smashing mayhem. As Elba's Brixton Lore, a cyber-assisted rouge MI6 agent who calls himself "Black Superman," attempts to lay waste to our heroes in a helicopter, Hobbs and Shaw join forces with Hobbs's extended Samoan family, including an under-used Roman Reigns, to pull the chopper back down to Earth by connecting a string of trucks like links in a steel chain. Do the physics make sense? Not really. Will you be laughing your ass off? Yes, hopefully.
Let's be honest: This is not a terribly complicated movie. After the duo defeats Lore by learning to punch at different intervals -- seriously, that's a major character breakthrough for the two feuding protagonists -- the newly-minted BFF's appear ready to head off into the sunset for some much-needed rest and relaxation. (Or at least some family time: While Hobbs is shown bringing his daughter to Samoa, the Shaw siblings plot to break their mother, a dignified Helen Mirren, out of jail.) But there are a few loose ends teased in the final section and in the post-credits that are worth digging into a bit more.
Idris Elba in 'Hobbs & Shaw'

| Universal Pictures
Who is the mysterious head of the Eteon corporation? 
Elba's super-villain Brixton Lore is the latest in a long line of Fast villains who identify as a hired guns. Yes, he wants to unleash the curiously named "Snowflake" virus, which will inevitably cause mass death and suffering, but he still takes his orders from a shadow-y corporation called Eteon, an evil organization that appears to have an unlimited budget for sleek glass headquarters and ineffective gun-toting henchman. What do screenwriters Chris Morgan and Drew Pearce reveal about Eteon over the course of Hobbs & Shaw? Not much, actually; just don't invest in them, please.
One thing we do know: Eteon is headed up by a mysterious figure who communicates with Lore via conference call and cheesy voice-modulation software. There are enough scenes in the movie featuring this "voice" that you'll probably think the identify of the voice behind Eteon will be revealed -- ideally, that's what a post-credits scene is for -- but Morgan and Pearce decide to punt that inevitable twist to a later sequel, giving you something to speculate about in the parking lot after the movie. The most obvious candidate is Charlize Theron's hacker Cipher, who ended The Fate of the Furious by evading capture from Dominic Toretto's crew. She's clearly powerful in this world and she's still at large.
But there are other options. It could be Kurt Russell's intelligence operative Mr. Nobody, a behind-the-scenes string-puller with ever-shifting hidden motives, or, just speculating here, it could be a twin brother of Han Seoul-Oh, the fan favorite character killed off by Deckard Shaw in Fast and Furious 6. Personally, I think the fan-service-obsessed series will find a way to bring back actor Sung Kang at some point and the writers are not above soap-opera style shenanigans. In a recent interview with Entertainment Weekly, Chris Morgan went so far as to say, "Justice for Han is owed. It's something we have discussed for a very long time and want to give the right due to."
There's always the possibility that the voice belongs to a character we haven't met yet. My wildcard guess? It could be Hobbs's criminal father, who is referenced at a couple points in the final third of Hobbs & Shaw but never shown on screen. From the beginning, the Fast series has always been obsessed with daddy issues, and it could be fun to see The Rock go head to head with whoever they cast as his father in a future sequel.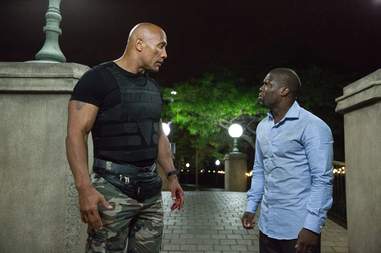 The Rock and Kevin Hart in 'Central Intelligence'

| Warner Brothers Pictures
Will Ryan Reynolds and Kevin Hart be in a future Hobbs & Shaw sequel?
Speaking of future sequels, as long as Hobbs & Shaw makes money, you should expect to see a sequel, likely with more names added to the poster. There are two major celebrity cameos in the movie: Ryan Reynolds plays rambling CIA agent Locke and Kevin Hart plays the equally talkative air marshal Dinkley. (Catastrophe star and comedian Rob Delaney also pops up as a CIA agent.) Reynolds is in the movie a lot, a distracting amount if you ask me, and the first post-credits scene, which finds Locke fighting off a series of attackers while talking to Hobbs on the phone, sets him up as an essential part of future sequels.
Is Hobbs & Shaw attempting to build out its own extended family? If the Rock's Twitter account is any indication, the answer is yes. Before the movie's release, he tweeted about the post-credits scene and said it provided "some insight into the 'future team.'" (Oddly enough, Fate of the Furious was reportedly supposed to feature a post-credits tag teasing a possible Hobbs and Shaw team-up, but Vin Diesel allegedly nixed it at the last minute.) Where the original Fast and Furious team was organically and haphazardly assembled over the course of the initial four movies, this feels like a more calculated, star-driven attempt to set-up additional movies in the series.
What do Reynolds and Hart have in common? Well, they have a lot of professional ties to Johnson, who also serves as producer on Hobbs & Shaw through his Seven Bucks Productions company. Hart and Johnson previously teamed-up in the 2016 action comedy Central Intelligence and the family reboot Jumanji: Welcome to the Jungle. Reynolds, who also worked with Hobbs & Shaw director David Leitch on Deadpool 2, is slated to appear alongside Johnson in the upcoming Red Notice, a $200 million Netflix action movie also featuring Fast veteran Gal Gadot. At least at this point, there doesn't seem to be any behind-the-scenes beef between the cast members.
The Rock in 'Hobbs & Shaw'

| Universal Pictures
How will the events of Hobbs & Shaw play into Fast and Furious 9?
Behind-the-scenes drama, detailed hilariously in this recent Wall Street Journal article, has more or less defined the Fast and Furious movies for the last few years. (Like most good modern PR battles, it all started with an Instagram post.) Given the circumstances, it's unlikely that Hobbs will have a major role in the currently shooting Fast and Furious 9 -- plus, John Cena joined the cast, and you can't have too many wrestlers in one movie. But that doesn't mean that the events of Hobbs & Shaw won't reverberate outward in some way. If the series wants to follow the Marvel model, they'll be sure to plant little Easter eggs in each movie to tie them together.
Will that new level of interconnectivity be good for the Fast and Furious series? Probably not! A lot of the self-referential moments in Hobbs & Shaw are a little silly and distracting. For example, there's a moment in an underground garage where Statham's Shaw alludes to a previous job in Italy, implying that he's actually the same character he played in 2003's remake of The Italian Job. It makes very little sense if you get the allusion, and it's a pointless throwaway gag if you're not familiar with that movie. Who cares if he's the same guy? Is Mark Wahlberg going to show up in later Fast movies? Also, is Charlize Theron's Cipher actually the safecracker from The Italian Job? Sorry, I'm getting a headache.
While the Fast franchise has cultivated a proudly absurd sense of chronology and convoluted internal logic, it arrived at that state through pure happenstance and working backwards to solve narrative problems. That's part of the charm of these movies. The self-consciously "planned" style of storytelling offered up by Hobbs & Shaw might be more satisfying for studio executives looking to schedule releases for the next decade, but it's less fun for fans used to the pedal-to-the-metal plotting of the past. In attempting to steer the movies to perpetual box office glory, the franchise overseers may end up running into a ditch of their own creation.