The Real Story Behind Ryan Murphy's New Netflix Show, 'Hollywood'
Watch 'Scotty and the Secret History of Hollywood' to find out more.
The point of Ryan Murphy's Hollywood is invention. In the new Netflix series, Murphy and his co-writer Ian Brennan rewrite the history of old Hollywood to add a bunch of diverse youngsters and progressive studio honchos who break down racist and homophobic barriers years before that was actually possible in the industry. But one of its key plot points is based on an until recently untold bit of history that proves that truth can often be stranger than fiction.
In the pilot, Murphy's protagonist Jack Castello, a wide-eyed youth played by David Corenswet, is in desperate need of cash. Despondent, he goes to a bar where he's approached by a suave older gentlemen named Ernie, played by Dylan McDermott. Ernie offers Jack a job at his gas station, only the gas station isn't just about pumping gas. Ernie has an army of attractive young men just like Jack, and if a driver pulls up asking for a trip to Dreamland, her or she is clearly asking for another sort of "service."
Seems wild, right? A brothel running out of a gas station that caters to the stars? Well, Ernie's exploits are based on the real-life exploits of one Scotty Bowers, hailed "pimp to the stars," who initially operated out of Richfield Gas on Hollywood Boulevard. Scotty's work procuring young men and women for the straight, gay, and bisexual denizens of the silver screen remained largely whispered until just the past decade. In 2012, Bowers published his memoir, Full Service: My Adventures in Hollywood and the Secret Sex Lives of the Stars, written with Lionel Friedberg. The memoir stirred up some controversy given the fact that it outed long dead and closeted celebrities.
"Over the years more Hollywood personalities secretly congregated at that little gas station than anywhere else in town," Bowers wrote in his book. "It was a scene that saw as much furious action as the busiest studio back lot. The place became a magnet for those in quest of carnal thrills and escapism of every kind. A cavalcade of movie stars and others were attracted to the station like the proverbial moth to a flame. I became the go-to guy in town for arranging whatever people desired."
Then, in 2018, Bowers was the subject of the wonderful and dirt-filled documentary Scotty and the Secret History of Hollywood directed by Matt Tyrnauer. (The film is available to rent on Amazon Prime and stream with a Starz subscription.) Though Bowers died in 2019, Tyrnauer captures him on camera telling all of his stories, his cheeky verve, and his shocking sexual frankness even at 90 years old. Bowers saw his work as altruistic. It was an era when Hollywood was restricted, thanks to the conservative Hays Code, and actors had morality clauses in their contract. Gay and bi performers couldn't live freely. "90 percent of jobs could be lost from being gay," Bowers says in the documentary. "You were in the closet, basically. So many people were. That is why what I did in the gas station was so nice for people."
Bowers was a veteran of WWII and a Marine who moved to Hollywood once the war was over. He got a job at the gas station, and one day was picked up by the actor Walter Pidgeon and the rest, as they say, was history. He recruited fellow Marines, and utilized a trailer in the back and a motel across the street for services. He has stories about basically everyone. He tells tales about threesomes with Bette Davis, and having sex with J. Edgar Hoover while Hoover was in drag. He describes fixing up Cary Grant and Rock Hudson.
If you've watched Hollywood already, you know Rock Hudson and his agent Henry Willson are two of the few historical figures to have major roles in the series, even though other real people Bowers actually interacted with have bit parts. (Ernie has a fling with Vivien Leigh at George Cukor's house in the series. Bowers did the exact same.)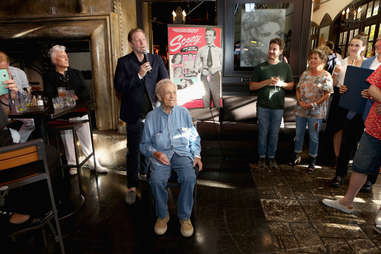 In Murphy's depiction, Jake Picking plays Hudson as a naive wannabe star who frequents Ernie's gas station and subsequently falls in love with Archie Coleman (Jeremy Pope), an aspiring screenwriter who also turns tricks. Hudson, of course, famously had to conceal that he was gay, but in Murphy's alternate history, the success of the fictional movie Meg, written by Coleman, who is black, and starring a black actress named Camille (Laura Harrier), essentially stops bigotry dead in its tracks. By the end of the series, Rock has decided to come out, essentially foregoing his career for love. In Hollywood's alternate reality, the Hudson-Doris Day movies probably never happen, but Rock lives more honestly. The newly open attitudes also mean that there's little use for the gas station any more, and Ernie transitions to a career as an actor, which was always his dream anyway. (Bowers never seemed to have many regrets that he wasn't a movie star, relishing his behind-the-scenes role.)
Hollywood's happy ending is nice -- in theory. Murphy and Brennan imagine that the movie business became a more progressive place long before even an inkling of that progress took place, which, sure, would have been incredible. But it's also a facile waving away of problems that still plague the industry. For a look at what things were really like, Scotty and the Secret History of Hollywood is a much more honest account.
Need help finding something to watch? Sign up here for our weekly Streamail newsletter to get streaming recommendations delivered straight to your inbox.