Noah Jupe as young Shia.

| Amazon Studios
Noah Jupe as young Shia.

| Amazon Studios
Amazon's 'Honey Boy' Reckons with the Dark Side of Shia LeBeouf's Child Stardom
At this point, the career trajectory of Shia LaBeouf is well known. A child star thanks to his role on Disney's Even Stevens, he went on to lead Transformers movies and get dangled as the heir apparent to the Indiana Jones franchise. But then it all came crashing down in a tabloid and Twitter blaze of very public antics and arrests over nearly 10 years.
Along the way, he reinvented himself as a performance artist. For one project, he sat with a paper bag over his head letting guests approach him with a prop. For another, he broadcast himself watching all of his movies in a theater. And still there were displays of erratic behavior, including bad tweets and accusations of plagiarism.
In Honey Boy, which premiered at the 2019 Sundance Film Festival and just dropped on Amazon Prime, he melds these two personas in a sort of public unveiling of his psyche. The movie -- written by LaBeouf and directed by Alma Har'el -- isn't really as avant garde as some expected, but it's no Hollywood tell-all. There isn't a stand-in for Michael Bay, though admittedly one actress who appears in a brief scene may be playing a fictionalized version of Even Stevens co-star Christy Carlson Romano.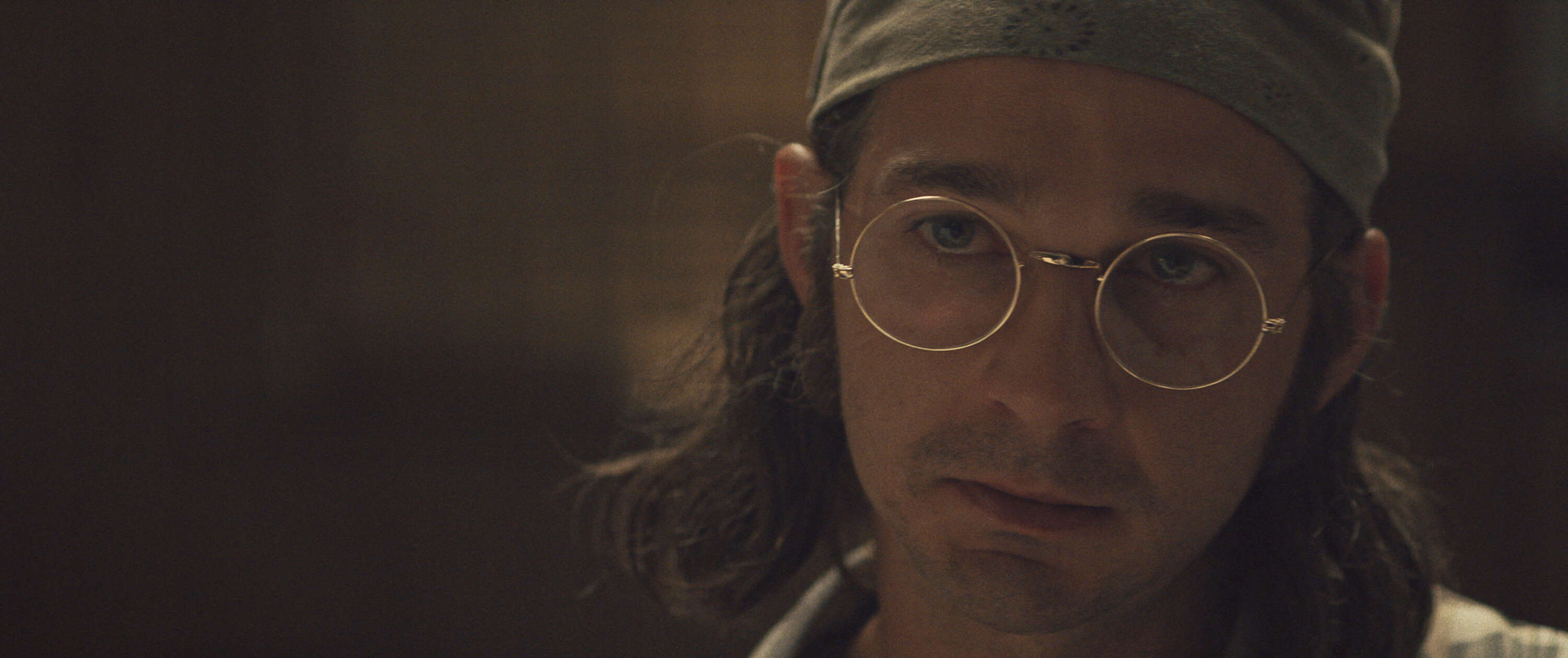 Honey Boy really is a memoir, honing in on one specific part of LaBeouf's identity: His relationship with his alcoholic, rodeo clown father. In this lightly fictionalized telling, the Shia character is Otis Lort, played as a man by Lucas Hedges and as a kid by A Quiet Place's Noah Jupe in a remarkably layered turn. LaBeouf himself is Otis' dad, James, who hides his receding hairline behind a bandana and spins wild yarns about chickens in a Lousiana drawl. After an opening that invokes some LaBeouf's most notoriously commercial work, the plot shifts back and forth between the elder Otis, in rehab, working through his trauma with a therapist (Laura San Giacomo), and the younger Otis, bouncing between set and near squalor on the back of James' motorcycle.
Child Otis has James on his payroll, but the war vet is tyrannical and competitive with his son. It's literally a dick-measuring contest for him. James isolates Otis from potentially positive influences, like his Big Brother program mentor Tom (Clifton Collins Jr.). He is a taskmaster when it comes to Otis' acting, pushing him to be what he considers funny, and physically abusive when Otis challenges him in any way. There's a touch of magical realism to the film, especially in moments where the ludicrous Even Stevens-esque scenes come crashing into Otis' brutal home life. As James, LaBeouf is at his best -- a funny live wire one minute, a terror the next.
As with any celebrity memoir, there are points where you might question the indulgence of the effort -- a side plot featuring FKA Twigs seems to lean in that direction -- but, on the other hand, LaBeouf doesn't go out of his way to make the adult version of his stand-in seem sympathetic. Hedges' Otis is a self-declared egomaniac, resistant to change.
During a Q&A after the premiere screening at Sundance, LaBeouf explained that he and Har'el, who have collaborated before, starting working on the film as soon as he got out of a stint in rehab, calling it a form of "gestalt therapy" and a "ten step."
"It's strange to fetishize your pain and make a product out of it and feel guilty about it," LaBeouf said. "I felt very selfish. I didn't go into this saying, 'I'm going to fucking help people.' That wasn't my goal. I was falling apart."
Honey Boy isn't working to convince its audience that LaBeouf is healed and reformed, that we'll never see his name on TMZ again. Rather, the resolution is a coming to terms with his upbringing and specifically his father, who LaBeouf said during the Q&A that he's speaking to again after six or seven years. The movie does paint an often disturbing portrait of the life of a child actor -- forced to provide for himself, smoking cigarettes alone -- under the care of a charismatic, violent addict. Would it be as affecting or even interesting if we hadn't spent years watching LaBeouf unravel in the public eye? That's unclear. But it's also unclear if that matters. Honey Boy -- with its winks at Transformers and sitcom conventions -- knows why we're watching and maybe that's enough.
Sign up here for our daily Thrillist email and subscribe here for our YouTube channel to get your fix of the best in food/drink/fun.