Louis CK's New Drama Will Make You Miss 'Louie' Even More
Louis CK's FX comedy Louie -- currently on an open-ended hiatus -- starts off each episode by warning viewers that the content is intended for mature audiences only. His new series, Horace and Pete, unveiled without fanfare on the writer-director-actor's personal website recently, is also for mature audiences, but CK sets it up with a different kind of caveat:
Warning: this show is not a "comedy." I dunno what it is. It can be funny. And also not. Both. I believe that "funny" works best in its natural habitat. Right in the jungle along with "awful," "sad," "confusing" and "nothing." I just think it's fair this one time to warn you since you have every right to expect a comedy from a comedian.
CK has gone to extremes to challenge himself and avoid cashing easy paychecks throughout his career, and he succeeds on both fronts with Horace and Pete, a full-on drama. He knows that's not what most of his fans want from him, yet he did it anyway, god bless him. But is Horace and Pete any good? And is it worth ponying up for ($5 for the premiere, $2 for episode two, and $3 thereafter)? Here's what we learned after watching the first two episodes:
Louis CK
It's not what you'd expect from a web series
Although Horace and Pete is shot on video and consumable online, the experience of each episode is like being the lone audience member at a slow-paced, two-act play (intermission included). It takes primarily in two settings: a bar called Horace & Pete's, and Horace's apartment upstairs. There are no opening credits, just an extended shot of the bar's hand-painted sign festooned with three-leaf clovers. Occasional music, written by Paul Simon, breaks up the beginning, middle and end of the episode. Horace & Pete is nothing like a Funny or Die sketch.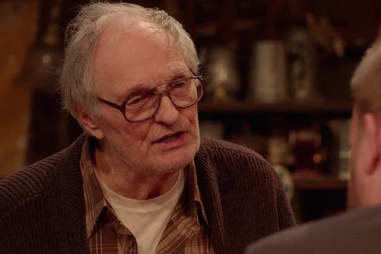 Louis CK
It has an impressive cast and a purposely confusing plot
CK hand-picked actors from hit shows such as The Sopranos (Edie Falco), Boardwalk Empire (Steve Buscemi), M*A*S*H (Alan Alda) and American Horror Story (Jessica Lange). There's a lot of heavy stuff for them to sift through.
Horace Whittell (CK) and his cousin Pete Whittell (Buscemi), another set of the many generational siblings or extended family members named Horace and Pete, run a no-frills namesake Brooklyn tavern where there are no mixed drinks, the liquor is watered down, and Budweiser is the only beer. On the one-year anniversary of Horace's father's death, his sister, Sylvia (Falco), returns to the bar in hopes of finally dissolving the century-old institution and sell it for the air rights.
Alda plays Uncle Pete, who crankily tends the bar, and Lange plays Marsha, the father's fiery final flame. It's tough to say who delivers a more cutting insult: Uncle Pete ("Don't forget to bring your fat daughter some elephant food") or Marsha ("Hillary Clinton is a cunt, and I'm a liberal"). Neither of these characters seem to exist outside the bar's doors.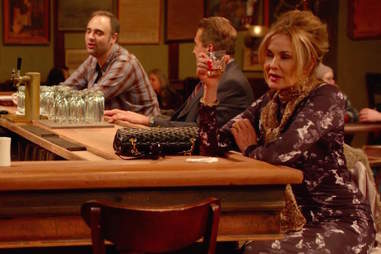 Louis CK
Don't expect to laugh much
The exposition-heavy-first episode -- which includes a lot of clunky language to explain how everyone is related -- tackles mental illness, political ideology, the end of democracy, racism, the loss of a child, fat phobia, alcoholism, conspiracy, homophobia, and the dissolution of relationships. At least CK warned us.
Sylvia and the attorney that accompanies her to the bar prompt a long discussion about common law versus family law. "This family, this establishment, has a tradition, has a history, has bylaws, that have been followed to the letter for 100 years," Uncle Pete tells the lawyer, adding that the original Horace and Pete started their saloon to escape their wives.
Quickly we're told that the Whittells come from a long lineage of wife-beating, and at least one wife was even murdered by her husband at the bar. "A hundred years of misery is enough!" shouts Sylvia, contending that her uncle is the most unhappy man that she has ever known.
The bar does not turn a profit and, although Horace has caretaker instincts, his only real contribution has been cooking the books (he's a former accountant) and he's fairly apathetic about its future. He's also estranged from his daughter (played by SNL's Aidy Bryant) and son (as yet unseen). Drama.
The second episode is also quite a downer. But at least there we learn that Horace believes that, in the afterlife, "if you're good, you get to go somewhere where you get to drink lemonade out of a giant pussy."
Episode two pays off for Louie super fans
In the second-season Louie episode "Bummer/Blueberries," Louie is at one of his daughters' schools, where he meets a fellow parent, played by Maria Dizzia. She wants him to have sex with her, and he's OK with that, but before they get it on, she sends him to the supermarket for a few last minute essentials -- condoms, lube, and antioxidant-rich fruits. During sex, she asks him to spank her and to let her call him "Daddy," and afterward, she demands that he watch her cry and eat blueberries at the kitchen table.
Well, Dizzia reunites with CK in the second episode of Horace and Pete, this time playing Tricia, a woman with Tourette's who'd met Pete while they were both hospitalized. (We're not privy to Pete's illness, but he takes Propitol for hallucinations.)
 
Verdict
Although it's tough to judge a show after just two episodes, we also have no idea whether there will be three or 300, so here we are. To be blunt: loving Louis CK's comedy is not enough to keep a person invested in Horace & Pete. The drama is thin and the shaggy production can feel like stumbling into rehearsal of play you probably wouldn't pay money to see anyway unless one of your friends was in it.
But anyone who digs schadenfreude, doesn't know when it's OK to laugh, reels from excessive tragedy, relishes uncomfortable silences or wishes all those noisy kids would keep it down will likely find kindred spirits with the Eugene O'Neill-ish series. Or, anyone who prefers their drinks watered down.
Sign up here for our daily Thrillist email, and get your fix of the best in food/drink/fun.
Jenna Marotta has covered comedy for New York, Playboy, Esquire.com and VICE.com. She once played a Saturday Night Live extra named Eileen Dover. Follow her: @jennamarotta