Now that television looks more like the movies than ever, the horror genre is virtually everywhere on the small screen (with Netflix, Hulu, Amazon, and other streaming services leading the charge).
That wasn't always the case. My childhood was a long and icy period in which the only original horror fare on TV was anthology programs, always a crapshoot for scares. But with the dark genre enjoying a long-overdue TV renaissance, we thought it would be a good time to run through some of the best options out there.
Recommended Video
'Friends' Is Celebrating Its 25th Anniversary With This Immersive Pop-Up Exhibit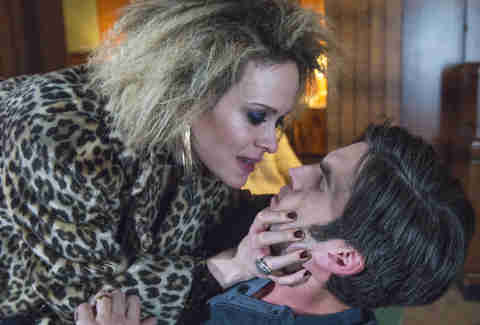 American Horror Story
While genre fans seem split down the middle on Ryan Murphy's anthology series, I'd encourage you to start from the beginning and see how much of the show you can stomach. There's a lot of grim, creepy, and colorfully offbeat material to be found in the first ("Murder House") and second ("Asylum") seasons. The former deals with a contemporary haunted house story in some very non-traditional ways, and the latter takes place in a truly unpleasant sanitarium circa 1964. In addition to some unexpectedly creepy plot contortions, both seasons also feature some wonderfully vampy work from the legendary Jessica Lange.
Where to stream it: Hulu, Netflix, FXNOW
Bates Motel
It'd be easy to turn your nose up at a TV series that's based on one of the most powerful and impactful horror films ever made, but that's not entirely fair. It's not as if Psycho hasn't already inspired a bunch of sequels, TV productions, and even a frame-by-frame remake, so why not let a fresh batch of TV producers take a whack at the property? And they must have done something right because the surprisingly well-received Bates Motel just wrapped up its fifth and final season. I've only seen the first season (so far) but the producers manage to strike an astute balance between outright homage and refreshing novelty, which is all you can really ask for in a "remake" like this; a dash of the old, just for fun, and a concerted effort to forge your own path.
Where to stream it: Netflix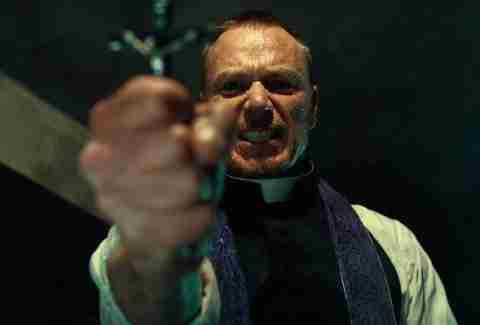 The Exorcist
If I was skeptical about the chances of Bates Motel being a decent series, you should have seen my reaction to the phrase "Fox-produced TV series based on The Exorcist." Suffice to say I was (ahem) highly dismissive of the prospect. Surprise! It's actually pretty solid! The 10-episode season takes just a little while to warm up, but once it gets cooking it's an appreciably impressive mixture of character, procedural, and straight-up horror. (Plus keep your eye on Geena Davis!)
Where to stream it: Hulu, Yahoo View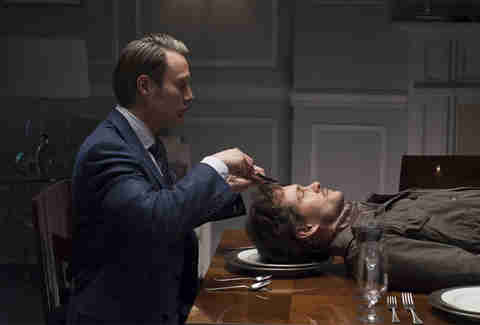 Hannibal
Arguably the cream of the recent horror TV crop, this fascinating, gruesome, and wonderfully photographed series somehow managed to turn even the most ardent Manhunter/Silence of the Lambs fans into a loyal viewer. Bottom line: When Bryan Fuller's name is in the credits, you give a show a shot. Fortunately, he was wise enough to hire the endlessly watchable Mads Mikkelsen to portray the titular madman. To say that Hannibal pushed the boundaries of "network TV horror" would be a massive understatement; even more impressive is how damn darkly entertaining this show turned out to be.
Where to stream it: Amazon Prime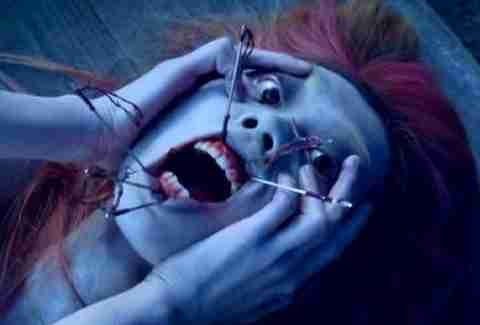 Masters of Horror
Like (literally) every anthology series, this one is definitely a mixed bag -- but there are several decent terror tales tucked within, and a few that are pretty damn great. The hook here, of course, is that you're getting mini-movies from the likes of John Carpenter, Dario Argento, Tobe Hooper, Stuart Gordon, John Landis, Joe Dante, Mick Garris, Lucky McKee, Larry Cohen, Tom Holland, Ernest Dickerson, Brad Anderson, and Takashi Miike. And once you're done with these two seasons, go dig up Fear Itself, which is pretty much Masters of Horror Season 3 for all practical intents and purposes.
Where to stream it: Amazon Prime
Penny Dreadful
Remember that Van Helsing movie? I don't mind admitting that I was psyched for that thing. Vampires and werewolves and Frankenstein's monster all in the same movie?? Wow! How could you mess that up? (Pretty damn easily, as it turns out.) So when Penny Dreadful popped up, I was slightly skeptical and more than a little excited. Hopefully this series would deliver what Van Helsing burned to the ground. And it did! This beautifully shot period piece from John Logan somehow managed to combine a wide array of "classic monsters" from years past, and it did so in a way that was classy, smart, literate... and plain old fun. Penny Dreadful is the anti-Van Helsing, and it's a three-season classic that horror fans will continue to discover for years to come.
Where to stream it: Showtime Anytime, Netflix
The Strain
Vampires have gotten a little toothless (sorry) over the past few years, but if you're in the market for an offbeat horror series that combines old-school "strigoi" vampires with a decidedly modern CSI-style story structure, The Strain is for you. Backed by a strong cast and a playful sense of scariness from co-creator Guillermo del Toro, The Strain probably would have been my favorite horror TV show when I was 14. As I am much older than that now, it's simply one of my favorite horror TV shows.
Where to stream it: Hulu
Tales from the Darkside
HBO's Tales from the Crypt was pretty much the Champagne of TV-based horror anthologies when I was a kid -- but my generation still found time to appreciate this low-budget syndicated production as well. While it may have lacked the mega-producers, the big-time casts, and the production budget of Crypt, that didn't stop Darkside from delivering a generous portion of scary stories over. And it did have horror master George A. Romero (fresh off the anthology masterpiece Creepshow) as its executive producer, and that certainly didn't hurt. Tales from the Darkside also managed to inspire a 1988 spinoff called Monsters as well as its own 1990 movie, which is (also) pretty damn good!
Where to stream it: Shudder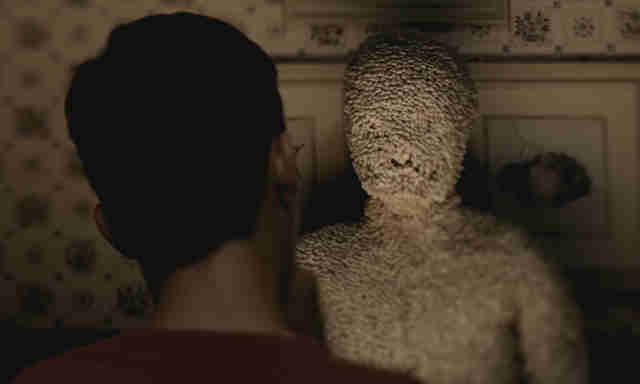 Channel Zero: Candle Cove & Channel Zero: No-End House
Based on a popular creepypasta story about a mysterious children's TV show that plants murderous thoughts in the minds of its young viewers, Candle Cove is essentially a Stranger Things that focuses primarily on the adults. The Syfy series is super creepy, and its version of the Demogorgon is the nightmare-inducing Toothchild, an icky monster that feeds on the teeth of its entranced victims.
Where to stream it: Syfy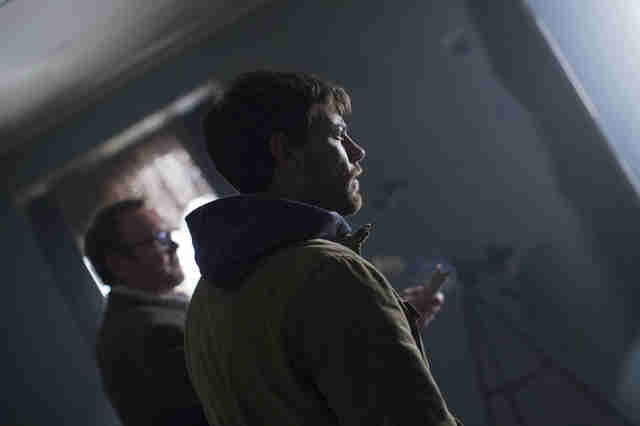 Outcast
This exorcism drama, based on an ongoing comic from The Walking Dead mastermind Robert Kirkman, pairs a compelling story of family trauma with terrifying demonic imagery -- and will keep you up at night. Almost Famous' Patrick Fugit brings vulnerability and a wounded quality to his starring role as Kyle Barnes, a young man who has a mysterious history with the devil, but the series' mischievous heart belongs to Reverend John Anderson, a gruff Southern preacher played by veteran English television actor Philip Glenister (Life on Mars). He gives even the possession-of-the-week plots a sense of urgency. It's the type of stripped-down, character-driven genre show that might not make your social media feed blow up -- the U.S. airing of the second season has been delayed as Cinemax rebrands its programming  -- but it delivers solid scares.
Where to stream it: MaxGo or Hulu (with Cinemax add-on)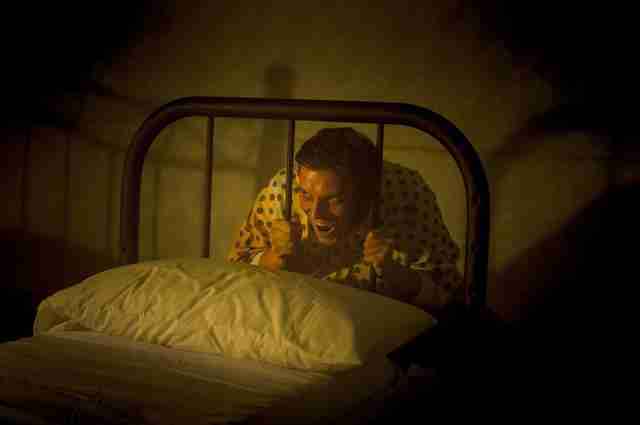 Lore
Aaron Mahnke's addictive folklore podcast is now a star-studded Amazon anthology. Six of the most popular episodes -- the origins of vampires, changelings, werewolves, séances, possessed dolls, and icepick lobotomies -- were adapted to unspool like hybrid horror-docuseries, with a blend of archive material and re-enactments. As you learn about the history of changelings, for example, you'll see Teen Wolf star Holland Roden take on the role of Bridget Cleary, the Irish woman whose husband murdered her because he thought she was abducted by fairies.
Where to stream it: Amazon Prime Video
Sign up here for our daily Thrillist email, and get your fix of the best in food/drink/fun.