Forget all the discount candy and clever costumes -- Halloween is supposed to be about having the crap scared out of you. And you don't need to suffer through an awkward party or spend a mint on makeup to re-create that cold, clammy feeling: All you need is a screen and an internet connection.
In the lead-up to Halloween, cover your eyes and grit your teeth through these nine TV shows if you want to scream while you stream. They've got jump scares and gore galore -- and unlike scary movies, these serials last for hours and hours. Be afraid... be very afraid.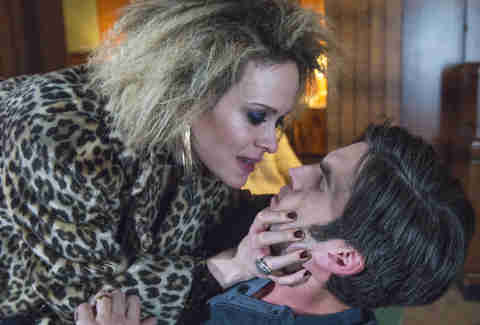 American Horror Story (Seasons 1-5)
Ryan Murphy's horror movie-remixing anthology has a season for every itch you need scratched: Murder House is a Rosemary's Baby-Beetlejuice hybrid; Asylum imagines a 1960s mental ward as a portal to hell; Coven snowballs The Craft and Practical Magic into a voodoo-laced extravaganza; Freak Show is just what it sounds like; Hotel wonders what would happen if Lady Gaga joined the show; and the current sixth season, Roanoke, is a found-footage meta-commentary. No excuses -- every sick morsel of AHS is available somewhere, some way.
Where to stream it: Hulu, Netflix, FXNOW
Bates Motel
There's one reason you should watch A&E's spooky prequel series to Alfred Hitchcock's horror classic Psycho: Vera Farmiga. The Departed actress is always a welcome presence in films, and when given a role like Norma Bates, the deeply troubled mother of future killer Norman, she delivers a performance that flirts with camp but never crosses over into self-parody. While the show can be a mixed bag -- silly subplots abound -- Farmiga keeps the series compelling with her icy stares and unwavering commitment to her not-so-sweet little boy.
Where to stream it: Netflix
Black Mirror
Each installment of Charlie Brooker's addicting anthology takes a current techno-social phenomenon -- topics that range from hashtags to five-star ratings -- to its extreme and asks whether human nature can coexist with it. Part satire and part (unintentional) prophecy, the series presents an appropriately grim view of the future, one that will definitely make you worry for the next generation and maybe even galvanize you into action. Binge this delicious platter of paranoia cautiously.
Where to stream it: Netflix
Channel Zero: Candle Cove
Based on a popular creepypasta story about a mysterious children's TV show that plants murderous thoughts in the minds of its young viewers, Candle Cove is essentially a Stranger Things that focuses primarily on the adults. The Syfy series is super creepy, and its version of the Demogorgon is the nightmare-inducing Toothchild, an icky monster that feeds on the teeth of its entranced victims.
Where to stream it: Syfy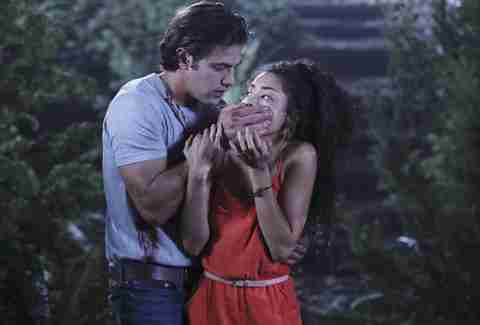 Dead of Summer
Set primarily in the early '80s at a sleep-away camp with some very unexplained and gruesome murdering going on (including a truly bonkers death by bear trap), this 10-episode Freeform series dropped quietly in, you guessed it, the dead of summer. It's co-created by former Lost writers, and it shows: There's flashback storytelling, the same whooshing sound effect for dramatic emphasis, and Elizabeth Mitchell. Things gets a bit ludicrous by the time it ends, but this is totally worth the binge.
Where to stream it: Freeform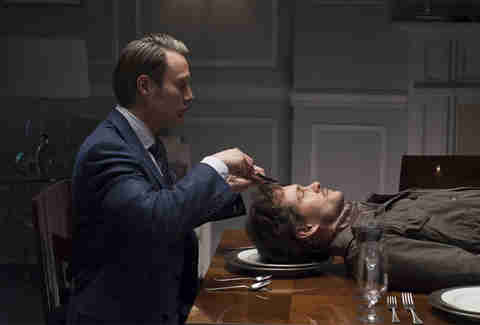 Hannibal
Bryan Fuller's version of the Silence of the Lambs character is played to creepy perfection here by Mads Mikkelsen. Delve into the psychology of cannibalism with help from Dr. Bedelia Du Maurier (Gillian Anderson), and be warned: Gore levels are severe, though that's balanced out with the most gorgeous cinematography you've seen on the small screen.
Where to stream it: Amazon Prime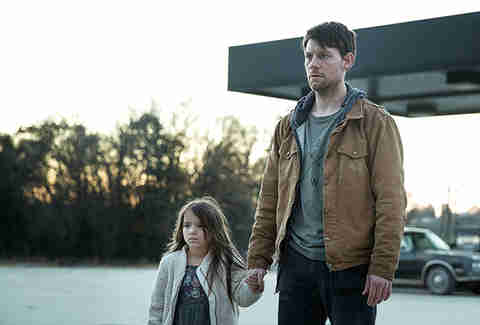 Outcast
Does the bat-wielding brutality of The Walking Dead have you feeling down? Then check out this equally creepy but less sadistic exorcism drama, which is also based on a comic from Dead creator Robert Kirkman. Almost Famous' Patrick Fugit stars as Kyle Barnes, a damaged young man who has a gift for helping possessed people become unpossessed. The show starts slow -- it's really more of a meditation on guilt than a simple ghost story -- but it knows how to deliver the cross-throwing, furniture-flying, holy water-sprinkling set pieces when it needs to.
Where to stream it: MAX GO
Stranger Things
Don't let all that 1980s nostalgia fool you: This show is downright terrifying the first time you watch it (for all 10 of you left out there who haven't). Mystery is afoot in small-town Hawkins, and our heroes will have to puzzle over missing children, bloodthirsty beasts, nefarious experiments, and hulking figures trying to break through another dimension. Might want to sleep with the lights on.
Where to stream it: Netflix
The Walking Dead
What makes Robert Kirkman's graphic novel-turned-TV saga so great is that it isn't just about curb-stomping zombies:The Walking Dead focuses on complex personal relationships to ask thought-provoking questions about what it means to rebuild society, how to function as a healthy community, and what humanity looks like in a post-apocalyptic age. Just don't get too attached to your favorite characters. As Sunday night's Season 7 premiere showed, Rick Grimes and friends live in a very, very unforgiving world.
Where to stream it: Seasons 1-6 on Netflix; Season 7 on AMC.com with cable subscription
Sign up here for our daily Thrillist email, and get your fix of the best in food/drink/fun.
Other Stuff You'll Like In Stream On