Netflix's New Porn Series 'Hot Girls Wanted' Documents a Dying Art Form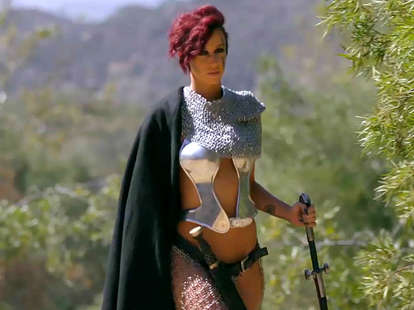 Netflix
Netflix
"Squished under-boob is in right now," erotic photographer Holly Randall tells a costumer on the set of her latest fantasy pinup shoot. "It's the new side-boob."
That nonchalant moment of instruction, documented in the upcoming Netflix show Hot Girls Wanted: Turned On, could prompt a giggle from anyone whose job doesn't entail arranging models' breasts for maximum arousal. (Uh, most of us, I assume.) But the series' producers -- the actress Rashida Jones, along with filmmakers Jill Bauer and Ronna Gradus -- aren't laughing. Like their documentary Hot Girls Wanted, a kind of MTV True Life for amateur porn actresses that Netflix snagged at the 2015 Sundance Film Festival, the six-episode extension strips away the carnal pleasures of pornography to examine the business, art, and cultural impact underneath.
The short of it: The way people watch porn today is all sorts of fucked up. Hot Girls Wanted: Turned On's third episode, "Women on Top," directed by Jones and screened exclusively at Sundance this year, rides that message hard.
There are visionary pornographers in this world, but the shift towards free amateur videos will likely kill their businesses. Holly Randall is one of those in jeopardy. Like her mother, Suze Randall, a model-turned-photographer who became Playboy's first female staff photographer, Holly shoots orgastic ecstasy with the photographic diligence of Annie Leibovitz. Her subjects are bare-chested starlets busting out of leather dresses and silky robes, but they're posed and glamorous -- boudoir for all to see. "Pretty porn is more erotic," Randall tells the camera.
Viewers don't agree -- or are too lazy to discover the high-end nudity that would allow them to agree. According to Hot Girls Wanted, only 3% of porn watchers paid for porn in 2016. Randall's business model relies on subscriptions, purchases, and for-hire jobs from outlets running similar operations. Like all other facets of the media industry, porn will degrade as quality becomes an afterthought and for-free models sway potential consumers.
Jones, Bauer, and Gradus draw a line to an even more paralyzing issue -- if the porn world's artists aren't around to shape the images and protect the models from harmful amateur shoots, a trickle-down effect could poison the next generation of sexually active Americans. Hot Girls Wanted claims that 40% of 14- to 18-year-olds "learned more about sex from porn than in school" -- although, as Gradus notes in a recent interview, porn-watching tends to begin even younger than that, closer to 11 or 12.
Everyone in front and behind the camera agrees the current amount of fetish porn available in an instant should worry those focused on porn and those who aren't. "It's like learning about drugs from the drug dealers," Randall says in the doc.
Erika Lust, an erotic film director based in Barcelona, is combating the uptick in unfashionable porn by chasing a specific audience. With names like Cabaret Desire, Life Love Lust, and Barcelona Sex Project, Lust's films emphasize female pleasure and scenic scenarios. "I want to get women into porn," she says in the episode, adding that the mainstream is "more into punish-fucking women than showing a good sexual encounter."
"Women on Top" follows Lust through the production of one of her "XConfessions" short films, adapted from real-life stories submitted to Lust through her website. The particular "crowdsourced erotica" on display involves a skinny woman playing piano as a man penetrates her from behind. Cameras catch Lust in every position: positioning the camera, adjusting the props, providing the sizable production team with marching orders, and directing her actors on how to thrust like two people in love. When the actress becomes uncomfortable halfway through a take, Lust cuts off the camera. She has what she needs and they can fake the orgasm.
At a screening of the film for an audience of hundreds, the erotic entrepreneur showered her stars with praise and declared it one of her best. "If people demand a better product," Jones said at Sundance, "we'll see better work." Her docuseries provides a strong enough sales pitch that, at the very least, Lust's business should spike.
Netflix representatives wouldn't reveal the loglines of the other five episodes of Hot Girls Wanted: Turned On, which has yet to lock on the calendar but is expected to drop in the first half of 2017. Thankfully, Jones teased how she'd take on other stories in the porn space. Beyond "Women on Top," expect deep dives into hookup apps, camming, and a broader rumination on the relationship between sex and technology. Do not expect actual porn. Netflix wants your eyes, and Hot Girls Wanted is "clickbait" of the highest order, but the streaming service isn't stooping to the lowbrow. For every glimpse of squished under-boob, there's a micro-eulogy made for the disrupted industry. By the end, the only thing getting tugged are your heart strings.
Sign up here for our daily Thrillist email, and get your fix of the best in food/drink/fun.
Matt Patches is Thrillist's Entertainment editor. He previously wrote for Grantland, Esquire.com, and Vulture. Find him on Twitter @misterpatches.