Recommended Video
Ghost Kitchen: How This NYC Restaurant Is Responding to Coronavirus
The transition from a digital friendship to an IRL relationship will always be awkward. When you meet someone you previously only knew in a chat room, a message board, or on social media, you risk exposing the chasm that inevitably exists between your online identity and your boring-ass regular self.
When sex, money, and Netflix are involved, things can get even trickier.
It's a topic that "Take Me Private," the fifth episode of Netflix's docu-series Hot Girls Wanted: Turned On, explores with a mix of curiosity and clumsiness. Early in the episode we meet Alice Frost, a 25-year-old woman living in L.A. who makes her living as a cam girl performing for fans who pay her different rates depending on their access. She explains that for $3.69 a minute a cam room user can get a session with other users and make requests, while $8.69 a minute gets you an exclusive chat.
In interviews, Alice emphasizes the therapeutic qualities of her work. ("I'm making a difference," she says. "I wouldn't keep doing this if I thought it was causing any negative issues.") At the same time, ominous text on the screen informs the viewer that "At any given time there are at least 5000 models live streaming on the top 5 adult camming sites." The show's menacing synth score bubbles underneath to seemingly offset Alice's cheery demeanor.
Soon, the story shifts to Thomas "Tom" McDonald, a self-described nerd who works as a night security guard at an office building in Melbourne, Australia. Online, he uses the name "Approximate" and has been paying Alice for a long time, developing a relationship based on shared interests like superhero movies and a similar sense of humor. When the episode starts, they're celebrating their four-year "cam-iversary."
Though Alice has a husband, a photographer named Chad, she describes herself as polyamorous and has plans to travel to Australia to meet Tom. She packs her suitcase with outfits and toys that he's bought for her. "Approximate has earned the right to meet me," she says at one point. "He's earned it, and I think Chad understands that."
As expected, the trip doesn't go exactly as either one of them planned. Tom, who had been telling friends that he was in love with Alice, has specific expectations for the trip which he struggles to articulate to Alice, who is equally stressed by the pressure of maintaining her chipper "cam" persona when she's in Australia. Though they both clearly care about each other, something is off. "When you're on cam there's a barrier," says Alice. "And even though everything's going well, it's just a little uncomfortable."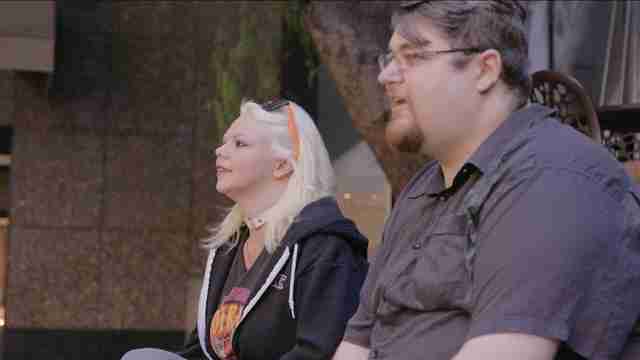 Part of the problem may be the show itself, a spinoff of the controversial 2015 documentary Hot Girls Wanted, also produced by Rashida Jones. This time the criticism is over allegations that the series featured performers without their consent. While "Take Me Private" isn't the episode mentioned in the specific dispute, it does reflect some of the larger problems with the show's often criticized approach, which combines advocacy with pornsploitation. Can the audience truly trust the show to prioritize the Alice and Tom's well-being above the desire to make grabby television? It's a delicate line the filmmakers struggle to walk. 
By taking what could have been a b-plot in a True Life episode and stretching it out to jumbo-sized Netflix length of a full hour, the filmmakers clearly want the story of Alice and Tom to create empathy for the two. The couple gets lots to explore their thoughts and feelings on screen. We meet their friends and get a sense of their lives outside of camming. But the creators can't help moralizing and delivering a message. 
Towards the end of the trip, Tom and Alice finally have a relatively honest conversation about the awkwardness of the trip and their feelings. It has the cadence of a break-up. "You deserve some real happiness and not just some computer fantasy," Alice tells Tom. "You're not quite as happy as I think you could be." They share a hug and he drives her to the airport, providing the type of melancholy yet hopeful ending that often ends reality shows. It's pat. Easy. 
No one ever acknowledges that Alice's entire trip, though it may take place outside of the cam-world, does occur under the lens of a team of documentary filmmakers funded by Netflix. It's a question the show doesn't engage: Does the presence of the Hot Girls Wanted crew put more pressure on the meeting? Would the trip have gone better if cameras weren't there? Less awkward, maybe? 
That extra level of artifice goes unexamined and unacknowledged because to do so would puncture the fantasy that Hot Girls Wanted is peddling. The show wants you to believe that it's providing an authentic, eye-opening look behind the curtain of an often misunderstood industry, but, like in the case of Alice and Tom, appearances can be deceiving. 
Sign up here for our daily Thrillist email, and get your fix of the best in food/drink/fun.