Recommended Video
Ghost Kitchen: How This NYC Restaurant is Responding to Coronavirus
"I'm doing what every other guy's dreams are," says pornstar Jax Slayher during the fourth, and most explicit, episode of Netflix's docuseries Hot Girls Wanted: Turned On. The curious assertion, like so many other statements in the six-episode follow-up to the documentary Hot Girls Wanted, goes under-examined.
Slayher's claim probably isn't true -- wouldn't all men whose porn careers never materialized feel empty, rueing a wasted life filled with dreams unattained? -- but its inclusion contributes to a confusing melange of focal points and beliefs that leaves unanswered the questions it attempts to raise. His episode, provocatively called "Money Shot" in reference to the payoff of a typical scene and the monetary payoff those entering porn seek, quickly becomes distracted by these questions, leaving me with exact same level of knowledge about pornography economics as I had when I clicked play: zilch.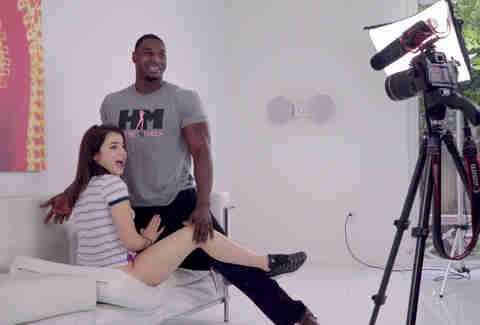 "Money Shot" introduces us to Tyler Knight and Jax Slayher, two black porn stars who have in recent years received more work performing in interracial scenes. We also meet Kylie Quinn, an 18-year-old white starlet who shoots a scene with Jax, and Riley Reynolds, an agent trying to build his roster of porn stars and create a premium site of his own.
Slayher comes off as a gentle, dense figure; he claims watermelon gives him more semen and thoroughly explains his porn name: "Like, I just slayed her. Just slayed the pussy and just demolished it. You know, destroyed it." Yep, got it. He also hesitates at the de facto directors' (Reynolds and a cameraman) instructions to have rough sex with Kylie Quinn during their scene, apparently unsure of where to place his hands on her face, or whether he should choke her. Off camera, he says, he's all about pleasing a woman, more of a sensual guy. A title card ominously tells us that a third of all porn clips depict acts of physical aggression, and 94% of the time, women are the target.
We don't know the full implications of those figures, but it certainly does not inspire comfort to hear two men watching and filming sex tell Slayher to choke Quinn, following up with "you can actually be kind of rough with her" and that Quinn "is totally fine with it with that, right? Will you tell him?" Sure enough, the sausage-making process won't whet your appetite.
We're getting a bit off track, but that's because I'm not entirely sure what track the episode wants to ride. "Money Shot" initially appears to refer to the increasing financial instability of an industry that largely makes its product accessible for free. But then we learn that Tyler Knight and Jax Slayher make a pretty good living, in part because demand for black-man-on-white-woman porn has shot through the roof.
That leads to a superficial conversation about race, which prompts Knight to claim, "We literally get reduced to our lowest common denominator to appeal to the lowest common denominator." White women, a title card tells us, can receive a premium for working with black talent. Knight asks us to name another industry where that would be legal, but it's difficult to understand exactly what those who are complicit in standardizing these policies think about it other than that's just the way things are.
The fact that the filmmakers make no effort to explore the social and historical context in which the popularity of these scenes exist would be a gross oversight on its own... if it were the only one. Slayher helpfully informs us that it wasn't so long ago that a black man had to be careful being with a white woman, and now here he is banging them for money -- I get the feeling he won't be quoting Othello, though. Perhaps Knight's line of inquiry would bear more fruit if it were discussed at any length, but the topic gets dropped almost as quickly as it was picked up. Quinn offers that it's only the porn industry that asks her to call it a "big black cock" as opposed to simply a "big cock," which is what she would actually say. That's about as deep as the topic gets.
If it sounds like I'm picking on Slayher and Knight, it's not their fault the series skims the surface, like Reynolds skimming grime off the surface of a pool to make sure the pre-video camera shoot looks good. Reynolds, a spindly white guy from Florida who wears a flatbrim black hat with gold-plated letters spelling "PORN," soon becomes the episode's focus. He has a crazy work ethic, his girlfriend testifies, and that seems to be enough for most people in his life. No need to question the kind of work he's doing -- the Protestant work ethic's greatest achievement is its universal applicability. Hard work is Good, even if porn is Bad.
Which is what we keep hearing about Riley Reynolds: He's driven, he works hard, he has a goal. He wants to make lots of money. He wants to buy a boat. He works hard. He wants to start the biggest porn site in the world. He takes care of his mom. He works hard.
"Everyone who does porn, it's because of money," Riley says shortly before visiting his father, the lone person who doesn't approve of his son's profession or attire (Reynolds owns more clothing emblazoned with the word "porn" than I knew existed). Through a series of vague allusions and a list of past jobs, we learn that Reynolds has screwed up his life somehow, though specifics are short; porn offers him the best chance to make a decent career and lots of money.
About that money. Despite Tyler Knight's claims at the beginning of the episode, by the end we learn that people DO buy porn, and careers in porn pay. How much? Who's buying and who's paying? What does it take to turn pornography into a career? Is it always true that, as Slayher says, no one gets paid until the male talent orgasms? How can the episode ostensibly focus on money without ever mentioning a dollar amount? By its end, the episode has raised plenty of questions. Unlike Jax Slayher, the answers never come.
Sign up here for our daily Thrillist email, and get your fix of the best in food/drink/fun.