Netflix's 'Hot Girls Wanted' Series Tells Hard Truths About Amateur Porn Stars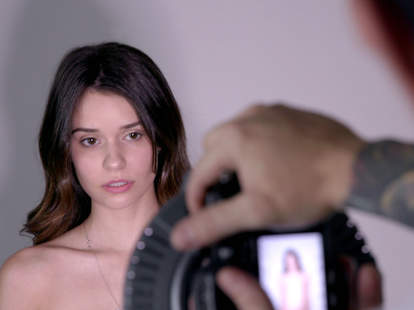 In last year's Oscar-winning film La La Land, Mia, a 20-something from Nevada, sings and dances her way through soul-crushing days of barista work until she finally lands that big Hollywood break (with a little help from her jazz-obsessed boyfriend) she's been chasing her whole life. Determination and swirling colors offsets the indulgent fantasy -- we're happy to see Mia succeed... at becoming a rich-and-famous movie star.
As I watched the third installment of Netflix's docu-series Hot Girls Wanted: Turned On, I wondered: Would audiences have judged Mia differently if she were an amateur porn star looking to make real money in girl-on-girl videos? Yes, that's a real question.
"Owning It" follows three young women who move to Los Angeles for their piece of the pornographic pie. Twenty-four-year-old Bailey Rayne, an adult entertainment entrepreneur by day and camgirl by night, is the surrogate mother of their makeshift porn sorority. Under the roof of a small LA apartment, rented out by their talent agent, John Stevens, the girls swap stories and share trepidations. Eighteen-year-old Bonnie hula-hoops for the crowd -- she, like others, feels comfortable and free for the first time. Bailey is there for them every step of the way, parading the girls around town for producers, explaining how to start LLCs, and teaching them how to squirt on cue.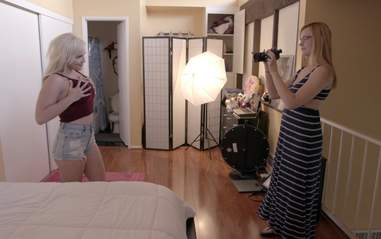 Netflix
As in other Hot Girls Wanted episodes, "Owning It" deconstructs our preconceptions about the porn industry while still indulging in the salacious images that would lure unsuspecting Netflix users. Bailey is a legitimate businesswoman who makes substantial money wrangling new talent ($500 for each new recruit and an additional $500 if they're down with "girl-on-boy"). Her personal cam work rakes in even more; in one scene, Bailey slaps her ass as an anonymous audience showers her with tips. Minutes later, she's obsessing over internal site data that allow her to pick and choose which viewers to allow into her room. Guys who tip more get the best shows. "I like statistics," she says.
This is a woman at the top of her game. The money Bailey makes selling her used panties ("the ones from high school sell the most") and paintings she's smeared into existence with her breasts are like cherries on top of a never-ending sundae.
"Owning It" feigns introspection but also seems ready to gobble up that sundae. "I am a feminist working in this industry," Bailey asserts, and from her business acumen to the fostering of young talent, it's hard to argue. Except that, to normalize porn, we also have to accept that it's taboo to many.
Remember "Belle Knox," the 18-year-old porn star who got into the business to pay off pricey Duke University bills and, in 2014, found herself inundated with harassment after a fellow student discovered her identity? The media coverage only exacerbated the shame slung by anonymous internet trolls. Through it all, Belle steadfastly maintained that her life was where she wanted it to be. "My experience in porn has been nothing but supportive, exciting, thrilling and empowering," she wrote on XOJane. Time magazine, and many other outlets at the time, responded: nah.
Netflix
The people behind Hot Girls Wanted: Turned On may be equally conflicted over Belle Knox. While "Owning It" celebrates Bailey and the other girls' success and lingers long enough on flashes of bare skin to silently acknowledge the appeal of looking at naked young people, the episode also concludes with criticism. Bailey is shaded as a bit of a performance addict, shooting back vodka during her cam sessions and watching tips drop into her account like they're quarters at a slot machine. Though guided by Bailey, a short stint in porn transforms Bonnie from innocent hula-hooper who only wanted girl-on-girl jobs to "Kylie Page," a party monster craving Twitter attention and prepping for her first girl-guy shoot. Unlike Mia in La La Land, the fantasies of porn star hopefuls end in the second act. 
And unlike Mia, success for these girls still brings shame. As they learn when they first gather at the house, only Bonnie had the courage to tell her mother that she was leaving home to pursue a career in the adult entertainment industry. She still didn't tell her father. "That's not a surprise you may want him to discover on his own," Bailey says. It's a funny moment that reverberates into a haunting one as Hot Girls Wanted plays the concerned parent.
"Owning It" sheds light on the trials and tribulations of being a porn professional, but until the young women of the industry are equals to budding starlets dreaming of life in La La Land, they'll never have a real moment in the spotlight. At the beginning of the episode, Bailey firmly states: "I am empowered." Can't we believe her?
Hot Girls Wanted: Turned On is now on Netflix.
Sign up here for our daily Thrillist email, and get your fix of the best in food/drink/fun.
Matt Patches is Thrillist's executive Entertainment editor. His previous work appeared on Grantland, Esquire.com, and Vulture. Find him on Twitter @misterpatches.