A Surprise 'Game of Thrones' Return Rattles This Anticipated Theory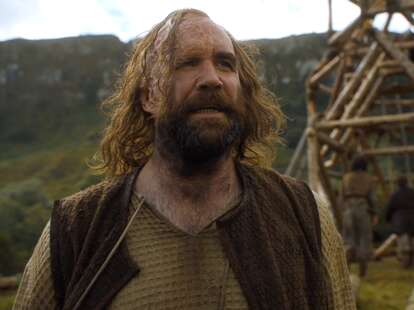 This article contains major spoilers for "The Broken Man," the seventh episode of the sixth season of Game of Thrones. Read our full recap of the episode, and also check out our other Thrones recaps, theories, and spoilers.
Remember a few episodes back when Game of Thrones co-creator David Benioff declared that Season 6 was the season of "rebirth"? He did so with reason: Jon Snow came back to life! Daenerys emerged a second time from the fire! Margaery Tyrell became a born again Seven-er (kind of)! And in this week's "The Broken Man," another "deceased" Thrones favorite returns with a fresh face. Sandor Clegane, a.k.a. the Hound, is back -- though his future looks violent.
The seventh episode of the season opened with a rare, pre-opening credits cold open, Benioff and D.B. Weiss' way of saying, "we heard you theorizing, internet hivemind, and we're just going to leave this here." Months after his assumed death in the Season 4 finale, Sandor is back on his feet, a member of a hippie commune just trying to keep the peace, man. Guided by Septon Ray (played by Deadwood's Ian McShane, obviously hired to spout lines like "I'm a fucking Septon!"), the tribe is in the early days of learning to lead a detached life, and while the Hound remains an outsider, everyone appreciates the fact that he can lift a log that would normally require the strength of four men. The dude's a brute, and according to Ray, looks a lot better with sunburst highlights than the way he was discovered after his duel with Brienne, dirty, bloody, and covered with bugs.
There is a religious aspect to the Hound's new community -- Ray wears the Seven-Faced God's star symbol around his neck -- but it goes mostly unacknowledged in the brief appearance. We get just enough smiles, sunshine, and All Natural Westerosi Gruel™ to know that these guys are living the dream. Even the Hound starts feeling the positive vibes. When Ray asks Sandor what kept him going as he died on the hills outside the Vale, Sandor replies, "Hate." Get this man a hemp T-shirt, stat!
We, like most of the Thrones obsessed, predicted the Hound's return. Based on setup in both the show and the books, fans postulated that the Hound survived his infected wounds and would bounce back for a trial-by-combat fight sequence dubbed "Cleganebowl" that would pit Joffrey's former bodyguard against Cersei's champion, Gregor Clegane, a.k.a. the Mountain, a.k.a. his brother. The first part is paid off: the Hound is alive. And by the end of "The Broken Man," he's certainly angry and looking for revenge.
After a run-in with the Brotherhood Without Banners, an outlaw group screwing with anyone camped out in the Riverlands, Sandor's perfect life is fractured beyond repair. "There's a reason you're still here," Ray tells Sandor during a powwow. "The gods aren't done with you yet." Certainly not. Discovering his new mentor's neck in a noose, Sandor picks up an axe and, as Weiss put it the post-show annotations, goes "full throttle back into what he is: a killer."
But will the Hound actually compete in Cleganebowl?
Game of Thrones may have too much on its mind for something so brutish and so pat. There'll be violence, no doubt; expect a few bannerless-bro heads to fly in the next episode. But making it all the way back to King's Landing for trial by combat seems less plausible. After the Hound exacts his revenge on the Brotherhood, he'll be close to Jaime's neck of the woods, a location where, as we learned in the teaser for next week's episode, Brienne also winds up. Reunion! But unlike the Friends reunion, Sandor's would undoubtedly involve more swordplay. Clearly, the defeat ("he was a woman," Sandor reminds Ray) still stings.
But this is the new Hound! He has seen the light, and there's a chance everyone hugs it out and joins forces against the Freys, a rare moment of unification and understanding. Or maybe our scarfaced old friend goes completely rogue, reconnecting with an on-the-run Arya to give us the road-movie duo we longed. We can dream.
One thing is certain: both Cleganes will be busting skulls come next Sunday. When it comes to the High Sparrow, Cersei "chooses violence," which, based on the preview, means unleashing the zombified Mountain on poor Lancel Lannister and other Faith of the Seven acolytes. If Cleganebowl were to come about this season, the Hound would have to find his way back to King's Landing in the next three episodes and sign on as the High Sparrow's proxy in Cersei's trial by combat. But Cersei doesn't seem to be playing along anymore, so it's doubtful there'll even be a trial. And with Margaery clearly plotting to destroy the religious faction from the inside -- I mean, just look at that scheming face -- Cleganebowl could only sidetrack the more thrilling threads in play.
That doesn't mean Cleganebowl won't ever happen. When the dust settles from the Tyrell-Lannister team-up, there could be a play for the Iron Throne that involves Queen Margaery and Cersei going to war with the Clegane brothers as their representative fighters. Because, really, do we think Tommen's going to make it out of this season alive? No one's forgetting that endorsement he gave the High Sparrow. Not even Ser Pounce.
In one of the episode's final scenes, a member of the Brotherhood quotes a common prayer to R'hllor, the Lord of Light: "The night is dark and full of terrors." No kidding. Sandor Clegane is alive. He is the terror, chumps.
To Cleganebowl or not to Cleganebowl? Get theorizing.
Check out all the latest Game of Thrones Season 6 photos that tease the next episode.

Sign up here for our daily Thrillist email, and get your fix of the best in food/drink/fun.
Matt Patches is Thrillist's Entertainment Editor. He previously wrote for Grantland, Esquire.com, Vulture, The Hollywood Reporter, and The Guardian. He'd pick Pod to fight for him in a trial by combat. Find him on Twitter @misterpatches.