Everything We Know About HBO's 'Game of Thrones' Prequel 'House of the Dragon'
The series about the Targaryen family premieres on HBO very soon.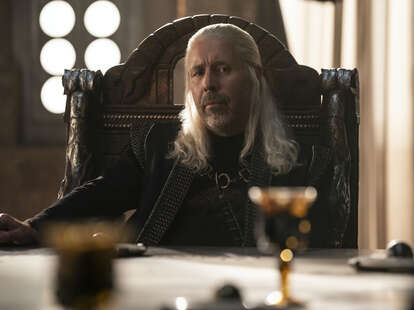 Paddy Considine as King Viserys Targaryen

| Ollie Upton/HBO
Paddy Considine as King Viserys Targaryen

| Ollie Upton/HBO
Well before Game of Thrones wrapped up its eight-year run with that controversial final season in spring of 2019, there was talk dating back to 2017 that HBO was planning on releasing not one, but several spinoff and prequel series set in A Song of Fire and Ice author George R. R. Martin's fantastical universe. While one show that was supposed to take place thousands of years before the events of GoT and star Naomi Watts got the go-ahead to film a pilot before the network ultimately decided to pull the plug on it, other optioned shows are still in the works.
One of them will be here fairly soon, actually. House of the Dragon, which was given a full-season order back in fall 2019, is the first of the spinoffs coming down the pipeline. If you're familiar with the the books or seen the original, you should be able to recognize based on the title alone that the upcoming show is about the Targaryen family, the clan from which Daenerys and Jon Snow are descendants. While HBO and George R. R. Martin start to light the embers on their latest collaboration, here's everything we know about House of the Dragon so far.
When will House of the Dragon be released?
In late March 2022, HBO announced House of the Dragon will premiere on Sunday, August 21—it looks like GoT fans will be back to their typical end-of-the-weekend appointment television, as the series airs weekly.
The show is certainly one of HBO's big releases this year, and comes relatively shortly after it began production back in spring/summer 2021. Now that it's finally on the way, you can officially get excited about all of the dragons and family rivalries coming soon.
Is there a trailer for House of the Dragon?
HBO finally transported fans back to Westeros in July by dropping the full-length trailer about a month out from the premiere date. It had everything you would expect: the Iron Throne, lots of knights in flashy armor, regal rulers appearing before their courts, a whole lot of medieval sexism, and (what everybody's really been waiting for) those fearsome, fire-breathing dragons.
More recently, an extended trailer premiered at San Diego Comic-Con. The preview sets up the season's primary conflict of Viserys Targaryen having to pick his heir, which—as always with the Game of Thrones universe—is an issue of family ties and societal expectations, as he's torn between choosing his first-born, Rhaenyra (a woman! gasp!), or his brother Daemon. Basically, it looks like the show is bringing the fire and ice with all the tension that's about to arise.
Are there any teaser trailers for House of the Dragon?
If the full-length trailer wasn't enough, there are a handful of teasers you can check out, too. HBO dropped one in May. The cinematic clip shows some recognizable names including Stark, Baratheon, and Valaryon as they kneel to King Viserys' named heir, Princess Rhaenyra Targaryen. But because she's a woman taking over the throne, it looks like we're in for a battle full of bloodshed and political schemes because of how many are about to detest her ruling. It features a voice-over from star Matt Smith as Daemon Targaryen saying, "History does not remember blood. It remembers names," to get you extra stoked.
If that trailer got you hyped up and you're desperate to see more, you can also watch the very first teaser for the series that HBO actually released back in October 2021. This one doesn't offer as much of a preview of the plot, but it does share some more shots of the cast and promises "gods, kings, fire, and blood." There's also more melodramatic commentary from Daemon Targaryen, who says, "Dreams didn't make us kings—dragons did," just as we get a shot of the Iron Throne. It may be another brief clip, but it'll get you fired up.
What will House of the Dragon be about?
Set 200 years before the events of GoT, House of the Dragon chronicles the origins and end of the reign of House Targaryen, according to THR. As shared by Entertainment Weekly, that includes the infamous Dance of the Dragons, or the Targaryen civil war that tore Westeros apart. It's based on Martin's 2018 book Fire & Blood and should follow Viserys' journey in picking a successor for the Iron Throne.
Who's in the cast of House of the Dragon?
HBO announced the first big casting news of House of the Dragon in October 2020. Deadline reported English actor Paddy Considine (The Outsider, The Third Day) is one of the leads on the show, playing King Viserys Targaryen. According to Deadline, Viserys was "chosen by the lords of Westeros to succeed the Old King, Jaehaerys Targaryen, at the Great Council at Harrenhal." The publication noted he's said to be a "warm, kind and decent man" who "only wishes to carry forward his grandfather's legacy," but his goodness doesn't necessarily make him a strong ruler.
The Targaryen clan will be rounded out by Emma D'Arcy (Truth Seekers) and Matt Smith (Doctor Who, The Crown), who Variety reported were cast in late 2020. D'Arcy will be playing the king's first-born, dragon rider Princess Rhaenyra Targaryen, and Smith taking on Daemon Targaryen, King Viserys' younger brother and heir to the throne who is said to be a fearless warrior.
Even though it's House of the Dragon, they won't be the only family on the show. Members of the just-as-old bloodline House Velaryon have also be cast, according to Variety. Steve Toussaint (Small Axe) plays Lord Corlys Velaryon, who's also known as "The Sea Snake" for being a "famed nautical adventurer" with the "largest navy in the world." His wife Princess Rhaenys Velaryon will be played by Eve Best (Nurse Jackie, Fate: The Winx Saga), who is actually a dragonrider of Targaryen blood, but her spot on the throne was overlooked and instead went to her cousin Viserys because of her gender. (Sounds like the familial tension is already building!)
Variety shared that the House of Hightowers will also appear, including Otto Hightower, who is played by Rhys Ifans (Notting Hill, Snowden), and the faithful Hand of the King. He's said to see Matt Smith's Daemon as a threat. Olivia Cooke (The Sound of Metal, Bates Motel) will play Otto's daughter, Alicent, "who was raised in the Red Keep" which gave her an insider's knowledge to the games of politics.
It sounds like we'll be learning a bit about at least some of the characters' pasts, as well. The teenage versions of Princess Rhaenyra Targaryen and Alicent Hightower were cast in July 2021. Milly Alcock (Upright) will appear as a mini version of Emma D'Arcy's character and Emily Carey (Casualty, Wonder Woman) will be a little Olivia Cooke. Those two are the only younger versions of characters cast thus far, but considering they're billed as recurring roles, it's possible we'll learn about the rest of their family members' pasts, too.
Aside from the core families, Sonoya Mizuno (Devs, Ex Machina) and Fabien Frankel (The Serpent) are also taking on roles. Mizuno will play Daemon's No. 1 ally Mysaria, who sounds like an interesting character, as she "came to Westeros with nothing" and managed to rise in authority to be the potential heir's right-hand advisor. Frankel similarly plays a commoner, portraying Ser Criston Cole, who Variety reported is "of Dornish descent" and "son of the steward to the Lord of Blackhaven." Although he may not have much to his name, he's said to be an incredible swordsman.
In September 2021, Deadline announced the cast was being rounded out with even more additions—some of which are playing characters with names that'll sound familiar to GoT fans. Jefferson Hall (Devs), for one, is playing a Lannister. Well, actually, he's playing two Lannisters, as he's taking on a set of twins: Lord Jason Lannister, Lord of Casterly Rock, and Ser Tyland Lanister, a politician.
Aside from Hall, a handful of new cast members fill out Viserys council. Bill Paterson (Fleabag) will play Lord Lyman Beesbury, the Lord of Honeyholt and Viserys' Master of Coin, David Horovitch (Miss Marple) will portray Grand Maester Mellos, one of Viserys' most "trusted advisors" and "a voice of reason," and Gavin Spokes (Brexit) will take on Lord Lyonel Strong, the Master of Laws to Viserys and Lord of Harrenhal. We'll also meet Lyonel Strongs' sons Ser Harwin "Breakbones Strong" and Larys, played by Ryan Corr (Holding the Man) and Matthew Needham (Casuality), respectively. Plus, Graham McTavish (Outlander) will play Ser Harrold Westerlin, a chivalrous man who "has served in the Kingsguard since the days of King Jaehaerys."
Who are the showrunners of House of the Dragon?
Game of Thrones showrunners D. B. Weiss and David Benioff aren't involved with House of the Dragon at all—so you don't have to worry (yet) that your soon-to-be new favorite characters' fates will be derailed. According to Deadline, the show was created by George R. R. Martin himself along with Ryan Condal (Colony, Rampage). Condal and GoT alum Miguel Sapochnik, who will also direct a handful of episodes, will serve as co-showrunners. They, plus Martin, Vince Gerardis (GoT, Flashforward), and Sarah Lee Hess (Orange Is the New Black, House), will also executive-produce the series.
How many House of the Dragon episodes will there be?
According to The Hollywood Reporter, the first season will be 10 episodes. That seems like a good number, considering that's what GoT went with in its first six seasons.
Will there be dragons?
Of course there will be! It is called House of the Dragon, and the Targaryens have long been one of the few families of dragon lords, so obviously those beautiful, high-flying, fire-breathing CG beasts will be back. In fact, the Targaryens will have 17 of them. Just don't expect them to fuction exactly like they did with Daenerys. "It was important to differentiate the way they behaved and acted and bonded with their riders," Condal said during a Comic-Con panel.
HBO shared concept art of the House of Dragon's dragons on social media in late 2020, and they look every bit as badass as Daenerys' magnificent Drogon, Rhaegal, and Viserion.
Are the other Game of Thrones spinoffs in the works?
After HBO made the decision not to move forward with the prequel starring Naomi Watts, it became a little less clear which of the other spinoffs, if any, still have a shot of a series order. Fans don't have to worry any more, though, because HBO has big plans to basically become an All Westeros, All The Time network. Deadline reported in early 2021 that HBO is developing multiple shows based in Martin's world, so at some point in the (probably distant) future, HBO will be home of the Songs of Fire and Ice universe with several series airing at once.
One of them is said to be an adaptation of the Tales of Dunk & Egg novellas, and in March 2021 The Hollywood Reporter announced that the others are prequels about the House of Velaryon, Princess Nymeria, and the King's Landing slum Flea Bottom. Because all of the shows are in the beginning stages, details are scarce, but THR was able to provide a little bit of insight on what to expect. Bruce Heller (Pennyworth, Gotham) is behind the House Velaryon series, currently called 9 Voyages, which will follow The Sea Snake, Lord Corlys Velaryon. It's possible that the show could be up first, and even be a spin-off of House of the Dragon, considering that character appears in both series. Not a whole lot is known about the Flea Bottom series, but the show about Princess Nymeria has the working title of 10,000 Ships. It could be the most different from everything else that's in the works since it's said to take place well before the events of Game of Thrones, set 1,000 years prior. That series would focus on the warrior queen as she founded the kingdom of Dorne, which devotees should know made her quite a legend.
Plus, even further down the line, Deadline shared that it's possible HBO could even pick up an animated Thrones show. They reported that Bloys stressed that the talks with writers and animators have been "really, really embryonic," so don't get too excited at seeing some bloody battle in 2D form anytime soon. Regardless, that's a lot of GoT-inspired TV to look forward to—and at least in the meantime, we have House of the Dragon.