Jason Hoffman/Thrillist
Jason Hoffman/Thrillist
If you're even thinking of being in Vegas, check out the rest of our DestiNATION: Vegas guide. It's stacked with expert advice from locals on what to eat, where to drink, and what to do.
I first caught sight of Sydney two years ago watching the Pacquiao vs. Mayweather match on TV. You may have noticed her too: a stunning, statuesque brunette, carrying out ring-girl duties. She was just 22, a stripper. And raking in around $300,000 a year. That makes her one of the highest-earning strippers in Las Vegas. The LeBron of strippers. How does somebody pull something like that off? I tracked her down to get her story. It includes rebellion, hustle, manipulation, (literally) slippery cash, and a streak of cold pragmatism you don't see outside of the realm of accounting.
It also includes some confused men dropping trou in front of her.
But first: Catholic school.
People ask me what I do for a living. Then they ask me when I'll get a real job.
They don't know how much money I make. I tell them I already have a real job. I get paid like a surgeon.
It started when I was a senior at an all-girls Catholic high school in Cleveland. I had been doing competitive ballet and wanted to try go-go dancing, with a bikini on. So I tried it, made $150 per gig, and really liked it. One of the girls there said that I should check out stripping. I told her there's no way in hell. I thought strippers were like porn stars. But she talked me into it.
So, during Christmas break of my senior year, I told my mother that I had gotten a catering job and tried stripping at the club where my friend worked. I was scared, but I immediately enjoyed it. Plus, I was 18 years old and walking out of the place with about $500 for six hours of work. That was more money than I had ever seen before. I kept it in a pillowcase under my bed.
Then, one day, after the break, I got called into the principal's office at school. They had website pictures of me hanging out at a nightclub, and the person who sent them in said that I partied and stripped. If I started crying and asking for forgiveness, they would have let me stay in school. Instead I told them they could kiss my ass. I was 18, wild, and a bitch, earning what I thought was a ton of money. My mom was upset, my father was out of the picture -- daddy issues! I moved into my own apartment, got my high school diploma at a public school, married a tattoo artist, and kept on dancing.
I loved it from the start, but it could be hard. Early on, I'd sometimes go into the bathroom at work and cry. Those were the nights when I'd be on stage four times, walk around the club practically naked, and nobody would buy a dance. You feel like a cow at a meat market when nobody wants steak. They're all eating chicken, and I'm like, "What the fuck?" Plus, you'd get some unusual guys. Wearing silk shorts to a strip club is an Ohio thing. I remember seeing a guy in the shorts, and saying, "You're not wearing underwear." I didn't give him a dance. It was just too much.
You learn what to look for, though. I figured out how to recognize within three minutes of meeting somebody whether or not it will be worthwhile to spend time with him. If his arms and legs are crossed, that is a bad sign. If he doesn't offer me a drink: bad sign. And you learn from your mistakes. I accidentally left my locker unlocked once and somebody stole the $300 jeans that I wore to the club. It was the middle of an Ohio winter and I left work with no pants on. I needed gas but was wearing a g-string and boots. After driving home, I walked through the snow like that to reach my front door. My then-fiancé was waiting for me. It could have been hot if I hadn't been so pissed off.
I spent a few years living in Ohio and traveling around a bit. I stripped in Chicago and Tampa and New Jersey. Finally, I came to Vegas in February of 2014, after I turned 21, because it's where the best of the best come to dance. I wanted to see what I could do. On my very first night here, I went to Crazy Horse 3 for an audition. They saw me and didn't want me to leave. They didn't have any tall brunettes with real boobs, so I was perfect for the club. I've had no work done and make more money because of it. If you want a girl with real boobs in Vegas, I'm among the only ones. They have taken amazing care of me ever since.
I've seen girls light their nipples on fire. People were like, "What the fuck is that?"
I moved here with my husband. Let's just say that it was hard for us to stay married. Vegas is not Cleveland, and the stripping didn't help. But it's a little hypocritical to say that you don't like your wife stripping when you like the money she earns. In his defense, there were times when we'd be arguing and I would throw $5,000 worth of hundreds into his face.
He's now my ex-husband.
For some people, stripping is a lifestyle. Before I came to Vegas, I saw girls taking things too far: they partied every night, drank every night, got into drugs. Drugs fucking take over. Girls fall asleep at work and go off the deep end. I have not seen that in the club where I work now. The girls there look like professional models. You won't get hired if you're strung out.
My goal is to make $1,000 per night, working six days a week, but there's no such thing as an average night. Sometimes I make nothing. Other times I can walk out with $20 grand. I'm still trying to figure out how to pick the guys who have money and are willing to spend it. Expensive shoes and a nice watch are good clues. But sometimes it's the construction worker who has never been to Vegas before -- he budgets $5,000 for the trip and spends it all on me. I can't feel bad about that. I'd rather his money be in my pocket than a casino's. I know how to spend it better. When guys tell me they have used all their money, I suggest that they charge it. Enjoy now and pay later. Sometimes they listen.
I'm like, "You better get your pants back on."
Other girls have gimmicks. I've seen crazy things at clubs outside of Vegas. I've seen girls light their nipples on fire, wear costumes with angel wings, do topless river dancing. People were like, "What the fuck is that?" I just chat with customers. Men appreciate a woman who can hold a conversation. I keep up on the news and I learn from other people. For example, I recently danced for a guy who does Internet marketing; he knows how to drive traffic to websites for advertising. He told me about how he gets paid, how the business works. It was fascinating. I didn't even know that was a job.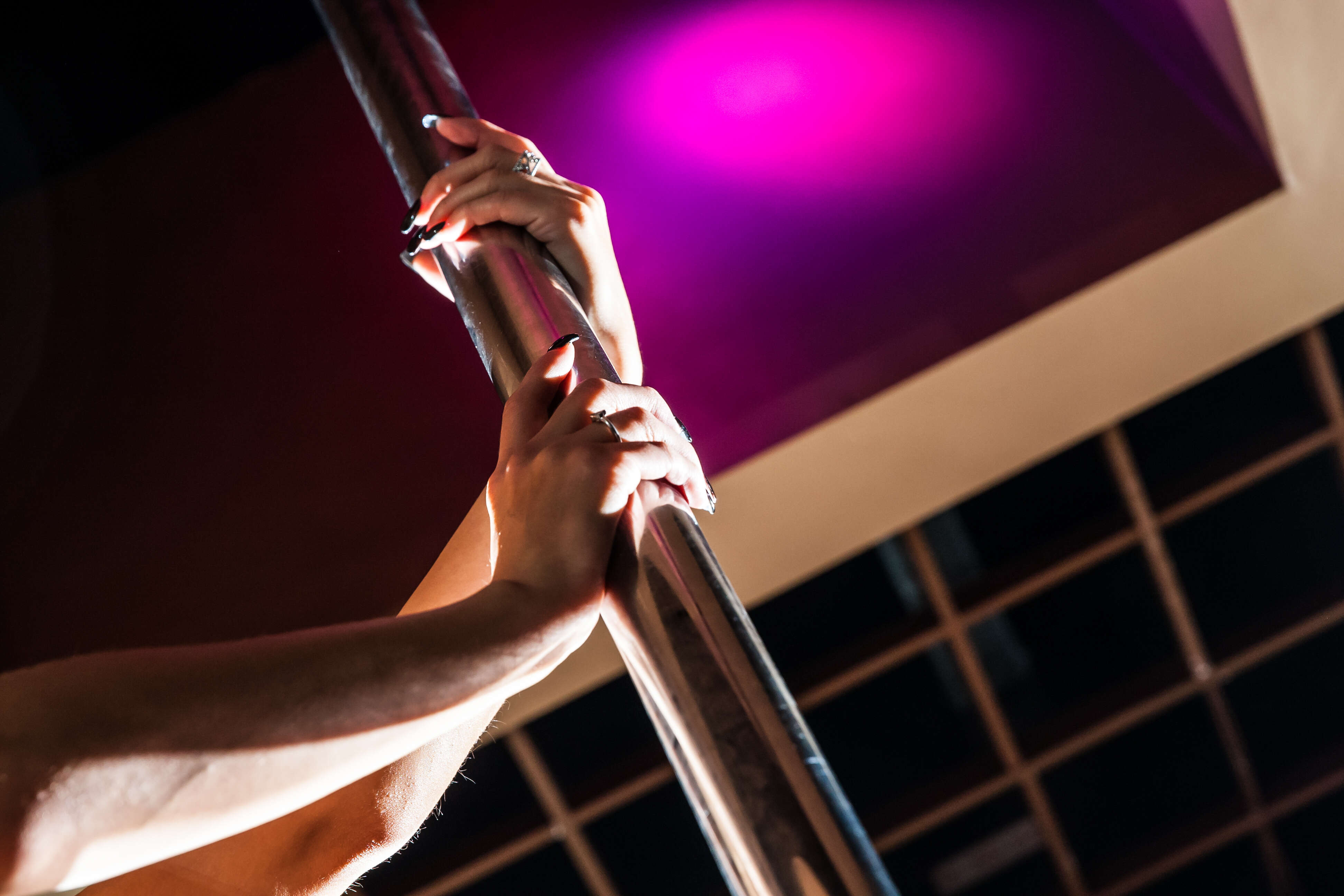 The VIP room is where I generate 80% of my money. You can do twenty lapdances on the main floor and make less. I'd rather know that I am getting $700 up front. And the money is easier. I once had a guy brush my hair for an hour and give me $700. Are you kidding me? Generally, when you sell a room, the guy wants to talk to you, get to know you, have fun. They want that connection, that fantasy experience. You give him a couple of dances but it's usually not a guy wanting 60 minutes of dances.
Though I did have one guy buy two hours in a private room and want lap dances for the entire time. That was exhausting.
Then there was this guy from New York recently. We sat for two hours in the VIP room and I didn't even have to take my skirt off. He just kept pulling out hundreds. He gave me almost $8,000 and I literally did nothing. The host gave me a signal to make sure I wasn't wasting my time because I wasn't dancing. I signaled back: I'm not fucking moving. We talked about his wife and kids and his fantasies. I didn't even get his phone number. I think about this guy a lot. He was just so fucking cool. I one-hundred percent would have taken his number and given him a call.
You might not know this, but money is really slippery.
But not everybody's like that. I've had foreign guys who don't know how strip clubs work and they immediately pull down their pants. I'm like, "You better get your pants back on." And recently a guy was using his iPhone to video me while I was dancing on stage. I flagged my host and told him what was happening. He took the guy's phone and deleted the recording. This guy got so mad. He said to me, "I would never record you. You ain't shit." Then he ripped up 10 $1 bills and threw them at me. After that move he got thrown out of the club.
Still, I love being on stage and dancing. A lot of the girls don't do it because, ironically, they're dancers who don't know how to dance. But I do, and I love being up there, having people throwing money at me. And you might not know this, but money is really slippery. I'm up on stage, wearing heels that push my height to six-four, and I can barely move around because the stage is covered in money. At that point, I just lie down and roll around in it. I love doing that. Especially if the bills are new. New bills smell so good.
As much as I like what I do, it's not something that I tell everyone about. I don't put it on Facebook or talk about it with my family when I go home for Christmas. Most of my family, except for my grandparents, knows, but it's really nobody's business, and we don't discuss it. Plus I work at enough other things -- modeling for magazines like Playboy and Maxim, working some of the big conventions, being a ring girl. This is not my only job.
I realize that the money I make at stripping is not normal. Doing other things keeps me down to earth a little bit. I try to maintain a daily routine -- going to the gym in the afternoon on most days, relaxing before work, saving money, making investments. When I'm ready to stop dancing -- I'm not sure when that will be -- I want to become a real estate entrepreneur. I want to buy a house a year for the next three years. I want to be a landlord and have my money working for me. In this business, I see so many girls who carry $10,000 handbags and can't pay their rent. I own my house and my car.
Admittedly: a Jetta.
People tell me that I'm the only successful Vegas stripper who doesn't have a nice car.
Sadly, Jettas run forever.
Sign up here for our daily Thrillist email, and get your fix of the best in food/drink/fun.
Michael Kaplan is a journalist based in Brooklyn. He has written for publications such as
Details
,
Wired
,
Playboy
, and
The New York Times Magazine
, covers gambling for
Cigar Aficionado
, and is the author of four books. Follow him: @kaplanwords.