Jason Hoffman/Thrillist
Jason Hoffman/Thrillist
The Streaming Wars Are About to Get Really Ugly
The act of streaming television is like a quasi-futuristic pastime out of a science-fiction story. By watching a movie on the surface of your phone or catching up with a sitcom on a smooth tablet you carry onto the train, you're enjoying yourself in a way that would have been unimaginable to the families who first rolled bulky televisions into their living rooms, flipped on the set, and zoned out to Leave It to Beaver. You're not a couch-potato; you're on the cutting edge! The ongoing "streaming war" between feuding media conglomerates is often framed in similarly bombastic, visionary terms. But is it really that dramatic? While the stakes are high, the battle being fought is surprisingly old fashioned and it's centered around the TV comfort food that's always kept audiences coming back for more.
With this month's flurry of headline-making streaming news, including the splashy reveal of Apple's Apple TV+, which debuts in November right before the launch of Disney+, and the announcement of NBCUniversal's Peacock streaming service, which will launch in April of 2020 with over 15,000 hours of content, it's easy to feel like the streaming landscape is shifting. And, from an industry perspective, it most certainly is: Giant corporations are taking big financial risks, powerful creators are signing absurdly lucrative overall production deals, and popular celebrities are lining up to star in shows on platforms you probably haven't even heard of yet. (Sorry, Quibi.) The feverish stockpiling of content grows more intense by the day as streaming wars heat up.
But the fundamental proposition of these services isn't exactly revolutionary -- or even that different from what you might find on TV today. Yesterday, The Hollywood Reporter broke the news that The Big Bang Theory, the Chuck Lorre produced CBS sitcom that popularized the catch-phrase "bazinga," will be heading to Warner Media's HBO Max streaming service in a deal that's reportedly worth more than $1 billion. (HBO Max will also be the official streaming home of NBC's Friends, which Warner wooed away from Netflix for $425 million.) In addition to snatching The Office from Netflix, NBC-Universal's Peacock will also offer Parks and Recreation to its subscribers. Earlier in the week, the Los Angeles Times reported that Netflix had grabbed Seinfeld from Hulu for "far more than the $500 million." It's like watching a TV show version of the NFL draft.
When Netflix first launched its "Watch Now" streaming service in 2007, it only came with 1,000 titles and none of them were original. You didn't pay a flat monthly rate for the right to stream The Sum of All Fears or Jackass: The Movie; instead, you received a monthly allotment of hourly time credits based on how much you were paying for Netflix's DVD-by-mail subscription, meaning a standard $9.99 plan of one DVD -check-out at a time got you 10 hours of visually-choppy, only-available-on-Windows streaming a month. Long before binge-watching House of Cards, this was the model: Hook viewers with a library of familiar movie and TV options, keep the price low, and hope they stick around. The new streaming arms race is defined by similar goals, but this time your favorite shows are being used to draw you in.
All four shows -- Friends, The Office, Seinfeld, The Big Bang Theory -- were massive network TV hits in primetime, organically growing audiences over time to become behemoths. But they're also the lifeblood of cable TV and local syndication schedules right now. They're reruns, the essential comfort food of any TV diet. (Let's not forget that Disney+ will also include episodes of The Simpsons, another mid-afternoon TV staple.) Granted, the streaming interface means you can watch them in proper order on your own time, allowing you to track the will-they-or-won't-they dynamic of Pam and Jim or Ross and Rachel in a more intimate way than the more haphazard syndicated model, but it's not that dissimilar from the way TV has operated for years. You know what you're getting.
These sturdy, reliable shows are meant to build a sense of trust and loyalty. Though Netflix and other streaming companies are notoriously tight-lipped about their internal viewing data, choosing instead to dole out triumphant morsels of information when it fits their interests, we know that Friends and The Office were incredibly important to the growth and sustainability of the platform. According to the analytics firm Jumpshot, The Office, Friends, and Parks and Recreation were the most watched shows on Netflix in 2018.
The fact that Netflix moved so aggressively on Seinfeld, a nostalgia-inducing syndication classic from the company's current Comedians in Cars Getting Coffee star, should be interpreted as a sign that Netflix wants to remain in the cozy, pre-established sitcom business. On the company's ultra-voicey, mildly-insidious Twitter account, the news was delivered with a GIF of the show's four main characters gleefully dancing together. The message was clear: Friends may be gone, but new friends can be made for the right price.
Though Netflix has made big investments on traditional multicam comedies, and even seems to have had some relative success with Ashton Kutcher's The Ranch, they've struggled to find their own zeitgeist-conquering hit in the genre. Just over the weekend, the company cancelled No Good Nick, an under-the-radar family sitcom starring Sean Astin and Melissa Joan Hart, after one season; despite critical acclaim and fan support, the Emmy-nominated One Day at a Time suffered a similar fate. The service's marquee comedies, like Grace and Frankie, Master of None, or Unbreakable Kimmy Schmidt, embrace a less old-fashioned approach, doing away with the laugh-track that powers most of the programs currently being fought over.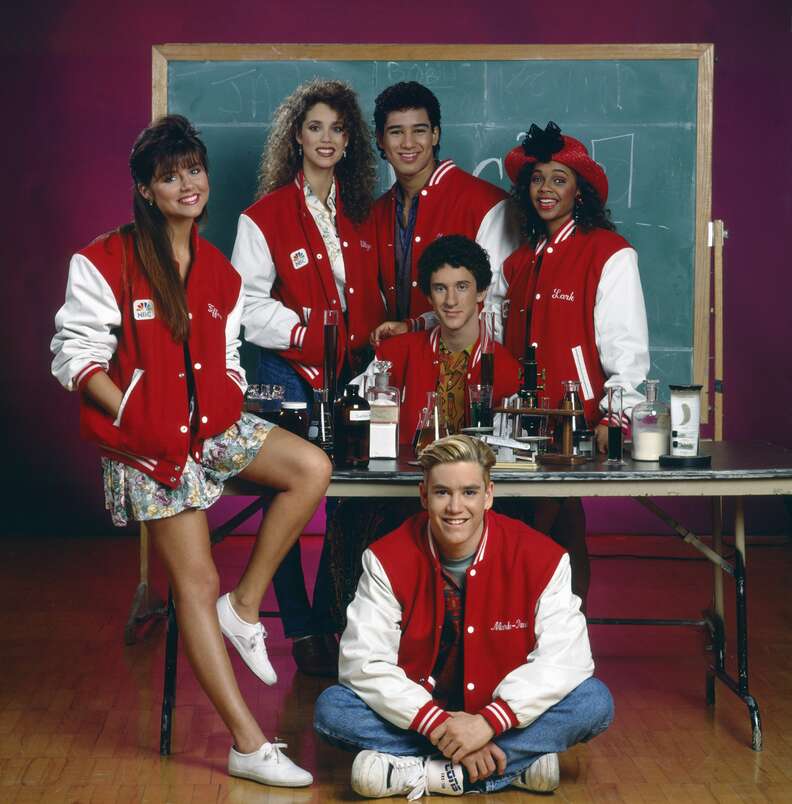 The survival of a streaming platform doesn't just come down to the availability of decades-old sitcoms. They need "new" shows, but ideally they won't be "too" new. Just look at the new original programs announced for NBCUniversal's Peacock: a reboot of Punky Brewster from The Good Place creator Mike Schur, a reboot of Battlestar Galactica from Mr. Robot creator Sam Esmail, and a sequel series to Saved by the Bell featuring original cast members Elizabeth Berkley and Mario Lopez. Expect more original shows from streaming services to shamelessly draw from TV's recent history, generating headlines and piquing viewer curiosity with the (possibly stale) aroma of the past.
Will that IP-reliant strategy work? Like most aspects of the current streaming Wild West moment, it's hard to predict a winner. Increasingly, the safest bet is that some of these streaming services will eventually band together and offer package deals that resemble a modified version of the current cable bill. At some point in the future, there will be consolidation. You'll probably be able to pay a flat rate for a bundle that includes Peacock for old sitcoms, CBS All Access for Star Trek spin-offs, HBO Max for prestige fare, Disney+ for Marvel and Star Wars stories, and, hey, maybe even Quibi.
Until that happens, viewers will have to figure out what services are essential to them by doing a personal and financial inventory. Do you absolutely need to see a dystopian science-fiction show where Jason Momoa leads a tribe of blind warriors in a battle for mankind's future? How important is access to the new Battlestar Galactica in relation to your bank account? Can you live without properly ordered Friends reruns? Just like back in 2007 when Netflix first got in the game, viewers will have to select what movies and shows are right for them. Even if the technology has changed, the war for attention is still fought with your eyeballs.