The Hard Truths About Olympic Endorsement Deals
RIO 2016! It's a showcase for the triumph of the human spirit, opportunity for the world's top athletes to have all the sex, and a possible looming health disaster of epic proportions. So high jump over to all of Thrillist's coverage of the games, for the games beyond the games.
Every four years, when the world's best athletes gather for the Summer Olympics, the best of the best go home with gold medals. But the best of the best of the best can cash in even after the Games are over, with athletes earning millions of dollars to wear corporate logos, star in commercials, and appear on cereal boxes. But it's not all fun and games. Here are seven things you need to know about Olympian endorsements:
The endorsement game isn't new
Olympic heroes of the past have long cashed in on their medals. In 1984, a New YorkTimes article noted that Mark Spitz had turned his then-record seven gold medals from 1972 into a $5 million fortune. And one of the biggest stars from those Los Angeles Olympics, Mary Lou Retton, went on to become a prolific endorser of her own, inking deals with Wheaties, Vidal Sassoon, and McDonald's before the year was up. More than two decades later, she was still in demand, signing on to endorse GNC. It's easy to see why: a 2012 report noted that 75% of Americans still recognized her name.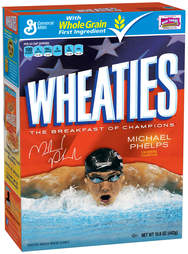 General Mills
Appearing on a Wheaties box isn't necessarily lucrative
There is perhaps no more iconic athlete endorsement than being selected to grace the front of a Wheaties box, and there's a long history of Olympians getting the honor, dating back to the company's first spokesperson, Bob Richards, a pole-vaulting gold medalist in the 1952 and 1956 Games. Many others have followed, from Mary Lou Retton to Caitlyn Jenner to Jackie Joyner-Kersee. But because of the prestige associated with being chosen for a Wheaties box, they can reportedly get away with paying meager amounts to athletes. (To quote: "think thousands, not millions.") In 1998, figure skater Tara Lipinski agreed to an offer for $15,000 to appear on a box, though the cereal-maker ultimately chose not to use her. That same year, the gold medal-winning US women's hockey team reportedly received no money at all for gracing the box.
Promoting an athlete before the Games can be a risk
Months prior to the 1992 Barcelona Games, Reebok heavily promoted two rival American decathletes, Dan O'Brien and Dave Johnson, who were both expected to compete for gold, and the accompanying title of "world's greatest athlete." The campaign hit a small snag, though: O'Brien failed to qualify for the Olympic team.
Usain Bolt is the best at endorsements, too
Bolt is one of the most dominant Olympians of all time, not just winning three straight gold medals in three different events, but doing it in style -- and by healthy margins. And so it only makes sense that he's cashed in on his Olympic performances better than any other athlete. According to Bob Williams of Burns Entertainment, Bolt has raked in more endorsement money than any other athlete known primarily for his or her performance at the Olympics. The biggest deal: endorsing PUMA for $10 million a year.
Ryan Lochte may have cost himself an awful lot of money
Entering the 2016 Games, Lochte was one of the most decorated Olympians ever, with five gold, three silver, and three bronze medals over three Olympics. His fratty personality only raised his profile even further. As a result, according to Bob Williams' estimates, he'd earned more endorsements than all but three other athletes known primarily for the Olympics. But Lochte's time in Rio will likely be remembered more for what happened at a gas station than for what happened in the pool, and that could cost him. Some experts have speculated that Lochte's sponsors may abandon him (with Speedo already dropping him on August 22nd), and future endorsement deals could dry up. One calculation estimates that he could lose between $5 and $10 million in potential earnings.
One of Rio's biggest stars isn't getting a dime in endorsement money -- by choice
Katie Ledecky likely could have made millions in sponsorships following her Rio performance, but she opted to swim at Stanford in the fall, and taking endorsement money would cause her to lose her amateur status. Once she turns pro, however, the race will be on to sign the rising swimming star.
Simone Biles was already a seasoned endorser, but she's probably just getting started
Biles had an estimated $2 million worth of endorsement deals -- with companies like Tide, Nike, and Kellogg's -- before the 2016 Games even began, and that's expected to go up after her dominating performance in Rio. Experts predict she could earn another $3 million or more in the coming year, and she could earn even more if she competes in Tokyo in 2020.
Sign up here for our daily Thrillist email, and get your fix of the best in food/drink/fun.
Joe DeLessio is a journalist in New York City. The only thing he has in common with Katie Ledecky is a lack of endorsements. Follow him on Twitter @joedelessio.