Win $15,000 thanks to these Big Buck HD tips from two champs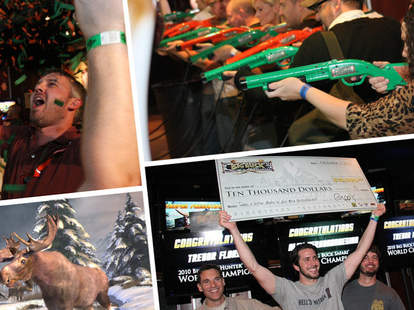 Of course you've played Big Buck Hunter. But unless you've played five hours every day to qualify for the World Championships, then won said Championships as the girls in really short hunting shorts danced and thousands of people went mad when you got one of those hilarious giant checks for $15,000, you actually haven't played Big Buck Hunter
Luckily it's not too late to qualify for the 'ship -- you've got until this Sunday to find one of the new Big Buck HD machines (check out a geolocated list here), and kill as many bears, moose, wildebeest, pumas, and honey badgers as you can. Also luckily, we asked reigning world champ Nick Robbins and 2010's top gun Alex DerHohannesian for their best tips to turn any cow-capping barroom bungler into a deadeye overnight
The key is your perfect streak: three up, three down on every site consecutively. "You can't go to the show if you're not doing that consistently," says Derho, which turns out to be much easier to type than his real name.
Drinking while playing? "Beer. Probably nothing too dark or fancy," says Derho. Meanwhile, Robbins "spent a year practicing relatively sober." Relatively.
"Aim small, miss small," preaches Derho. "The less shots you take, the higher your score, as long as everything dies."
Play off your foe. Says Robbins: "If you're faster, it'll frustrate him, if you're slower, you'll likely get the second shot kill."
Now to explain the second-shot kill. Direct head/heart shots do the buck in, so they're 100% shots. Close head/heart shots are "66% shots" -- one of those and one more anywhere else, and he's done for. Finally, get any three hits anywhere on the buck, and he's dead. Robbins is basically saying even if your opponent is faster, you can still get his sloppy buck-seconds.
Critters aren't worth it. Derho's take: "Don't get caught going for that 200-point bird, and miss the moose before he saunters off-screen to live a long, prosperous life in Saskatoon with his family."