How I Made Friends With a Celebrity Online and in Real Life
Rachel Kuzma/Thrillist
Rachel Kuzma/Thrillist
If you would've told me a month ago that I'd be standing in the lobby of 30 Rock, holding about $45 worth of hot pastrami sandwiches, and waiting to go up to the sixth floor studios where they tape The Tonight Show Starring Jimmy Fallon, I would've told you, "Oh shit, Thrillist fired me and I became a delivery guy."
The reality might actually be a little weirder. And the end result was friendship with Black Thought, the emcee from legendary hip-hop group (and The Tonight Show's house band) The Roots. If I can befriend a supremely talented famous person, you can too. Here's how it happened to me.
Step 1: Don't eavesdrop on them at breakfast
I decided that before the weather in Colorado turned frigid, I'd escape from my home and stare at my laptop from sunny Los Angeles. Since I write about food, I wanted every meal in LA to be memorable, and I saw that the guys behind Animal opened up Jon & Vinny's, an Italian joint that's open all day. Breakfast was set.
I walk in around 9am, right when people in LA briefly stop staring in the mirror in order to attend yoga class. It's deserted except for one other guy. I order the olive oil fried eggs. They're ridiculously good. I read Etgar Keret's new memoir and try to look cool.
Then a couple walks by my table. Without looking up, I hear a voice and I know who the guy is.
The emcee of The Roots, Black Thought, is one of my favorite rappers. Your mom knows him as the guy on The Tonight Show who stands a few feet from Questlove. He was saying something about going back to work next week. I can't help but hear this because we're in an empty restaurant, and the waitress decided to seat them next to me.
I go back to reading my book. I do a fantastic job of not invading his privacy, and even though I'm a fan, I didn't want to interrupt him at breakfast. I walk out without giving him a second glance because I don't want to be that guy.
Later that night, I feel a twinge of regret for not saying anything. I send out this tweet.


How I Got Over is the name of one of their albums. That's a funny breakfast/Roots joke, you see! I don't think he'll ever read it. Then things get weird.

Whoa whoa whoa. How does he remember that? WHY did he remember that? Doesn't he have better things to do, like writing rhymes and keeping it extremely real? I tell him that it was indeed me, and we go back and forth on how good breakfast was. Those olive oil eggs are legit! Then, a fan asks him where he ate breakfast. He tells the guy that I can answer the question.
I tell the fan to go to Jon & Vinny's and to order the eggs. Then Black Thought comes out with the truth.

WHAT?! I couldn't let this stand.

Not quite a Drake/Meek Mill beef, but as you can tell, it's very close to that.
It was around this time that he followed me, and I thought our strange interactions would end. We'd never cross paths again. I was wrong.
Step 2: Create a running bit with them on Twitter
Over the next month, anytime a fan would ask him a food question on Twitter, he would slap @LeeBreslouer on the tweet and tell the fan that I answer all his food questions.


His commitment to the bit was impressive.


I would always reply because this is a bit that will never not be funny to me.
It was about two weeks into the bit that I remembered I was going to be in New York for work. What if I got to actually meet him and not just sit there and read a book? I asked The Tonight Show for an interview -- they told me to talk to his management. His management said no.
So as a Hail Mary, I DM'd him (Twitter friendship has its privileges) that I'd like to write a story about our food-based interactions and meet him and take some photos. In your face, management team who's just trying to protect its client from having to hang out with an overly enthusiastic journalist!
He said it sounded like fun. Wait, HE SAID IT SOUNDED LIKE FUN?!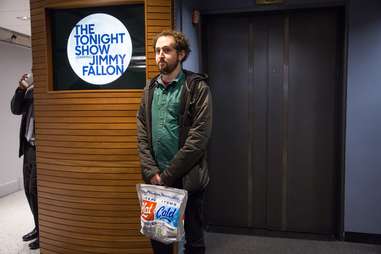 Step 3: Bring them $45 worth of pastrami sandwiches
What do you say when you meet someone whose voice has been blasting through your headphones for 19 years? "Hey, remember that time you got eggs because I got eggs? Can we be friends? Real friends?"
I try not to think about what we'll talk about too much. I also decide to bring him a gift: hot pastrami sandwiches from Katz's. I figure we could finally sit down and have a meal face-to-face -- kind of like last time, but this time without me half-reading a book and trying not to eavesdrop.
My photographer and I go up to the sixth floor. It opens up directly into the backstage area, a bright-white room that feels antiseptic and chaotic simultaneously, even though it's two hours before they tape the show and there's not much going on. A guy in a page jacket sitting behind a desk in the hallway (holy shit, a real-life Kenneth the Page!) tells us his dressing room is open and we can walk in.
We go into his dressing room.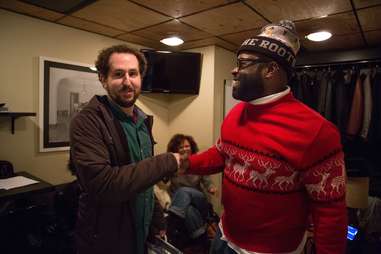 Step 4: Hang out at The Tonight Show
Whatever nervousness I'm feeling melts away the second I walked into his dressing room. Probably because he's a chill guy, and partly because it's hard to get get nervous around a dude dressed in a Christmas sweater. He tells me he doesn't normally dress like this, but that they were about to shoot the Fallon Christmas card. (Though I almost wish he hadn't told me and the rest of my life I went around thinking that his offstage attire is a Christmas sweater and a hat with his band's name on it.)
We shoot the shit for a little. My photographer takes photos. I tell him I brought a gift. He asks, "You didn't bring eggs, did you?" First of all, how does he remember what I got for breakfast a month ago? Second of all, I can't believe I didn't bring eggs.
Step 5: Achieve true friendship
He eats the pastrami and jokes that I might have laced it with arsenic, because, you know, I could be a crazy fan. He does an evil genius-type laugh about how my plan to destroy The Roots was working just as I planned. I definitely didn't poison his sandwich, but if I ever eat a meal with the band that wrote "Cotton Eyed Joe," I might think about it.
Because he's a ridiculously talented emcee (my top five in no particular order: Kanye, Wayne, Eminem, Black Thought, the rapping granny from The Wedding Singer), he kicks a hilarious freestyle about eating pastrami, but I'm too wrapped up in my sandwich to pay super-close attention to the lyrics. Sometimes pastrami is so good it overrides any memories you have. Seriously, look at my face.
After the sandwiches, I look out of his dressing room for a second and see Fallon in the hallway. Oh right, that guy works here too. I temporarily forget where I am. A little later, Black Thought walks us to the elevator and says good night. Eight hours later, more than 3 million people watch him perform on TV. Including me.

Later that night, he tweets that. I'm essentially friends with Black Thought because I "sat near him," as my friend Jeff put it. So how do you become friends with a celebrity online and then in real life? Easy. Sit near them at a restaurant. Don't say a word. Tweet at them. Bring them sandwiches. Hang out. Friendship!
Sign up here for our daily Thrillist email, and get your fix of the best in food/drink/fun.
Lee Bresloueris a senior writer for Thrillist, and wants to buy the world a pastrami sandwich. Follow him to wish fulfillment at: @LeeBreslouer.