The Best, Wildest Twists from All of 'How to Get Away With Murder'
Let's remember the recently departed series' craziest moments.
Viola Davis as Annalise Keating

| Disney–ABC Domestic Television
Viola Davis as Annalise Keating

| Disney–ABC Domestic Television
How to Get Away with Murder, ABC's beloved legal thriller from producing powerhouse Shonda Rhimes, wrapped up the sprawling saga of criminal defense attorney and law professor Annalise Keating (Viola Davis) and her inner circle of law students and associates in 2020. (All six seasons are now available on Netflix.) Created by Peter Nowalk under Shondaland, the show yielded a steady stream of convoluted mysteries, incredible performances, and unpredictable twists as Annalise and everyone around her work to evade the law, shed light on government conspiracies, and make peace with their inner demons along the way.
It kept viewers hooked with iconic reveals right up until the finale, which—in true HTGAWM fashion—were some of the show's biggest-ever reveals and offered answers to long-running burning questions. So, it's safe to say you might still be reeling from the hit drama. We're looking back on some of the wildest moments from the six seasons of How to Get Away with Murder so you can reminisce on all of its pulpy glory, whether you caught up with it via streaming or it was your Thursday night appointment television on ABC for years.
Warning: There are massive spoilers ahead. For those who haven't seen any of the series, well, what the hell have you even been doing since 2014?
Sam's penis is on a dead girl's phone
The first season of How to Get Away with Murder established the show's knack for non-linear storytelling as well as its love of over-the-top cliffhangers. One of the earliest and most iconic ones served as the closing scene in the fourth episode. After a close-up of Annalise removing her wig and makeup, she turns around to confront her husband (Tom Verica) with a question you've likely only heard if you've watched the show: "Why is your penis on a dead girl's phone?"
Frank is revealed to be Lila's killer
While it's laughable to believe that it was actually a surprise that Frank (Charlie Weber) was the murderer behind one of the show's earliest biggest mysteries, the reveal was the biggest sleight of hand of the season. The show expertly kept the air of suspicion on both Sam and Rebecca (Katie Findlay), so to see Frank carrying out the deed in the season finale was—at the time—mind blowing.
Asher becomes a true member of the Keating Five
Asher (Matt McGorry) may have technically been a member of the Keating Five during the first season, but he quickly became the reject of the group due to missing out on the bonding experience that was the killing and disposing of Sam. As a result, no one could have predicted that Asher would break bad and kill ADA Emily Sinclair by running her over in Season 2. The shocking scene showed a glimpse of Asher's dark side and made for his true inauguration into the corrupt Keating Five.
Wes is under the sheet
Whether you loved it or hated it, Season 3 is one of How to Get Away with Murder's most memorable seasons. In a season where Annalise's house is burned down, a smear campaign threatens to shed light on the killings of the past two seasons, and the government's clench on the Keating Five appears to tighten, the gut-wrenching twist that eclipsed everything was the reveal that Wes (Alfred Enoch) was dead. After such an intriguing dive into his past in Season 2, Wes' death hit especially hard, and no other character's demise has shaken the series quite like that ever since.
The elevator scene shocks everybody
One of the most jarring and graphic scenes throughout the show's six seasons takes place in Season 4's midseason finale. When a revenge plot goes wrong, Laurel (Karla Souza) becomes trapped in an elevator at Annalise's hotel where she goes into premature labor. An already intense and horrific scene gets even more gruesome as Annalise discovers Laurel unconscious in the elevator with her still newborn closeby. In a fortunate—but still extremely hard to watch—chain of events, Annalise is able to resuscitate and save the baby using CPR. In a show where people are literally murdered in every season, the elevator scene takes the cake for the most terrifying scene in How to Get Away with Murder.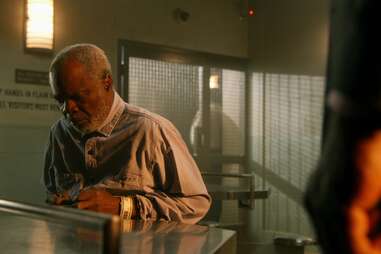 Nate's father is killed by prison guards on orders from Gov. Birkhead
The latter half of Season 4 saw Annalise reach new heights by taking the Supreme Court head on in a class action lawsuit and actually winning—with a little help from Olivia Pope (Kerry Washington) in a Scandal crossover episode. However, Annalise's win is quickly tainted as the face of her lawsuit, Nate Senior (Glynn Turman), is unexpectedly murdered in the first part of Season 5 while he's being transferred to a psychiatric facility. In a season with ramped up consequences, it's a gut punch that stings due to Senior's deserved redemption arc, and it has an immense impact on the show moving forward.
Laurel and Christopher go missing
In a season that featured the deaths of Nate Sr., Interim DA Ronald Miller (John Hensley), and Emmett Crawford (Timothy Hutton), the How To Get Away With Murder writing squad knew that they had to get creative with Season 5's cliffhanger, and they did not disappoint. Mere seconds after teaming up with Laurel to confront her brother Xavier (Gerardo Celasco), Annalise realizes that Laurel has vanished. In a daze, she checks in with Connor (Jack Falahee) and Oliver (Conrad Ricamora) to confirm the safety of Laurel's son Christopher, but they discover that he is missing as well. Their disappearance made for a chilling, but fitting, end to a brutal season.
A corrupt FBI agent kills Asher
When Season 6 was announced to be How to Get Away with Murder's last, viewers undoubtedly expected more murder, deception, and with all of that said, the final season definitely delivered, making the glorious mess that is HTGAWM even messier. At the midseason break, Asher is revealed to be the mole within Annalise's circle who has become an informant for the FBI. It wasn't a shocker that Asher would be the first one to jump ship, but it was surprising for that same episode to end with the cliffhanger that Asher had been murdered outside his apartment.
The sins of Frank's father come back to bite him and Bonnie in the ass
One of the ultimate villains of HTGAWM was Sam. While Annalise was searching for information to help her win the case, some of Sam's darkest secrets were brought to light. Not only did he have an incestuous relationship with his sister (Marcia Gay Harden), but he also secretly had a baby with her—which turned out to be Frank all along. Annalise discovers this late in the final episodes and warns Bonnie (Liza Weil) not to tell Frank, but she does it anyway, sparking an emotional downward spiral for him. In the series finale, Frank lashes out and murders Annalise's nemesis Governor Birkhead (Laura Innes) moments after Annalise wins her case. It's a savage and tragic incident that results in a shootout that kills him and Bonnie, who get caught in the crossfire. After such a rewarding scene of Annalise succeeding, the twist that it wasn't actually her who died on the court steps was easily the show's most depressing sleight of hand.
Annalise gets the ending that she deserves
In an extraordinary performance by Viola Davis, Annalise wins her self-defense against the series-long murder charges that have been pinned on her. For a character who has literally won a Supreme Court case, it could be easy to believe that everything would end well for the show's star. However, that all changed with the season-long imagery of Annalise's funeral. Shock and utter disbelief had persisted throughout the season's 15 episodes as theories have been tossed around about the nature of her death, but when it's finally revealed that Annalise simply died from old age—rather than a government conspiracy or one of her longtime enemies—in a major flash-forward, you can't help but feel like it's the ending that Annalise Keating deserved.