How to Get Free Condoms on the Internet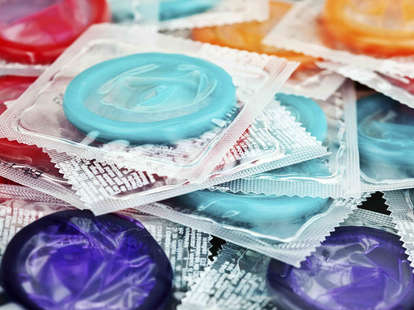 iStock/CatherineLane
iStock/CatherineLane
Condoms are a vital part of dating that can lead to some really memorable and baby-free times, with a strong emphasis on the latter.
However, the arduous task of buying the right pack of rubbers from a smug, pimply-faced cashier at CVS coupled with the high price of a box can really turn people off from stocking up. As if the Internet wasn't already great enough, wouldn't ya know it that there are plenty of ways you can get free condoms online by just doing a little bit of digging? Lucky for you, we did just that. Now you have no excuse not to wear one.
1. Ask Truvada
Truvada may be swimming in controversy, but it's proving to make positive impacts all over the nation. This preventative prophylactic pill is taken to reduce the chances of getting HIV, and its website offers free condoms at absolutely no cost to you!

2. CondomUSA.com
Sure, its site looks a little like it hasn't changed much since 1996, but these guys aggregate some of the best condom brands out there and offer samples for free-ish. You have to pay a couple bucks for shipping, but that's not bad for a lifetime of not paying child support.
3. Give L. condoms a try
If you haven't heard of L. condoms before, you should get on the ball and check them out. They're kind of like the TOMS of safe sex -- for every condom purchased, they give one to a developing country. For only $4.95 shipping and handling, you can get a pack of three condoms delivered to your door. They want you to have safe sex as much as you do.

4. Rubber Revolution DC
DC residents may not have the luxury of saying they live in a state, but they can easily get a pack of free rubbers (discreetly sent in a plain envelope) by checking out RubberRevolutionDC and giving their address.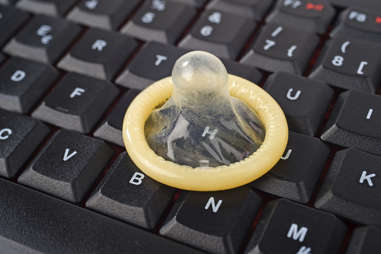 5. Sign up for LifeStyles on Facebook
When you check out this link and give your basic information, you can get a free sample of LifeStyles' Snakeskin condoms in 8-10 weeks. There's even an option to not receive their newsletter, but it's a small price to pay for some free rubbers. If the Snakeskin condom is as half as comfy as it sounds, you're in for one very sexy night.

6. Enlist someone else to find them for you
First and foremost, you're surrendering a serious chunk of effort by using the Internet to track down jimmy caps -- and that's OK! So, why not take it a step further? CondomFinder.org and BedSider.org will show you every store in your area that gives out free condoms and all you have to do is input your zip code! For the most part, you can always find free condoms at your local Planned Parenthood. It's so easy, an aroused sexually active young adult could do it!

7. Ask New York State
This one is a little tricky, but bear with us. If you belong to an organization (health care, social services, etc.) you can hit up The New York State Department of Health and they'll send you free Durex condoms, free female condoms, and free brochures... precious, precious brochures.
Sign up here for our daily Thrillist email, and get your fix of the best in food/drink/fun.
Jeremy Glass is a writer for Thrillist and spends most of his nights desperately searching for 24-hour seafood restaurants, and when he can't find one, he goes fishing.