The Hacks You Need to Hide What You Watch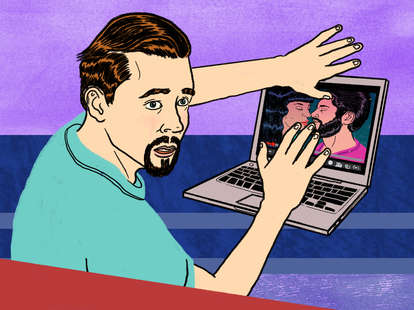 Sometimes, when Netflixing all alone, you might tell yourself: Tonight's the night I'm finally going to watch those steamy sex scenes from Blue Is the Warmest Color! But then you remember that you share your account with friends or family, and the thought that your mom will be greeted by "Steamy Romantic Movies" suggestions the next time she logs in shuts your urge down yet again.
Whether warranted or not, shame spirals relating to sharing Netflix accounts are a legitimate issue. But there's a solution that you might not be aware of. On a quest to uncover how we could follow our binge bliss, we did a little research on how to hide our viewing histories on Netflix and other popular streaming services. Read on, and soon you'll know how to maintain your highbrow reputation. (Note: most of these cover-ups need to be performed on a desktop computer.)
YouTube
If you ever want to get truly creeped out, check out your YouTube watch history. Remember that one random video you clicked on for two seconds while reading an article about vibrators? Yep, it's there! "Want to Watch This Again?"
The good news is that it's really easy to remove videos from this list. Just go to the menu icon in the upper-left corner of the site, next to the YouTube logo, click on "History," have a panic attack at all the videos you see that you only vaguely remember watching, then click the "X" for it to disappear forever. If you plan to make a night of marathoning episodes of MTV's Next, then you can also click the "pause watch history" button to sneak in whatever you want, free of shame or mass collection.
Amazon
This one's tricky. Ostensibly, you can clear your history if you go to the "improve my recommendations" page, then click on "videos you've watched," and "Remove this from watched videos" the offending entries. You can also delete titles from the "Your Video Library" or "Your Watchlist" pages. Also remove them from "Your Browsing History," just to be safe.
If all you need is to cover your tracks on a video that your roommate will never click on, you're totally safe! But one problem persists: if she clicks on that same video someday, "continue watching" will show up instead of the standard "Episode 1 Watch Now." Even if you delete everything, you'll need to go into each episode and rewind it to the beginning, or risk people knowing that you watched Bosch. A gray bar will still appear under the video, but at least the green bar will be gone. So if someone is watching on a Fire Stick, they probably won't notice.
Now, we understand how mortifying it'd be if you really were caught watching Bosch, so we dug deeper -- and we found one of the most futile Amazon help threads in existence. Turns out no one knows how to do a full reset, although if you have a Samsung smart TV, you can sometimes get this to work just by deleting items from the list. If anyone figures out a more reliable technique, please go to this desperate, desperate thread and help these guys out (and us, really).
Another thing to be aware of: Amazon is the biggest snitch imaginable and sends emails to the account holder asking how you liked something after you watch it. Unfortunately, you can't disable these either, but if you delete your watch history right away, that should do the trick.
Hulu
Hulu makes this whole endeavor so, so easy, especially compared to tricky Amazon. Just go to your history page and delete all the links you want gone. This is great for covering up the fact that you rewatched the Vampire Diaries episode where Stefan realized he couldn't be with Caroline because you wanted to feel something for once in your goddamn life, because Hulu also resets the "watch next" suggested episode for you based on this deletion.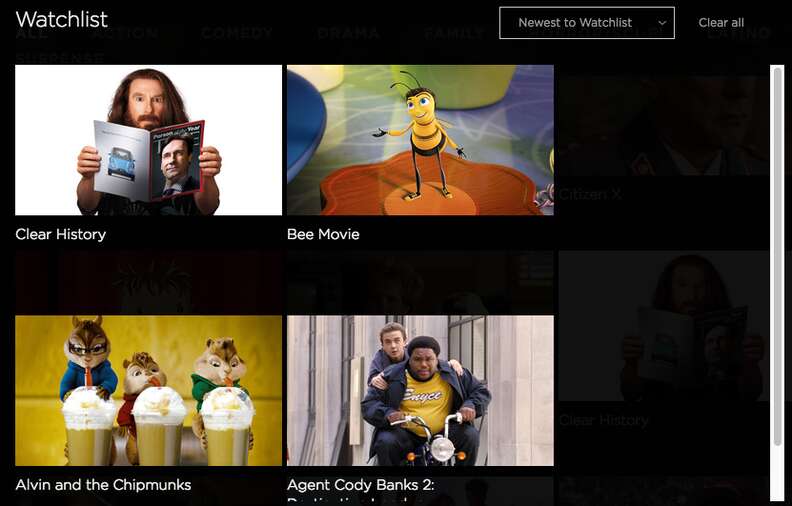 HBO GO and HBO NOW
Did you know there's a movie on HBO called Clear History? That seems sort of rude when you realize HBO doesn't quite offer an option to do so on its streaming platform. Thankfully, that's because you can't access it. You can click on your "Watchlist" and clear that, but if you're trying to figure out how to hide stuff, you probably haven't added offending videos to your Watchlist anyway. Just remember to jump to the end of the video, all the way after the credits, so that it resets -- that's the only way you'll get caught here.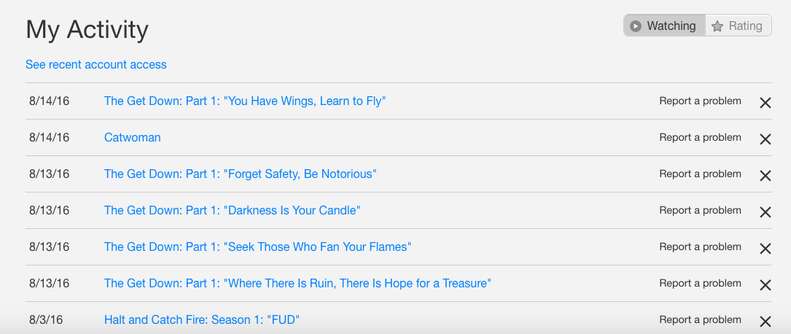 Netflix
Sure, Netflix makes it crazy easy for you to toggle between different accounts, each with its own uniquely shame-inducing recommendations, but they're all unlocked with the same password, and hey, maybe your parents are really confused by technology or your ex is an asshole! Just in case, go to the Netflix Activity Page and delete all the things you don't want mom and dad to see. It does warn that videos "will be removed from your viewing activity on all devices within 24 hours," so plan accordingly, but it does seem to take effect pretty instantly. And it even deletes the offenders from your homepage, so you can customize how cool you want to look when you Netflix and chill.
You should be all set now -- just remember to clear your browsing history so no one knows you had to read this article. Your secret's safe with us.
Sign up here for our daily Thrillist email, and get your fix of the best in food/drink/fun.
Sarah Caldwell is constantly in search of the perfect alcoholic slushie. Also, she would really like to talk to someone about Season 10 of
Grey's Anatomy
. Would anyone be down for that? Here's her Twitter: @sarahccaldwell.