Sex Tips for Boring People will take your sex life from vanilla to passion fruit. Or at least from vanilla to vanilla bean. Find more sexy advice right here.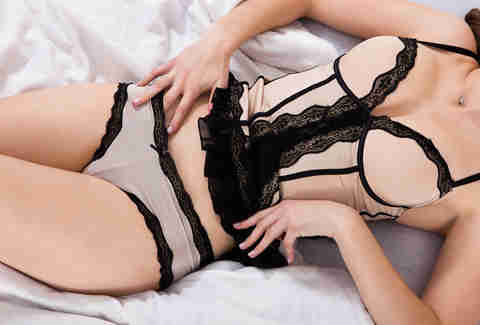 Is it weird to finish myself off if my partner runs out of steam?
No way! Sometimes it's just not going to happen for someone, for whatever reason. (Or maybe you haven't brushed up on your previous Sex Tips and you have a thing or two to learn.) If your partner realizes this is just not their night, it's totally cool for you to get the job done yourself. I mean, there's nothing worse than you being right there and having the rug pulled out from under you. Hopefully your partner will be kind enough to give you a hand. Or a mouth.
Of course, there are exceptions to every rule. Feel the situation out. If your partner isn't finishing because he/she is tired, stressed, etc. then go ahead. If he/she is legitimately upset and distracted by something important to them, perhaps you should forego your moment of zen and lend a sympathetic ear. There will be plenty more orgasms in your future. Like right when they fall asleep.
What's the best way to make an exit after a one-night stand?
The only way this won't be awkward is if you both are entirely on the same page, which for one-night stands happens next to never. It's tough to navigate this minefield because you have no way of knowing if your partner is cool with you lingering, is hoping you'll stay for breakfast, or wants you to GTFO immediately. Saying you can't stay over before you hook up is a surefire way to put everyone on the same page and eliminates expectations. If you choose not to go this route, just accept that you have an awkward goodbye coming your way.
If you have no intention of seeing this person again, there's really no point in pussyfooting. Don't say the dreaded words, "I'll call you" (unless you are actually going to call), but don't be a complete dick, either. Say you had a nice time, give a hug, and go. If you maybe want to see this person again, don't necessarily assume they feel the same. There is nothing (I repeat, nothing) worse than sleeping over after a one-night stand and waking up with your partner sitting at their desk waiting for you to get dressed and leave. Again, say you had a nice time, and tell your partner that he/she should call you. If you just met, leave your number. This leaves the ball entirely in their court and if they want to call, they will. If they don't, at least you got some sex.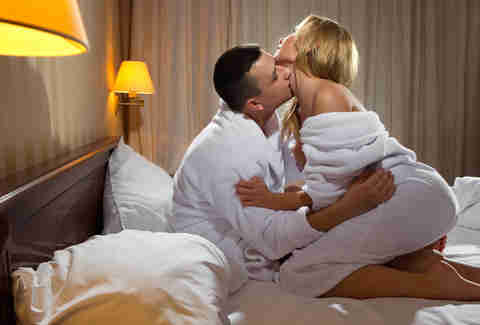 Lights on or off?
I'm not sure this is a topic that requires steadfast allegiance to either side. This isn't like regular New York style or Chicago deep dish, where you absolutely have to choose. When it comes to mood lighting for sexy time, the easiest way to go is a healthy combination of both on and off.
"That's madness!" you might say. But bear with me.
All lights off means you aren't actually seeing the person you're banging (although maybe that was intentional?). But hopefully you are, in fact, attracted to your lover du jour and wouldn't want to miss out on seeing the physical things about them that might hopefully definitely turn you on. Lights on could be a bit jarring with all aspects of your or your partner's humanity illuminated (Bad skin? Rogue hair? Blue vein? Extra testicle?). If you can, leave the main light off but keep a smaller light -- like the hall light -- on. This allows you to get all the joys of watching your partner as you please them in the ways that only you know how, but still leaves room for a little mystery.    
Sign up here for our daily Thrillist email, and get your fix of the best in food/drink/fun.
Meagan Drillinger is a freelancer for Thrillist and has a signature lighting scheme for sex, complete with a soundtrack and a fog machine. Follow her on Instagram, Twitter, and Facebook at @drillinjourneys.