The Rise of Quarantine Zines and How to Make Your Own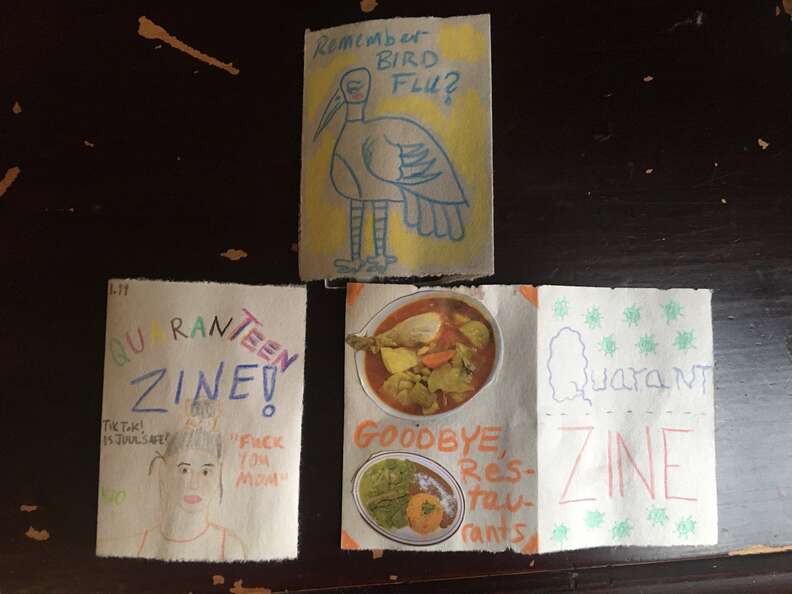 Emma Alpern
Emma Alpern
For most, the word "zine" probably conjures up images of black-and-white DIY print publications with punk and riot grrrl heroes splashed across cheap copy-paper covers. Zines, short for fanzines, historically got passed around in the pre- and early-internet period by fellow enthusiasts of music and genre fiction at conventions and concerts. They've never really gone away, but, with millions of people around the world currently housebound due to Covid-19 sheltering, zines have had a resurgence in the form of hand-crafted and virtual projects addressing the current crisis. Welcome to the age of Quarantine Zines.
That the medium is being used to direct built-up creative impulses during this strange and stressful time period makes sense: There are no rules for zine-making, although at minimum you need a pen and some paper. Browse the hashtag #quarantinezine on Instagram and you'll find people all over the world channeling their cooped-up energies into colorful projects. Seasoned creators have been sharing advice on how to make your own, and for some, zines have become a way for school art class to continue, while others are taking up the art form just to chill for a bit. After talking to some zine-makers, here are some reasons and guidelines for making your own.
It's therapeutic
Brooklyn-based writer and editor Emma Alpern, the first friend I noticed posting a quarantine zine, turned to these little publications as a way to combat coronavirus-related stress. "I sort of feel like I'm going through a breakup," she says. "I feel like the world has broken up with me and now I'm heartbroken." Drawing has always been calming for her, so she decided to gather the supplies she had -- colored pencils, chalk pastels, magazines for collaging, and some Martha Stewart brand glitter pens -- and get to work. She admittedly "bullied" her boyfriend, music publicist Joe Sivick, into joining her. He was not as enthusiastic. In fact, he says he didn't want to do it at all but figured it would make Alpern happy if he went along. Turns out it made him happy as well. "I actually started doing it quietly because I wanted to kind of surprise her, so I took the little piece of paper and I actually sat and I did this for an hour," he says. "To be honest, it calmed me down a lot more than I thought [it would]. It made me pretty happy."
You can use whatever you have on hand
Because Alpern enjoys drawing, she actually had a lot of supplies on hand, but high school art teacher Caitlyn Notaro started assigning her classes zines to make at home specifically because they don't necessitate fancy paints or canvases. Notaro teaches grades 9-12 at the Westmoreland High School in upstate New York, and was inspired by a post from artist and author Austin Kleon on Instagram about making quarantine zines. "I wasn't able to send supplies home," Notaro explains. "So I had to get a little bit creative with what they're doing." She made an example using tissue paper from a gift box she had around and Post-Its and then let them go wild. One student even used toilet paper. "I told him that one's going be worth quite a bit of money since all the toilet paper is gone," she jokes. At the time we spoke, Notaro has had them make covers and document what they've been eating, but she says they are clamoring for more assignments. She's planning to have them paint zines using coffee grounds.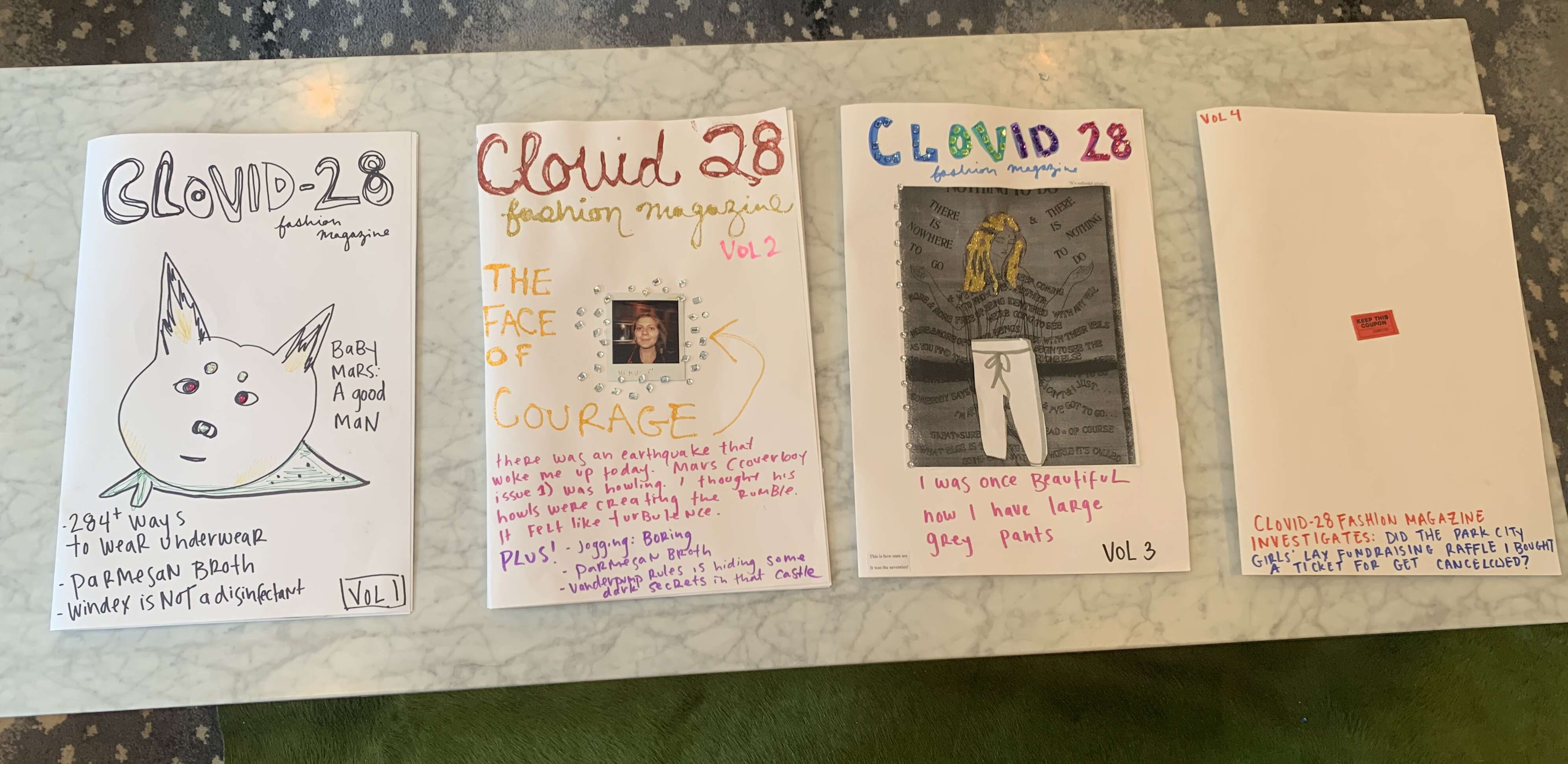 Your zine does not have to be "good"
Once Sivick realized he could take pressure off himself, zine-making became a fun activity. "If you're anxious and nervous about it, I think you should just, like, let it go," he says. "Because there's no one to impress right now except yourself." Claire Carusillo, who was inspired to make a zine by Alpern, takes that freedom one step further. "I [have] often found a lot of humor in the aesthetic of things being bad on purpose," she says. "I think that this has been a really great opportunity for me to do things poorly on purpose and not fix them because I don't have the resources." Carusillo turned to zines after she abandoned a bigger creative project: She had printed out over 200 pages of the book she's been working on with the idea of editing by hand. It went untouched. Instead, she started cutting out sentences for her "fashion magazine," she named "Clovid-28," a pun on her name, age, and the virus that's dominating conversation right now. Her mixed media work involves construction paper, Crayola washables, an issue of Closer magazine, and at one point, a tea bag. One section was dedicated to lessons she learned from listening to the audio book of Jessica Simpson's memoir and she wanted to visualize all the metaphorical tea that Simpson spilled. It got a little messy.
You can make yourself laugh
Clearly Carusillo is entertaining herself with her zine. "It's been really helpful for me," she says. "I don't have a puzzle or anything." Alpern and Sivick also set out to enjoy themselves. "I was trying to make something funny to make myself laugh," Alpern says. "I think we both did that. I think our zines are pretty funny." Alpern focused her zine on Covid-19, with pages dedicated to "Remember bird flu" and "Goodbye, restaurants." Sivick, meanwhile, made a "Quaranteen Zine" with headlines about TikTok and Juuling.
You can feel a sense of community
If you're proud of your zine, you can spread it far and wide. Alpern posted hers and Sivick's on Twitter, while visual artists are offering ways to get your art to the public. University of Arkansas drawing MFA student Madison Svendgard started the Instagram @QuarantineZines as a way to foster community during this period of isolation. She's already posted one prompt, "How to Distract Yourself," but plans to move away from just quarantine content. "I'm kind of wanting to kick the rest of them away from the quarantine so that we can kind of have some sort of escapism from that," she says. She also has had submissions move away from the traditional zine. "I really like the fact that it is an online format really kind of opens it up to being multidisciplinary," she says. If you do actually want to get your hands on printed versions of your zine, photographer Charlie Camuglia is working on facilitating that. Even before social distancing, Camuglia had invested in a printer and was getting Themselves Press underway as a way for artists to get copies of their zines. "I do see a lot of people working on more projects now," she says. "I would love to help be a medium for that too, especially because my goal in this too is to be accessible and affordable. It really is for people who are under-resourced or especially underrepresented... So I would absolutely include students are working on a quarantine zine right now or maybe even like yoga teachers who would want to put together a book of poses that they could give people to do at home."
Need help finding something to watch? Sign up here for our weekly Streamail newsletter to get streaming recommendations delivered straight to your inbox.