10 Simple Ways to Amp Up Your Next Concert Experience
David Saracino
David Saracino
Summer brings lots of great things -- warm weather, beach trips, backyard barbecues. But lately, incredible concerts, tours, music festivals, and free outdoor shows are becoming as synonymous with the season as baseball and humidity. All of which makes summer the best time for checking out new bands, seeing old favorites, and catching outdoor concerts while basking in the ambience of warm nights.
But going to see live music, whether you're heading to Lollapalooza, Central Park SummerStage, or a show at your local indie venue, can be tricky, chock full of various ways to ruin your night. Drinks are overpriced, bathrooms smell bad, and the crowds can be shoulder to shoulder. It's wise to go in prepared.
In that spirit, we've compiled the most common pain points of shows and music festivals -- and how to solve them. For good measure, we threw in some insider tips to maximize your experience. A good concert, after all, can be the highlight of your summer. So heed this advice, then get out there and sing your heart out from the front row.
Plan a stakeout
Most cities have free concerts over the summer months, but if you know about a free show, so does everyone else in your city. We recommend posting up at a bar or a café nearby -- close enough so you can see the entrance line grow -- up to an hour in advance of doors so that you don't miss your chance to get in before they reach capacity. Unlike those other early birds killing hours in line on their phone, you'll be able to enjoy a snack and a drink while you wait and still catch the show.
Buy last-minute tickets
Live close to a music venue, but the show you want to see is too expensive? Check sites like StubHub and Craigslist an hour or two before the opening act -- tickets can drop to about half of face value as people who weren't able to sell their tickets already will be willing to take whatever price they can get. This is doubly true if the show isn't sold out; if you can still buy tickets directly from the venue, people are forced to offload theirs for well below what they paid for it. So if you have a flexible schedule, and don't mind playing the odds, it's always worth checking prices on the day of the concert -- you'll be surprised at how inexpensive tickets can get. It's one of those times procrastinating actually does pay off.
Go cash-only
It's no surprise that even cheap beers aren't so cheap once you arrive at a show. Plus, more and more music venues are hitting concertgoers with credit-card minimums (usually around $20), making for easy morning-after sticker shock if you're packing plastic. Sure, it sounds retro, but paying cash -- and only bringing as much as you want to spend -- is the surest way to stick to that monthly budget and still enjoy a beer or two at the show.
Respect your future ears
Newsflash: concerts can be really loud. Anyone who has dealt with the annoyance of ringing ears for a full 24 hours after a rock show knows this. Assuming you still want to be able to hear when you hit 70 -- or even just not have your day-after soundtrack muffled -- earplugs are a great purchase; they allow you to hear the intricacies in a band's performance while also protecting your eardrums for the future. If you go to a lot of shows, visiting an ENT doctor and getting prescription earplugs is encouraged, though they can run you $200 or so. If you're a more casual concert-goer, $20 plugs like those from Ear Peace do the trick for much cheaper.
Don't skip the opener
While it's tempting to pass on the opening act -- you may not know their music, you want more time at dinner, you want one last happy-hour priced drink -- summer tours are great at pairing up rising artists with established bands, making it well worth your time to get to the show early. Best case, you discover a new favorite band; worst case, you've got a prime spot to see the headliner.
Get close to the stage like a pro
If you're attending a standing room only show and want to get close to the stage, try walking around the border of the crowd to the side opposite the main entrance. People usually gravitate toward the stage from wherever they initially walk in, so if there's only one door, going against the grain is your best bet for getting a front-row view. Want to push to the front at a festival, but don't want to be "that guy?" Wait for someone coming back from the bathroom or the bar and follow directly behind in his or her wake. There's always space behind someone moving to the front for a few seconds -- and somebody else will come through every couple of minutes -- so take advantage and trail them to move closer.
Know how to work the food line
You're only human -- you have to eat dinner at some point, no matter how good the late-afternoon/nighttime lineup is at a music festival. Before the weekend, when you're plotting out which bands you're going to check out, make sure to also plan when (and what) you're going to eat. Figure out which artist you don't mind missing, and designate that as your standing-in-the-food-line time. Check out the festival map and list of food vendors in advance, too, to save you from circling the entire grounds -- that way you'll be fed and back in front of the stage as soon as possible.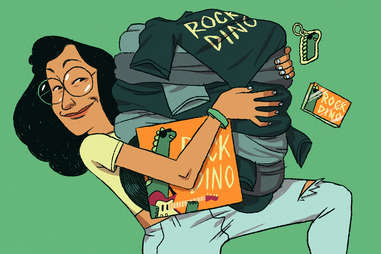 Actually buy some merch
It's harder than ever for musicians to make a living thanks to streaming sites eating away at record-sales profits. These days, most rely on touring to put some money in their pockets, but, especially for lesser-known bands, it's rarely enough. If you really want to support your favorite acts, buy a t-shirt or a poster instead of an overpriced drink at the show. Merchandise sales go a long way toward artists having the funds to keep making music.
Befriend the water station
Hydration is important, but there's no need to drop $8 on bottled water to do so. Most festivals and outdoor shows make free water stations available, so make sure you're using these to hydrate frequently. Outdoor concerts mean high temperatures and the risk of dehydration, which can leave you with a splitting headache, or worse, lead to fainting. (And if there's a faster way to ruin a concert than a trip to the ER for an IV drip, we haven't seen it.) If the venue allows you to bring in your own reusable water bottle, even better. You'll save money on buying plastic bottles inside the venue, and be bright-eyed for work the next morning.
BYOB (of hand sanitizer)
Though you may not be able to circumvent long bathroom lines (unless you go immediately after arriving at the show), you can defend yourself against restrooms or port-a-potties, that, let's face it, can be absolutely disgusting (especially at multi-day festivals). They usually aren't cleaned, smell terrible, and after a while, the hand-washing station -- if there even is one -- stops working. Which is why, even if you're traveling light to the show, you need to make sure a small bottle of hand sanitizer makes it inside your purse/pocket/jacket to keep yourself clean in the face of the dirty toilets you'll inevitably have to use. If going to the bathroom is the worst part of attending a music festival, a small bottle of Purell can make a big difference. As for those long bathroom lines? Well, there you're on your own.