This champagne sabre is now available on Thrillist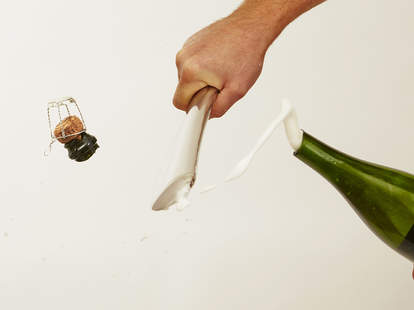 Champagne Sabre - $150
You can thank Napoleon for taking victory parties to the next level -- the little guy celebrated wins by having entire cavalry battalions slice the tops off of champagne bottles. And now you can too. 
We're talking about creating flowing rivers of bubbly like a boozy Frenchman/samurai warrior because YES, we have the champagne sabre you just discovered you wanted.
The stainless steel weapon is a destroyer of Dom Perignon, a guillotine for G.H. Mumm, a machete against Moët. This isn't just a party trick and you won't just be the life of the party -- this is the only way to open champagne and you'll be king of the damn world. Let the Veuve flow.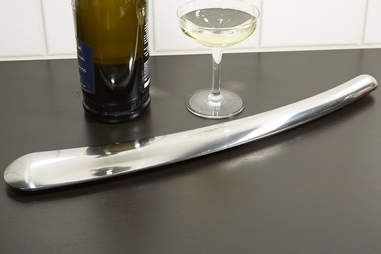 Champagne Sabre - $150
But HOW does one sabre a bottle? Glad you asked.
Step 1: Aim the blade toward the top lip of the bottle, and run it along the vertical seam, where the glass is weakest.
Step 2: Strike in an upward motion away from the base of the bottle like the badass medieval knight/mercenary warrior you are.
Step 3: Champagne shower. (Pop pop pop pop it in tha club.)
Protip: While champagne is this sabre's target of choice, a tool this good can give even sparkling apple juice a Napoleon complex. Use it on every bubbly beverage in a glass bottle you can get your hands on. But remember, with great power comes great responsibility. Sabre safely and (mostly) soberly.