These guys turned tequila barrels into art
"The Burro and the Barrel" by Dolan Geiman
Last year, Tequila Herradura tapped 70 artists in seven cities to transform their tequila barrels into gallery-quality masterpieces for The Barrel Art Collection. A whole year has passed since they awarded $100,000 to the national victor, and a new set of artists are almost ready to pour out their heart and soul for the 2014 show. To wet your pallet for the upcoming event, take a tour of some of last year's most excellent entries.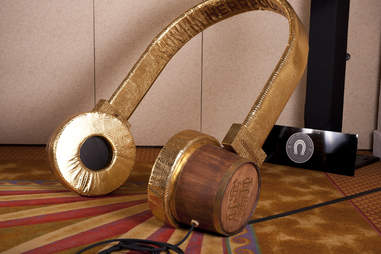 Claudia Calle's Tequila + music = Celebration transformed her barrel into a set of operational headphones as big as a man. "A well-crafted song, reminds me of Tequila Herradura Reposado," she says, "where both relate to a process of making it taste or sound better, little by little." Why she didn't call it Beats By Dram nobody knows.
A totem representing the legend for which it is named,  Adam Feibleman's El Dragón de Amatitán signifies the way that Herradura is a beacon which highlights and lives through the endogenous myths of the land from which it is crafted. It really...lit up the room.
Miami's Cynosure is a luthier (one who makes lutes, naturally) who specializes in the production of instruments with "Science-Fiction aesthetics with full musical functionality, often re-purposing materials" which like any barrel aged tequila can then "assume new idiosyncrasies." His entry, Mexicana Acoustica, is all that and a bodacious axe.
Andy Diaz Hopes' Synthesis is a celebration of the sum total of what makes nightlife possible: the sun that grows the agave, the barrel that ages it, and the disco ball that, when paired with tequila, is the hallmark of any time that reputes to be good.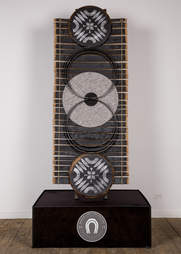 Erik DeBat's The Calendar Round was informed by "the cyclical nature of the galactic universe found in the Mesoamerican concepts and civilizations", an eternal cosmological philosophy that marries well with the timelessness of tequila and seems especially ambitious when its expressed with materials found on the streets of Chicago.
Jefferson Schallenberger's Mimicry, evoking the profile of the jellyfish, is as much about the polish and refinement required to produce a world class tequila as it is about the primitive and fluid values that make it outstanding. And what's tequila without a bit of that sweet sting? Also, according to Jefferson, "I just thought it looked cool".
Micah and Whitney Stansell's Look Inside, which featured a moving zoetropic image of running mares inside the barrel, took home the grand prize of $100,000 not by horsing around but by inviting patrons to peer into what looked like an unaltered barrel, only to find real treasure within.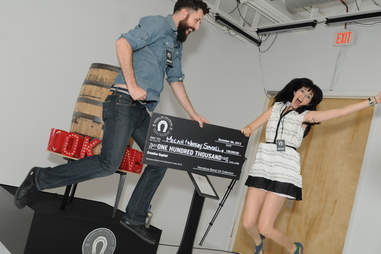 And then they horsed around.