Here Are the Best Ways to Watch Mayweather vs. McGregor Live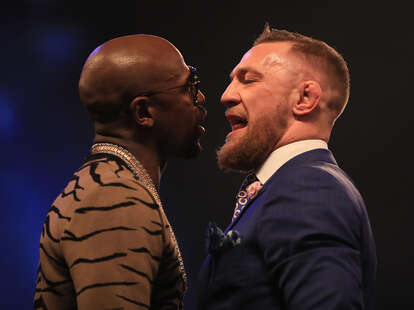 Getty Images/Action Plus/Shaun Brooks/Contributor
It took more than two whole years of trash-talking, but it's finally happening. Tonight, boxing champ Floyd Mayweather Jr. will step into a ring with mixed martial arts and UFC champ Conor McGregor for what promises to be one of the biggest throwdowns in professional fighting history. Fans of both fighters have been waiting for this ever since Conor McGregor said he'd "kill [Mayweather] in less than thirty seconds" back in April of 2015.
Saturday will put that assertion to the test. Here's everything you need to know to watch the fisticuffs unfurl live.
What time does Mayweather fight McGregor?
The fight kicks off in Las Vegas tonight, Saturday, August 26, at 6pm PST (9pm EST) on Showtime Sports Pay-Per-View.
What's the deal with the pre-fight stream?
There's been a bit of trash-talking on Mayweather's part over whether or not McGregor, who reportedly still had 10 pounds to lose this week before the fight, would make the required 154-pound weight limit. We'll officially find out at the weigh-in on Friday, August 25, which goes down at 4pm PST (7pm EST). That event will be free to stream via Fox Sports, as will an hour-long show before the fight on Saturday.
If you're interested in those, you'll want to install the Fox Sports Go app on your Android or iOS device. Apple TV, Android TV, Fire TV, Xbox One, and Roku all support that app as well. You can also watch it on FoxSportsGo.com.
What will it cost me to watch the fight?
In order to watch it, you'll have to buy it for the pay-per-view fee of $99.95.
Can I watch it on cable?
Cable customers can certainly order the fight directly through their cable provider. Additionally, some providers have created enhanced experiences around the fight, like DirecTV's fight microsite. It offers a dedicated hub where you can stream the event if you so choose, as well as look the various bells, whistles, maps, and polls DirecTV's created as part of its coverage, as well as order the fight for your viewing pleasure.
How do I livestream Mayweather vs. McGregor?
While it's Showtime's show, there are a couple different options cord cutters should consider before you actually dropping $100 on watching this thing. For starters, you don't need to have a Showtime package to watch it; it's also available (comparably priced) via UFC and Showtime.
For the UFC option, you can purchase and stream it directly from the organization's website. From there, you'll be able to watch the fight on a number of devices, including your computer, phone, Apple TV, Xbox One, Amazon Fire TV, Android, and Roku.
For the Showtime option, you can purchase the fight through a few different methods, but you'll want to make sure you purchase it with the device you plan on using to watch the event. There's no rollover from, say, your computer to your Apple TV unless you're using AirPlay or another mirroring system. You can buy it directly on ShowtimePPV.com, or via Showtime PPV's Apple TV, iPhone, and iPad apps. Once more: make sure you buy it on the device you plan on using to watch.
How do I (legally) watch it for free?
This is one case where it pays off to be a Dish Network customer. The direct-broadcast satellite service provider is offering its customers a chance to watch the event for free -- if they can refer a friend to sign up with the satellite company. Dish is promised one better in a press release: "The referred can choose to get the $100 PPV price tag waived, too."
That means two households could potentially enjoy the fight for free. It's part of a broader "Refer a Friend" program Dish is running, which also features prizes like an Echo Dot and movie tickets. For more info, Dish customers should check this page out.
Are (good) bars and other establishments showing the fight in my city?
Pretty much anywhere you live, odds are you'll find at least some bar offering a viewing party for this fight. It promises to be the most widely watched televised bout in history, after all. Accordingly, Thrillist has rounded up the best spots we know to be throwing kick-ass viewing parties in Boston, Chicago, Dallas, LA, Las Vegas, Miami, NYC, San Diego, San Francisco, and Washington, DC.
In the meantime, get pumped for this fight.
Sign up here for our daily Thrillist email and subscribe here for our YouTube channel to get your fix of the best in food/drink/fun.