How to Watch the Canelo vs. Khan Fight, for Free
Alex Goodlett/Getty Images
Update: Now that the fight's over, you'll probably wanna check out slow-mo video of Canelo's brutal knockout punch. So, go do that!
Given his rabid fanbase, there's no shortage of people willing to fork over the money to watch Saul "Canelo" Alvarez face off against Amir Khan for the middleweight championship on HBO this Saturday. Of course, at $60 for the SD stream and $70 for HD, the PPV price point is enough to scare plenty of folks away -- which is why we've gathered up the best alternative viewing methods that won't cost you a dime.
Here's how to watch the Canelo vs. Khan fight this Saturday, at 9pm EST, absolutely free.
Despite what you might think, this live streaming app is actually one of the easiest ways to watch a live sporting event (like a boxing match) for free, as evidenced by the rampant Periscope streaming of the Mayweather vs. Pacquiao fight. Just fire up the app on your phone and search for active streams on fight night, and you'll likely find a surprising number of people who are happy to point their phones at their TV sets for the duration of the match. Obviously, the quality's exactly what you'd expect from a cellphone recording of a TV screen, but A) it's the easiest method out there, and B) it's completely free.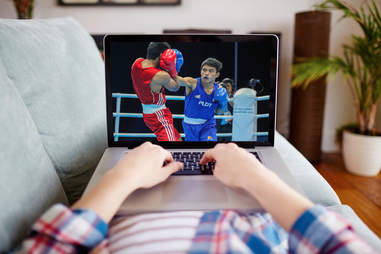 iStock/Neustockimages/<a href="http://www.flickr.com/photos/voxstock/18057294844" target="_blank">Flickr/Voxsports Voxer</a>&nbsp;(EDITED)
Check some popular-yet-sketchy streaming sites
If you'd rather not rely on someone's shaky camerawork to watch Canelo and Khan in action, your next move should be to grab a computer and check the popular (and totally questionable) streaming sites that most frequently host live links to prizefights. Unfortunately, we can't link directly to these sites (sketchy, remember?) -- but we can provide some reliable names.
Sites like USAGoals, Stopstream, Firstrow, and Sportstream are generally solid mainstays in the scene, and while the user experience isn't the best (glitchy feeds, popups, and small screen viewing are commonplace), they're still quite watchable. Just make sure you've got a popup blocker installed.
 
Go over to Reddit
If the sites above are a bust, all hope's not lost: Reddit's often proven to be a great resource for folks in search of live event streams. Hit over to the Boxing subreddit, or type "Canelo Khan stream" into the site-wide search bar. The good thing about this method is that commenters will often indicate whether a link works or not, and there's a timestamp showing how recently the link was posted, which saves you from having to do the actual legwork (fingerwork?) yourself. 
Fire up Kodi to find a stream
Known to some as the "black market Netflix," Kodi's a streaming client that cord-cutters have been using to get their content fix for years now. The program runs on Windows, Mac, Android, and iOS, and allows users to easily browse and access free streams of movies, live TV shows, and most importantly, PPV sporting events. The main upside of Kodi is, instead of having to scour the net for this stuff, it's all in one place -- provided you've set it up in advance.
Yes, the downside of Kodi in this instance is it requires a bit of lead time to set up, and it can seem daunting if you're not the least bit tech savvy (even if you download the TVMC custom build with add-ons preinstalled). As a result, this isn't really the best option if you're down to the wire and looking for a last minute streaming option. If that's you, maybe just use one of the previously outlined methods, or bite the bullet and pay for the fight like everyone else?
Sign up here for our daily Thrillist email, and get your fix of the best in food/drink/fun.
Gianni Jaccoma is an editor for Thrillist, and he prefers MMA to boxing. Follow his tweets from the clinch @gjaccoma.