How to Watch the Rio 2016 Olympics Anytime and Anywhere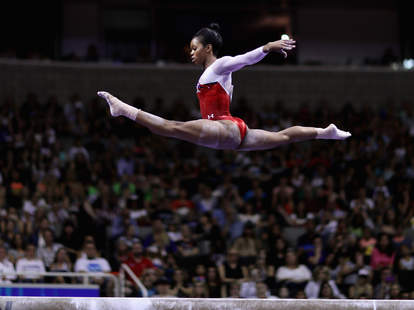 RIO 2016! It's a showcase for the triumph of the human spirit, opportunity for the world's top athletes to have all the sex, and a possible looming health disaster of epic proportions. High jump over here for all of Thrillist's coverage of the summer games, and the games beyond the games.
Hear ye, hear ye, the Rio 2016 Olympics are upon us! Every so often an earth-shaking event comes along to remind us mere mortals that Donald Trump's KFC meals, and Pokémon Go, and your insanity-inducing cat don't really matter. Because we all know what really matters -- watching Usain Bolt and Michael Phelps move really fast! We're here to help with all that, whether you're sitting on your couch, sneaking into a corner at the office to stream your favorite sport, or happen to find yourself constipated and need to resort to more mobile options. The Olympics officially begin with the opening ceremony on Friday, August 5th at 7pm ET and run until the closing ceremony on Sunday, August 21st at 7pm ET. Get pumped.
How to watch at home -- or anywhere with a TV
Since
NBC Universal owns broadcast and digital rights
to the Olympics, you'll be in the company's playground no matter what you do. Luckily, NBC is offering a wide range of options, and between their broadcast and digital services will run 6,755 hours of coverage between August 5th and August 21st. Be sure to check
NBC's live-streaming schedule
and
TV listings
for full details so you don't miss your favorite event.
NBC proper will air the bulk of the Games' most popular sports, including swimming, gymnastics, track & field, diving, beach volleyball, volleyball, and the men's and women's basketball finals. Those will be accompanied by coverage throughout the day, anchored by Bob Costas, Ryan Seacrest, and other familiar NBC faces. Depending on your time zone, these events may be aired live, or time-shifted and aired after the fact. Check NBC's full schedule in your area for the most up-to-date information.
Telemundo y NBC Universo have already begun providing coverage en Español this week, thanks to the timing of men and women's soccer, and will devote even more airtime to the games than NBC itself (260 hours vs. 273). See Telemundo's full schedule.
Golf Channel will cover men's golf from August 11th to August 14th, and women's from August 17th to August 20th. See Golf Channel's full schedule.
Bravo will be the go-to channel for tennis fans. From August 6th to August 14th, the network will air 94 hours of tennis coverage at a clip of 12 hours a day, from 9:30am ET until 10pm ET. The last four days will consist of eight hours of coverage, starting at 11am each day and culminating with the men's single tennis finals on August 14th. See Bravo's full schedule.
MSNBC will feature men's basketball, beach volleyball, rugby, soccer, volleyball, and water polo, among other sports, and its coverage will run from August 6th to August 20th, with most days starting at noon, Eastern Time. See MSNBC's full schedule.
NBC Sports Network will cover more than 20 sports, more than any other network, from August 6th to August 21st. Those will include basketball, soccer, track & field, archery, boxing, cycling, fencing, field hockey, judo, open water swimming, rugby, shooting, soccer, synchronized swimming, table tennis, weightlifting, wrestling, and more. Most days, NBCSN's coverage will air for 16 hours. See NBCSN's full schedule.
USA Network has already begun its coverage of women's soccer and will feature men's basketball, beach volleyball, cycling, rowing, synchronized swimming, volleyball, water polo, and more. See USA Network's full schedule.
How to watch at work -- or anywhere with a laptop
NBCOlympics.com
-- the
official Olympics on NBC site
-- will be your best bet. Every Olympic event will be streamed on the site, and you can also use the NBC Sports app to connect the stream to Apple TV, Roku, Android TV, Xbox. You will have to enter in your paid television provider login information if you want to access it for longer than the first-day 30-minute grace period. (For those who want to watch in Spanish, Telemundo's website and apps are the same deal.)
How to watch on the toilet -- or anywhere with a phone
The NBC Sports App
is your solution for Android, iOS, and Windows phones, and promises to feature all the same streaming functionality that NBC's livestreaming site does. Again, for full access, you'll have to provide a paid TV login.
Twitter is leaning into the Olympics this year if you want to follow Olympics Moments, since, odds are, you were planning on checking Twitter anyway. The social media service is offering country-specific hashtags and flags for the games, live coverage from its Moments team, and as always video from Periscope and Vine.
How to watch for free (for a combined 14 days!)
SlingTV
is a
subscription service
that allows you to stream live TV onto your computer or portable devices. It offers a seven-day free trial -- meaning you could strategically watch a more than a third of the Olympics at your leisure, entirely for free. The service offers every major channel covering the games (and 40 more) if you sign up for Sling Blue, a $25 package. If you shell out an extra $5 for the Sports Extra package, you can even get the Golf Channel. Sling works on Apple TV, Roku, Xbox One, Chromecast, Amazon Fire TV, mobile phones, tablets, and computers.
Sony PlayStation Vue also offers a seven-day free trial, and allows for streaming of NBC's major channels. You have to use Vue at home, but Vue's login will also work on the NBC Sports App, in a crafty hack. Its basic package starts at $30 and, again, if you shell out an extra $5, you can get the Golf Channel. (Or time your free trial to coincide with Sling's.)
Digital antennae can also serve you right if you just want to keep your Olympics viewing schedule casual. They're super-cheap, and will get you networks like NBC, ABC, Fox, and CBS for free. God bless America.
Sign up here for our daily Thrillist email, and get your fix of the best in food/drink/fun.
Eric Vilas-Boas would really love it if someone could feel the rhythm, feel the rhyme, get on up, and shout, "It's bobsled time!" on live TV in the Rio sunshine this year. He'll be following on Twitter.