Netflix's Goofy Comedy 'Hubie Halloween' Is an Adam Sandler Monster Mash
The 'Uncut Gems' star returns to his comfort zone for this holiday mystery.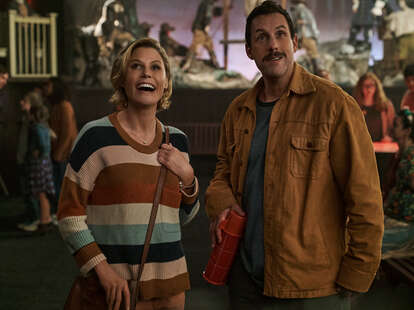 Scott Yamano/Netflix
Scott Yamano/Netflix
Throughout Hubie Halloween, the latest Happy Madison-produced Netflix project from Adam Sandler, the squeaky-voiced title character uses his multi-purpose thermos to deal with almost every challenge he's faced with. The trusty thermos mixes disgusting-looking soups he consumes at all hours of the day, digs up dirt covering the bottom of a tombstone, vacuums up glass from a smashed window, serves as a grappling hook during a chase, and catches eggs thrown by rowdy teenagers. (After chugging the liquified eggs, like Rocky Balboa, Hubie projectile vomits all over the street while riding his bike.) There's nothing Hubie's thermos can't do.
Compared to this highly adaptable invention, Hubie Halloween is less ambitious. The movie has one goal: to make you laugh. After starring in the relentless crime thriller Uncut Gems, which earned him some of the best reviews of his career, Sandler is unapologetically back to his old tricks. Instead of working with the Safdie Brothers, he's again co-written a script with his longtime collaborator Tim Herlihy. The directing duties are handled by Steven Brill, who helmed recent Sandler Netflix movies like 2016's The Do-Over and 2017's Sandy Wexler. He's firmly in his comfort zone.
Specifically, Hubie Halloween, which follows sweet man-child Hubie Dubois as he watches over the town of Salem on Halloween night, is a funny-voiced Sandler experiment in the tradition of The Waterboy, Little Nicky, or the Canteen Boy sketches from SNL. (Keep your eyes peeled for an old photo of Hubie wearing a scout uniform.) It's got some of the family-friendly touches as the Grown Ups franchise along with the vaugely spooky trappings of the Hotel Transylvania animated series. It also features enough cameos from longtime pals to make this the Sandler equivalent of the "Monster Mash," which unsurprisingly pops up on the movie's soundtrack.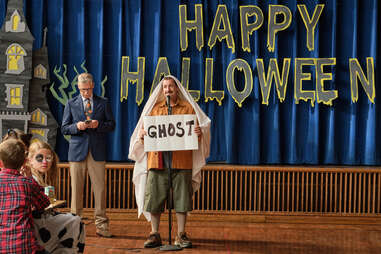 Is this lazy hackwork or a charming victory lap? As is often the case with late-period Sandler movies, it's a matter of perspective. Despite opening with a cameo from Ben Stiller, playing the same "you're in my world now, grandma" character he played in Happy Gilmore, and an early namecheck of the dreaded O'Doyle family from Billy Madison, Hubie Halloween doesn't try to recapture the surreal slacker brilliance of Sandler's '90s run. Doling out life lessons, gross-out comedy bits, and an often gratingly complicated plot, this is firmly in line with some of the stronger Netflix Sandler movies like Murder Mystery and The Week Of, which remains the most pleasingly laidback and poignant recent Sandler comedy effort.
Overstuffed and meandering, Hubie Halloween can feel like watching a benefit show where the main act keeps bringing on famous friends to play solos. Kevin James, Maya Rudolph, Tim Meadows, Michael Chiklis, Ray Liotta, Kenan Thompson, Steve Buscemi, Rob Schneider, Colin Quinn, Dan Patrick, and Shaquille O'Neal all make appearances, with some gags landing better than others. (Liotta, a newcomer to Sandler's orbit, gets some of the funniest bits as a cackling town bully.) Julie Bowen, Sandler's love interest in Happy Gilmore, is again cast as the romantic lead here, playing Violet Valentine, the only woman in Salem who doesn't belittle and mock poor Hubie besides his doting mother (June Squibb). Violet actually likes him.
And you might like Hubie, too. Compared to other Sandler creations, Hubie Dubois is gentle, kind-hearted, and less prone to violent outbursts. He works at the meat counter of the local grocery store, where his teenaged coworker likes to scare him by hiding amidst the cold cuts, but his business card identifies him as the "official volunteer Halloween helper." Like Mr. Deeds, which was also directed by Brill, Hubie Halloween is an occasionally bizarre argument for community and an oddball celebration of neighborly values in a moral universe largely defined by cruelty. He'd make a good friend, loyal and true -- just don't drink anything from his thermos.
Need help finding something to watch? Sign up here for our weekly Streamail newsletter to get streaming recommendations delivered straight to your inbox.