The Stephen King References You Need to Know to Understand Season 2 of 'Castle Rock'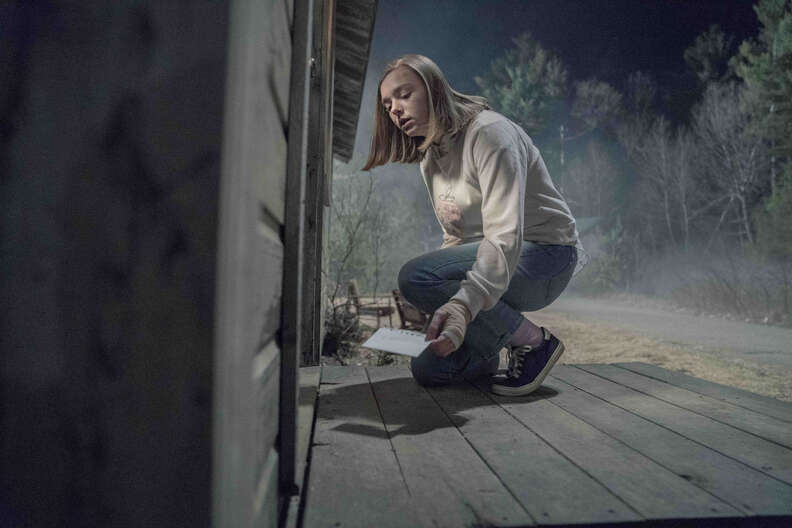 From The Shawshank Redemption to Needful Things to The Shining, the first season of Hulu's Castle Rock gave Stephen King fans a healthy crop of genre Easter eggs while building out a world and story all its own. Now, with three episodes of Season 2 hitting the streamer on Wednesday, October 23, and new episodes dropping weekly after that, new faces will supply fresh narratives of the evil that lies within the fictional Maine town.
In its first season, the Sam Shaw and Dustin Thomason-created series followed a man named Henry Deaver (Andre Holland) as he returned to the town he said goodbye to many years ago. The discovery of a strange young man (Bill Skarsgard) living in a cage in the basement of Shawshank Prison kicked off a series of strange events leading to an epic confrontation, and just a peek behind the proverbial veil.
Much of the world-building groundwork was laid out in the show's initial 10-episode run last summer. The narrative focus in Season 2 seems to have narrowed a bit, with the new installment setting its sights on three main story components to set the stage for the anarchy to come. That said, here are the noteworthy references featured in the premiere episodes, titled "Let the River Run," "New Jerusalem," and "Ties That Bind."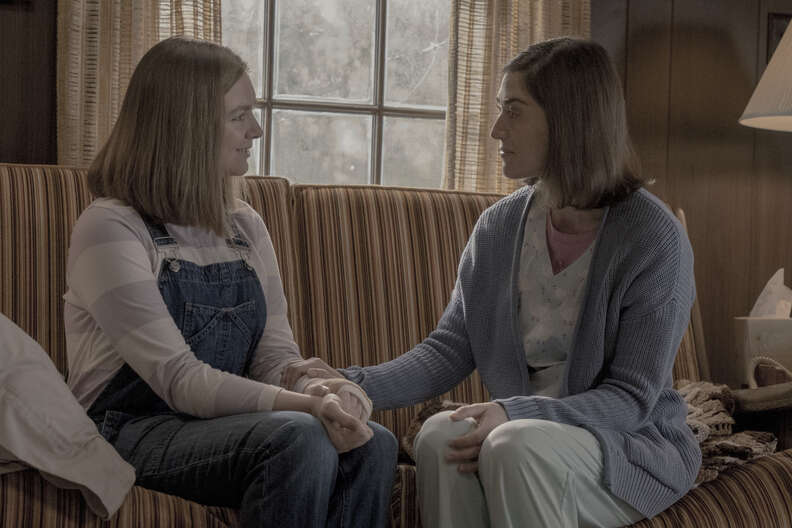 Misery
In Season 2, audiences will be given a familiar, iconic character to latch onto as the evil events unfold: Lizzy Caplan steps into the shoes of Annie Wilkes, one of Stephen King's most famous psychopaths. But, instead of getting a retread of Misery's unhinged solitary nurse -- Kathy Bates won an Oscar for her performance as Wilkes in Rob Reiner's 1990 movie adaptation -- Castle Rock will peel back the curtains on Wilkes' life, filling in the blanks of her past.
Wilkes and her young daughter Joy (Elsie Fisher) find themselves stuck in Castle Rock after getting into a nasty car wreck -- one which feels like a stylistic callback to the accident author Paul Sheldon (James Caan) suffers in King's original tale. It looks like bloody trauma from Annie's past has her on the run, causing the mother and daughter to constantly mask their identities. Their life on the road proves challenging as the young nurse steals meds from hospital after hospital with the hopes of keeping her psychotic episodes in check.
Audiences never really got a look into Annie's backstory, or her mother-daughter relationship with Joy -- which, if we're being honest, slightly feels reminiscent of the dynamic between Carrie White and Margaret in Stephen King's Carrie -- so adding this element to the mix will be intriguing. Positioning Wilkes as the anchor for this season's story to grow around adds a unique perspective on the series, and the iconic character, as well. Cue Annie's origin story in 3, 2, 1...
Needful Things, The Sun Dog & Stand By Me
Wilkes looks to be the narrative glue connecting the other main players in this new Castle Rock story. While she and her daughter wait for their car to be repaired, Annie and Joy find shelter in a local motel -- and the landlord, John "Ace" Merrill (Paul Sparks), is our entry point into a few different Stephen King stories: Needful Things, Stand By Me and novella, The Sun Dog.
We're not going to get too deep in the thick of each tale referenced above. The important thing to know is that each story takes back in the city of Castle Rock, and the Merrill Family's criminal misdeeds are on full display, in some way or another, in all three.
We've seen Ace before, most notably played by Keifer Sutherland in Rob Reiner's Stand By Me -- the movie adaptation of Stephen King's short story, "The Body." He's the nephew of crime boss Reginald "Pop" Merrill (Tim Robbins), who also owns town junk shop, The Emporium Gallorium. Robbins' casting is obvious hat-tip to the Frank Darabont-directed Shawshank Redemption. As fun as that little element is, heed our warning: Pop Merrill is not a good dude. And he's definitely no Andy Dufresne.
Salem's Lot
The third piece of this year's Castle Rock puzzle comes in the form of the new community center being built in the neighboring town, Jerusalem's Lot. A conflict is brewing between the Merrill family and those behind the construction of the establishment. Abdi Howlwadaag (Barkhad Abdi) is a Somali businessman directly involved with the business -- and his personal connection to Pop and Ace Merrill throws a complicated wrench into the whole thing.
Of course, we'd be remiss if we didn't mention the vampiric elephant in the room. Stephen King's Salem's Lot -- along with the prequel story, Jerusalem's Lot, and sequel tale, One for the Road -- explore a fictional town steeped in supernatural lore. It's hard to say if the new season of Castle Rock will be bringing any occult practitioners or blood-sucking freaks to the fore, but given last season's odd trip into the mystical portions of King's universe (see: thinnies and subaudibles), we wouldn't rule it out one bit.
There's a lot of fertile ground worth covering here as the town of Jerusalem's Lot is referenced in a whole bunch of King's works, including The Dead Zone, Pet Sematary, Dolores Claiborne, and Doctor Sleep. And given the fact that Howlwadaag's wife, Nadia (Yusra Warsama) is a doctor at the local hospital -- and Wilkes is a desperate nurse seeking medication to keep her mind right -- something tells us the two will end up connecting sooner than later, dragging Annie Wilkes deeper into the terrible trappings of Castle Rock, Maine.