The Hunger Games film franchise has given us many gifts over the course of its three-year run: a kick-ass female heroine, a polarizing love triangle, and, most importantly, some really fly outerwear.
The fourth and final installment, Mockingjay - Part 2, rolls out this Friday, and it's the most cohesive of the bunch -- sartorially. If the first two films provided the over-the-top sensory overload of an Alexander McQueen runway show, full of splashy girl-on-fire costumes and ostentatious Capitol finery, the series-ender is a triumph of ready-to-wear fall fashion, with our band of rebels doing battle in vests, jackets, and trench coats straight from the racks of Saks or Nordstrom. Sure, the film may leave you feeling dejected about how we're all trapped in an unending cycle of tyranny and oppression, but, as the following photos attest, it will also make you excited to transition into your winter wardrobe.
Recommended Video
Acquired Taste: Blood Rice Cakes With Timothy DeLaGhetto and Justina Valentine
Few clothing items say "I'm ready to decimate the armies of the Capitol" and "I'm ready to embrace brisk fall weather!" like the stylish gray shearling vest Commander Lyme wears in this scene.
The districts may be ravaged and the Capitol crumbling, but hey, at least Commander Paylor's chic wrap coat was 50% off at the District 8 Club Monaco!
While we admire Effie's refusal to embrace seasonally appropriate clothing, Katniss goes for a classic transitional fall look with this draped leather jacket and (Herschel?) knapsack combo.
Pollux may be an Avox, but that doesn't mean he can't express himself -- through fashion! The propo cameraman goes for a classic look in a gray trench, while Cressida shows off her edgy style in a mauve-accented moto jacket.
This iridescent blue cloak may help Katniss disguise herself from Capitol peacekeepers, but will it keep away the street-style photographers?
Here, Katniss embraces layering with a brown shearling jacket and skinny scarf, while Haymitch looks like he walked straight out of the All Saints men's section (whichever district is responsible for Panem's shearling fur output is killing it right now). Effie, as bold as ever, pulls a Kendall Jenner in furry shoulder pads.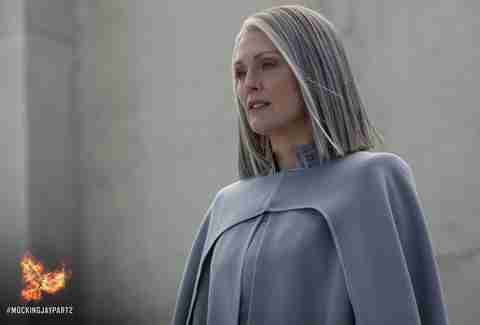 Leadership game questionable, cape game strong.
Finally, Hugh Hefner's reign of tyranny has come to an end.
Sign up here for our daily Thrillist email, and get your fix of the best in food/drink/fun.
Anna Silman is a staff writer at Thrillist Entertainment and enjoys swaddling herself in faux fur. Find her on Twitter: @annaesilman.