'Hustlers' Snuck In the Perfect Cameo with a Little Help from J.Lo
STX Entertainment
STX Entertainment
"Motherfucking Usher is here!" With those words, ecstatically shouted by Lizzo, Lorene Scafaria's Hustlers begins its most outrightly joyous scene, featuring one of the best cameos you'll see all year. Because, yes, motherfucking Usher is here, on screen, striding into the strip club, throwing hundred dollar bills in the air as his song featuring Young Jeezy, "Love in This Club," blares. Those, by the way, were actual Benjamins.
"At one point I was looking at the money on the stage -- the prop girl was resetting them every single time -- and I was like, 'These look real,'" star Constance Wu told Thrillist. "She looked at me and she was like, 'They are.' Lorene just thought the fake money looked too weird. It was so much money."
Hustlers' narrative about a group of strippers who start to steal thousands from wealthy men most nights can essentially be broken into two parts: pre-recession and post-recession. Or, rather, pre-Usher and post-Usher. Before the stock market crashes in 2008, the Manhattan nightlife industry is thriving, with Wall Street bros flooding the strip club where Wu's Destiny and Jennifer Lopez's Ramona, among others, work. Speaking with a reporter portrayed by Julia Stiles, Destiny describes the last great night she remembers before the economy dipped: It was the night Usher came to town. And sure enough, there's the real-life Usher, playing a mid-aughts version of himself, making it rain and watching as a stage of women that includes Lopez, Wu, Lizzo, Cardi B, Keke Palmer, and Trace Lysette dance for him.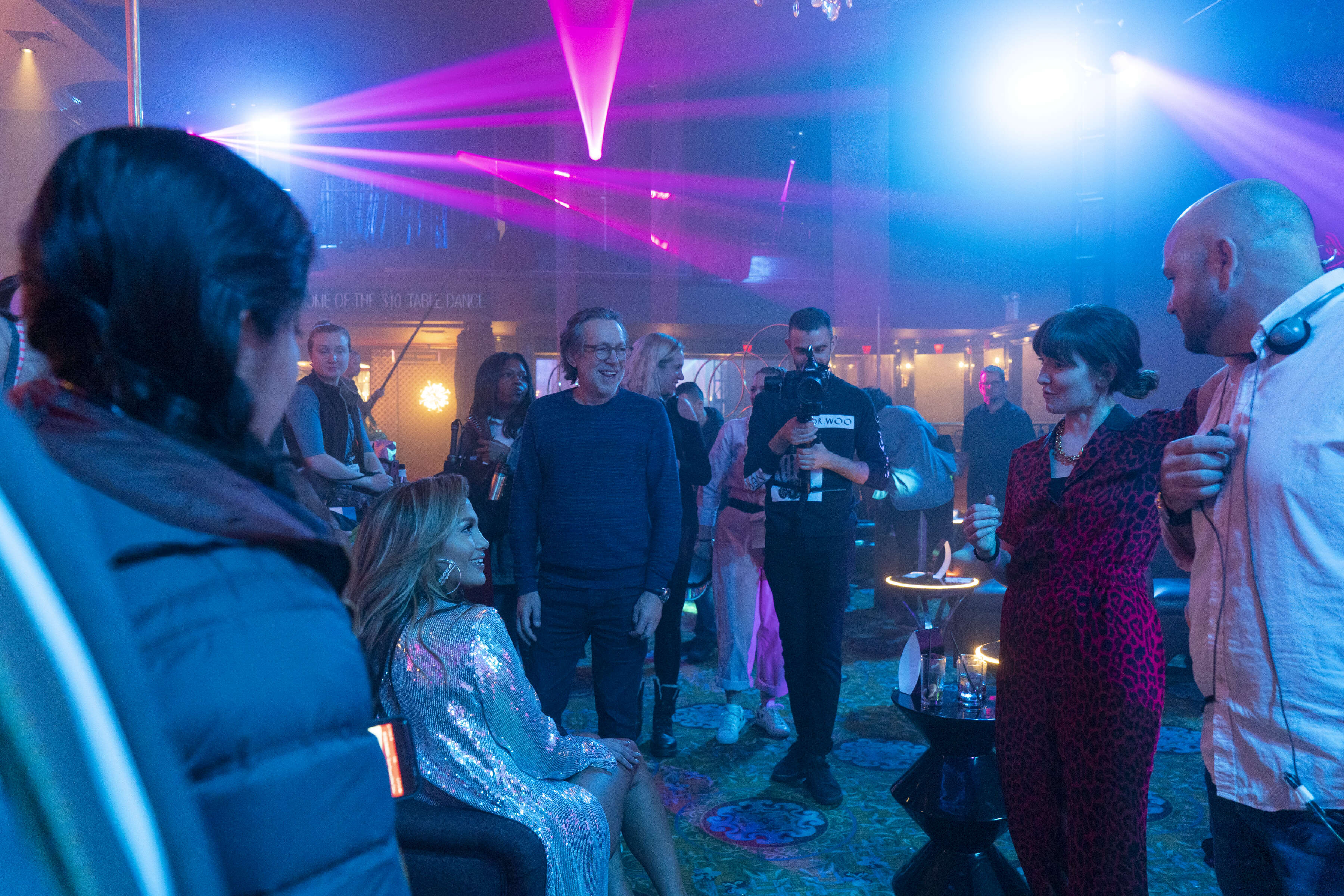 Scafaria knew it had to be Usher, and wrote both him and "Love in This Club" into the script, which she based on Jessica Pressler's New York Magazine article "The Hustlers At Scores." "I love Usher, I love that song, I think that we were all culturally peaking before the crash," Scafaria says. "I think that pop culture was sort reaching a high point. Everyone was living in excess. It felt like money was raining from the sky and then, obviously, it wasn't the next." Scafaria relishes in the excess of that particular cultural moment throughout that section of the film, from the music cues (Britney Spears, Sean Kingston) to Ramona's floor-length furs.
The fact that Lopez was the star and producer made it easier for Scafaria to get her wish of having Usher involved, but she did have to convince him that he was still as baby-faced as he was over a decade ago. "There was a little bit of hesitation of his part because he thought maybe his hair was different, that he didn't look like himself then," Scafaria explains. "Obviously he looks exactly the same as he did in 2007 and 2008, but I heard him when it came to his hair and so there was a day where I was sending Usher pictures of himself in hats to prove to him that he could play himself 12 years ago. So that was surreal." She describes filming day for the Usher scene as "the most fun I've ever had maybe in my life."
Naturally, everyone was freaking out. "When he comes into any room with that smile, the whole room goes crazy," Wu says. But packing the stage full of women didn't make movement exactly easy. "It was actually kind of physically difficult to dance too much," Wu adds. "Because you're in like nine-inch heels and there are all these bodies around you. But they are also these girls that you love and enjoy and they are playing the song... that was so fun." Keke Palmer -- who plays Destiny and Ramona's eventual partner in crime, Mercedes -- had actually auditioned for Usher many years ago. "He and I were laughing at the fact that, you know, the last time I saw him I was a kid and now I'm stripping on stage for him," she says. But for Palmer as well the excitement rested in being surrounded by all the other actresses. "It was really like the best girlfriend moment you could have," she adds.
Scafaria pulled out all the technical stops: It was the one time they used the green lasers in the club. On screen it all culminates in a delightfully meta and ad-libbed moment between superstars. Lopez, as Ramona, leans into Usher as Usher and asks for his name. "That line came about I think pretty naturally between Jennifer and Usher and then we just recreated it in that moment," Scafaria says. "She did ask him, 'What's your name?' It was just too funny. He came over to me and said, 'We've got this.' And I thought, 'Yeah, we have to get that.'"
Hustlers begins in glitzy fashion. Those early moments are where you'll find Cardi B and Lizzo, and when you'll watch Wu and Lopez dancing in a car to Britney Spears' "Gimme More." But there has to be a downfall. "The first act is all la la land, when everyone was blind to what was happening to them," Scafaria says. "It was always meant to kind of crescendo and break and then watch everybody try to pick up the pieces and find their way back." And what better way to crescendo than to the sounds of "Love in This Club" with Usher throwing real hundred dollar bills in the air?
Sign up here for our daily Thrillist email and subscribe here for our YouTube channel to get your fix of the best in food/drink/fun.