'I Am Not Okay With This' Ends With a Killer Bang and Hints at Season 2
This article contains spoilers for Netflix's I Am Not Okay With This. Read our review here.
The first season of Netflix's I Am Not Okay With This ends with a cliffhanger that clearly indicates that it's only the beginning for protagonist Syd (Sophia Lillis). In the finale's closing beats, the teenager accidentally kills her bully Brad (Richard Ellis) with her superpowers, making his head explode in front of all of their classmates at the school dance. If that weren't horrifying enough, once she runs away in a panic, a dark figure appears out of a cloud of smoke, possibly to kill her but presumably to tell her what the fuck is up. Syd asks him, as anyone would, "Who are you? Should I be afraid?" and he responds, "They should be afraid. Let's begin."
I Am Not Okay With This then cuts to black, leaving you with a hell of an ending and a million questions. In the same way that Syd is utterly confused about the source of her powers ever since she gave Brad that first nosebleed at the diner in Episode 1, we're left confused by the twist. It may not be a satisfying ending, as it doesn't answer all of our questions -- but the ambiguity and hints at future seasons make up for it.
The series is adapted from Charles Forsman's graphic novel of the same name, and the source material leaves Syd and readers in a very different WTF place. In the comic, Syd kills herself -- so the change in direction might be a hint that it's a purposeful re-direct to allow for more episodes of the Netflix adaptation. Either way, the cliffhanger works the same way the end of the graphic novel did, because you're still left with an anxiety, curiosity, and frustration that mirrors what Syd has felt throughout the story.
Considering the millions of theories likely to ensue based on the finale, it's hard to imagine that Netflix won't be eager to greenlight a Season 2. Yes, Netflix has been known to ruthlessly cancel series left and right, but it almost feels like Season 1 of IANOWT was set up to entice fans for a second installment. And it helps that Netflix and Channel 4's hit co-production of Forsman's The End of the F***ing World, having mirrored the plotline of the original graphic novel, was meant to last only one season but was picked up for another due to fans' demand and love for the characters. One of IANOWT's co-creators, Jonathan Entwistle, was a showrunner on The End of the F***ing World, plus Stranger Things producers Dan Cohen and Shawn Levy are executive producers on IANOWT, so the streamer's investment in the show is definitely there.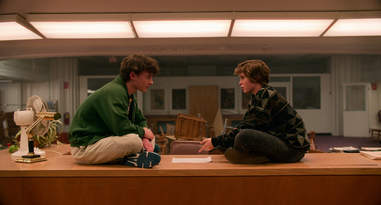 Wyatt Oleff and Sophia Lillis

| Netflix
If the show does receive a second season, there's definitely plenty of world-building to do. Like, who the hell is her shadowy, supernatural mentor figure and where did they both come from? What supernatural-telekinetic being is Syd and what does this mentor know about her? Will she be swept away to learn about her powers and take part in the parapsychology research that Stanley suspected exists? It's all stuff we'll be left to ponder indefinitely if Netflix doesn't pony up.
That's not to say that there wouldn't be something special about IANOWT if it were left as is: a nearly perfect single season that's left open to interpretation. This kind of storytelling may be rare on TV today -- Watchmen being the most recent example -- but that's why cases like IANOWT are so tantalizing. Season 2 would need to be essentially an entirely different show, moving even further into the sci-fi/fantasy space -- especially because the powers in Season 1 interestingly felt more like an afterthought since they were a metaphor for Syd's repressed rage. Maybe that's why Stranger Things showrunners were involved from the get-go, to prep for whatever experience is bound to come. If IANOWT is kept in the hands of these coming-of-age and genre fanatic writers and producers, and features the same cast members, I might be okay with this as a two-season arc.
Need help finding something to watch? Sign up here for our weekly Streamail newsletter to get streaming recommendations delivered straight to your inbox.