The 12 Funniest Sketches from Netflix's 'I Think You Should Leave with Tim Robinson'
From Netflix's funniest show out right now.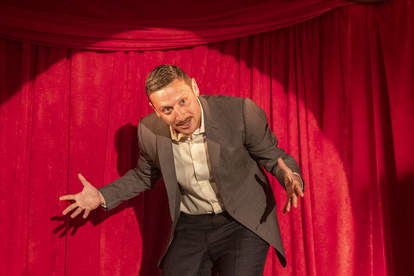 Writing good sketch comedy is hard, and even harder to sell to a streaming audience who'd rather flip on reruns of The Office than try out something new and potentially risky. But even with a scant push from Netflix to make I Think You Should Leave with Tim Robinson the Next Hot Comedy, the sketch series has found its audience, with some help from organic endorsements on Twitter -- but mostly because it's funny as fuck. (It also helps that every episode is less than 15 minutes long.) 
Without question, ITYSL is Netflix's most successful sketch comedy series to date, and it gives both up-and-coming talent (Patti Harrison, Conner O'Malley, Kate Berlant, Brandon Wardell, Sam Richardson, etc.) and recognizable faces (Vanessa Bayer, Cecily Strong, Fred Willard, Andy Samberg, Steven Yeun, Tim Heidecker, etc.) a platform to flex their most deranged comedic muscles. It follows, then, that the Thrillist Entertainment crew couldn't stop cracking I Think You Should Leave bits to each other, so we mined our favorite sketches from the series for the selfish purpose of content creation, which, given the number of relatably cynical office drone moments from the show, we think is appropriate. And because there's nothing worse than having a joke explained to you, we tried letting the weirdos and absurd scenarios speak for themselves.
"Keep going?"

| Netflix
Funeral organist
Episode 3.
For a series that ostensibly serves as a showcase for the warped sensibility of a single performer, I Think You Should Leave has a deep bench of game supporting players, and displays a generosity in shining the spotlight on both newcomers and established stars alike. That's perhaps most apparent in this sketch featuring 79-year-old comedian Fred Willard, who most viewers will recognize from his many roles in Christopher Guest movies or countless sitcom guest spots. Like Robinson, Willard got his start on the Second City Stage and he excels at playing oblivious fools. His character here, a substitute funeral organ player fond of smashing plates, is a deliriously funny creation, both the perfect Willard buffoon and a fitting part of the ever-expanding I Think You Should Leave universe. -- Dan Jackson, entertainment writer
"Fuck you, Harley Jarvis!"

| Netflix
112th Baby of the Year
Episode 1.
Any opportunity to swear at babies who don't know what the hell is going on is good, and so taking that simple gesture and framing it with a best baby contest -- not cutest or sweetest, just strictly the best, from a pediatric perspective -- featuring babies with insane names is, of course, excellent sketch fodder. Bookended by Sam Richardson singing the "Baby of the Year" theme and an in memoriam segment for former contestants who lived well into old age, like Tiny Dinky Daffy who got pancaked by a dump truck driver at a ripe 92, makes this an impeccable tone-setting sketch for the absurdity that's to come. Plus, that Bart Harvey Jarvis is the most aggressive baby I've ever seen in my life. -- Leanne Butkovic, entertainment editor
Instagram
Episode 1.
This was the first individual sketch from I Think You Should Leave that went around the Internet after it hit Netflix, and I can't stop thinking about it. The premise is simple: Three gals at brunch are posting Instagrams of each other with cute captions like "Sunday Funday with these idiots!" But, one of them, played by SNL's Vanessa Bayer, doesn't quite get the self-deprecating-caption-for-a-cute-photo thing, taking her friends' terms of endearment like "dum-dum" as license to get absolutely disgusting. "Slapping down some pig shit with these fat fucks, and I'm the fattest of them all," she tries to post on her photo before her friends shoot her idea down. Sometimes it's hard to think up a fav-able caption, but "Brenda" takes it wayyyyy too far. No coffin please, just wet, wet mud. -- Emma Stefansky, entertainment writer
The Man
Episode 2.
There's a certain flavor of dread that accompanies sitting down in your plane seat at the beginning of a long flight and then watching a baby get on the plane. You know what's going to happen, and there's no way to stop it. Imagine if someone held in all the anger and frustration of a plane trip with a crying baby for decades, stalking the baby as he grew up to be old enough to take his own flight, buying a ticket for the same plane and sitting down next to him to give him the torture of his life. That's exactly what SNL alum Will Forte does in this sketch, in which he dons a balding old man wig and spits absurdist dialogue like "A RAT BIT ME" at Tim Robinson, before throwing his head back and emitting the single worst noise you will ever hear in your life. Unfortunately for him, his seat number is waaaaay in the back of the plane. -- ES
"There's a lot of stuff around because it's a big party house, so."

| Netflix
Garfield house
Episode 6.
Where is the absolute worst place on earth to stage an intervention? Certainly, it must be the Garfield house, furnished exclusively with Garfield-themed furniture. So a Garfield-obsessed Kate Berlant strong-arming her friends into hosting it at her Garfield house, presumably owned by Jim Davis himself, and making her letter about the Garfield house while Robinson sits in a reclining Odie chair is too much to handle with a straight face. As the last sketch in the entire series, it's damn effective. Also, where the hell did they find the Garfield house anyway?? -- LB
"Me! That's meeee!"

| Netflix
Honk if you're horny
Episode 4.
The comedy of former Late Night with Seth Meyers writer and frequent Robinson collaborator Conner O'Malley is packed with desperation. Whether they're hunting Shrek in the woods or screaming about the candidacy of Starbucks billionaire Howard Schultz while stabbing themselves with needles, his flailing men have a misplaced sense of deranged conviction that Robinson's more neurotic blowhards often lack. These people can't help themselves. So, it only makes sense that he'd be called upon to play a guy driven to madness by a goofy bumper sticker telling him to "honk" if he's horny, a ridiculous idea that the sketch then riffs on in a surprisingly poignant way. -- DJ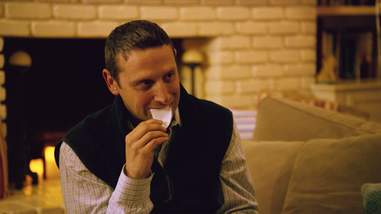 "Everybody, let's get out of here. This place is covered in shit."

| Netflix
Gift receipt
Episode 1.
As a sketch that takes up nearly half of an episode, "Gift Receipt" would flirt with dragging on for too long if not for the number of turns it takes: Steven Yeun opening gifts at his birthday party, eating paper, mud pies (a euphemism for poop that I will never not use now), a mass walkout. Saying more would taint expectations... much like the paper in "Gift Receipt." -- LB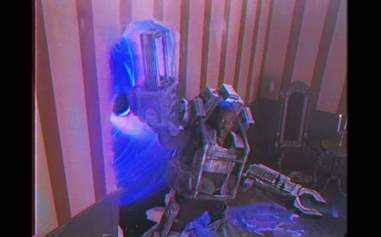 "Friggin' bonies!"

| Netflix
Scrooge and the Ghost of Christmas Way-Future
Episode 4.
Many of the best I Think You Should Leave sketches have simple observational sketch comedy premises rooted in the unceasing drudgery of office life or the idle chit-chat of social gatherings. This one, which features Robinson's Detroiters co-star Sam Richardson as a robo-man sent from the future to take Scrooge on a Terminator-like journey, is more of a genre parody complete with silly-looking special effects and cliché-riddled dialogue. But it quickly goes haywire in a surreal and hilarious way that's hyper-obsessive with bones. If the series gets a second season, this is the type of sketch it'd be fun to see Robinson get another shot at doing in an even more blown-out, over-the-top manner. -- DJ
"Does THAT count as what I get??"

| Netflix
Santa came early
Episode 5.
This beautiful sketch relies practically exclusively on Patti Harrison's unique ability to deliver variations of the same joke in progressively psychotic intonations: Santa came early. The office she works in got a new printer/copier that collates and staples paper, and a coworker quips the familiar bad line that Christmas came early. But Harrison latches on painfully, to the confusion of the rest of the multigenerational office, eventually asking like any small child rightfully would while crinkling their face, "Are we even gonna get anything now?" Honestly, great question! -- LB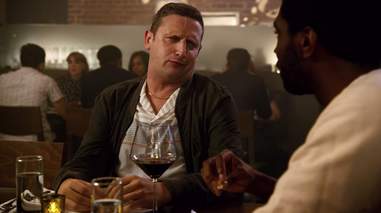 "Are you choking?"

| Netflix
Choking
Episode 5.
Robinson's performance as a choking man who tries to play everything cool is insane and probably brilliant. He's out to dinner with friends when he realizes one of the guests at the table is an actor-singer-fashion designer he likes. And then he starts choking. Robinson croaks through the pain, tries to eat a popper, and starts to think that water smells bad as his face grows continuously redder. The best part is the fact that we have no idea whether he survives as he smiles back at his idol while the paramedics give him the Heimlich. -- Esther Zuckerman, senior entertainment writer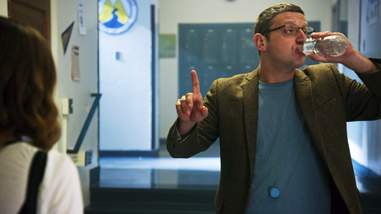 "Does it come in other styles?" "Not really."

| Netflix
TC Tuggers
Episode 2.
The beauty of "TC Tuggers" is how multilayered it is. It's a parody of a soapy high school drama, a commercial spoof, and it highlights a phenomenon that we can clearly recognize but have never really considered until this moment: men tugging on the front of their T-shirts. Two teens are having an overwrought conversation when Robinson's principal interrupts them. He's got a TC Tugger, the shirt with a little knob on the front so you can tug at will. He cannot stop talking about this shirt. It's almost... endearing? Who knows. I'd buy one. -- EZ
"That fat piece of shit made you look like a fool, Charlie."

| Netflix
Magic show
Episode 3.
Magicians do suck, but that's not really the point of this sketch. Rather, it's that Robinson and Cecily Strong give us a three-minute relationship drama that's both hysterical and crushing at the same time. When Robinson's character allows himself to be humiliated by a magician while on a date with his wife, what he doesn't realize is that he's essentially ending their marriage by going along with the stage bit. Just as they are about to go to bed, Strong starts to eviscerate him in a truly ferocious way. They play it so straight that it'd be heartbreaking if it weren't so damn funny. -- EZ