I went to see New Kids on The Block, 98 Degrees, and Boyz II Men. And I am a 32-year-old straight man.
Make no mistake: Boyz II Men can still move
When I borderline-sprint into Mohegan Sun Arena (home of WNBA's Connecticut Sun AND "one of the premier international strongman Grand Prix events"!), they're on stage, and all in white: white shirts, white jackets, white pants, white Adidas shelltoes. These days, the former quartet is down to three: Shawn Stockman, Nathan Morris, and his not-brother Wanya Morris. Michael McCary, the guy who mostly just kinda talked really deep instead of singing, left due to back problems a while ago. They still dance like they're 19, not 39, and damn if it's not tight. The continued fluency and cohesion makes sense -- this is a break from their standing gig at the Mirage in Vegas, where they're stealing all of Carrot Top's ticket sales.
They're already halfway through "End of the Road", and I'm just hoping that song title doesn't also apply to their set at the musical three-way involving them, 98 Degrees, and New Kids on the Block. The tour is called The Package. Two decades removed from being 11-years-old, the fans presumably understand why this is hilarious. Thankfully, the road has not ended just yet. That distinctive M-16-fire of a drumbeat rings out, and it's "Motownphilly" time. Maybe an eighth of the crowd stands up, reasonably stimulated. Everyone else apparently wants to make clear they're not here to see these guys. I am.
I wasn't a pre-teen girl in 1988, so while NKOTB certainly occupied a slightly terrifying chunk of the overall musical landscape, I didn't faint onto my Donnie Wahlberg bedspread when their grainy faces/hair/abs appeared on MTV. But a few years later, by the time I was dancing with those very girls who could filibuster on why Joey was sooooo much cuter than Jordan, Boyz II Men was always part of the soundtrack. "Water Runs Dry" was a guaranteed slow song at the Spring Fling AND Snowball. "I'll Make Love To You" was the adopted theme song for my eighth grade football team. I know it probably should've been Metallica or something, but hey: it was chosen by Mike Gonzalez, who was 16 and drove a car to practice, and somehow it led us to an undefeated season. Or actually, maybe 16-year-old eighth grade running back Mike Gonzalez was responsible for that, too.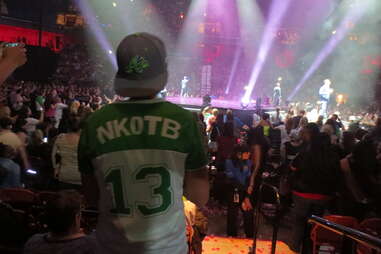 But that's it for them. "Do they do an encore?", I wonder aloud to my girlfriend. "Um," she returns, "I don't think people are cheering loud enough." I'm told later that they only played five songs, three and a half of which I missed due to traffic and an attempt to park my rented Hyundai Sonata hybrid in the garage that houses the ride-on lawn mowers.

98 Degrees is next. I'm really, really not sure how this is possible. Boyz II Men has three of the top four all-time longest-running Billboard No. 1 songs. They're one of only three acts ever to replace their own song at No. 1. The others are Elvis and the goddamn Beatles. 98 Degrees has the guy who divorced Jessica Simpson, his much shorter brother, some dude named Jeff, and a goateed chump who looks like a middle school biology teacher and doesn't even have a Wikipedia page. I could only name a single song of theirs, until I was not-so-politely informed that the Backstreet Boys in fact sang "I Want It That Way".

But here they are, stealing second billing as they take the stage in their suits. Yes, they wear suits now, because they are men!! Except some of them are going with undone bowties, because they're still fun and know how to party. Unlike Boyz II Men, these guys dance like they're 60 and have recently undergone spinal surgery. They eventually rip their jackets off to a smattering of shrieks, and Nick Lachey masturbates a few mic stands as he refuses to let anyone else sing. Next, they call up four girls from the audience, plop them on stools, and sing to them while doing some light caressing, except for impressively awkward Bio Teacher, who apparently never got to do the fun stuff while he was an internationally famous teen idol. My girlfriend knows every single word to every single song. I'm terrified of her.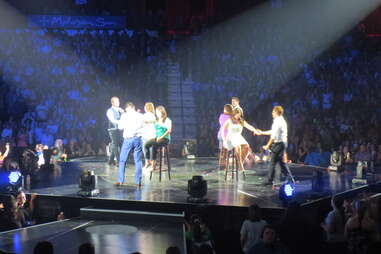 And those are all the words I'm going to waste writing about 98 Degrees. They finish, the lights go up, and everyone gets a chance to fuel up for the real deal with beers and soft pretzels. I ask the girl manning the Goose Island beer stand if she gets to enjoy the shows while she's working. She tells me that normally she really does, but this one's tough -- it's all love songs, and she broke up with her boyfriend the previous night because he wants to spend all his time getting drunk with his buddies, and she's now "working with a broken heart." I tell her that she's better off without him, especially if he's not smart enough to realize that she has all the beer. The rest of the half hour break is spent marveling at the sartorial foresight of the fangirls (well, fanwomen now) who saved their NKOTB tour t-shirts from 1989.
There's nothing quite like the scene in a venue concourse when the house lights go down inside and that first musical note hits. Everyone instinctively snaps out of whatever they were doing and sprints to get back to their seats before that initial word is sung. The people on the food lines either bail on the idea of those chicken fingers or, resolutely staying on line and knowing they're frozen, start jumping up and down like a six-year-old who has to pee. My girlfriend bolts. I follow at maybe a canter.

The arena has transformed into a madhouse. You know how people go from being slightly animated to screaming wildly and acting generally unintelligent when a TV camera swings to them? There must be at least seven cameras on every single person. All those Boyz II Men haters are on their feet and 1.2 million cell phones are being held aloft. It's all about to happen. After some weird NBA-sounding intro music and pyrotechnics, New Kids on the Block suddenly appear on the stage. They start to sing and... whoaaaa!! A circular center cutout of the pentagonal stage starts elevating skyward!! The other bands never got to elevate skyward. They also didn't get two hours and fifteen minutes of stage time, giant columns of flames, six wardrobe changes including bedazzled Bruins jerseys, or smaller, separate little circles with railings that also hydraulic themselves about 20ft into the air (my GF: "Handlebars are always a good sign...see, up they go!"). After 25yrs, most of them spent being highly forgotten while being ripped off by bands like Opening Act No. 2, these guys are still the show. They're famous all over again.

It's intriguing to survey what's changed and what hasn't. Jordan Knight is still quite tall, belts out falsetto, and spends most of his time overshadowing his older brother Jonathan, who apparently is not allowed to sing. Joey McIntyre still makes girls shriek. Danny Wood has morphed into something of a goateed troglodyte, with his previously "strong and handsome" facial features now massively exaggerated and attempting to pierce his skin at every weak point.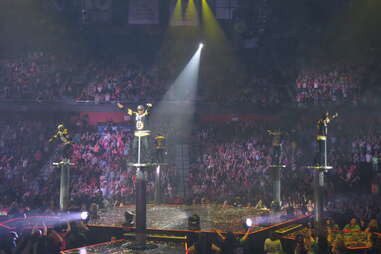 And then there's Donnie. While, through the years, he's often been obscured by his own younger brother named Marky Mark, out here, Donnie is the star of stars, and he lets you know it. Everyone else is wearing black loafers, so Donnie wears sparkly high-tops with spikes on them. Everyone else dances in strict adherence to the choreography, so Donnie does a little freelance spin move. Everyone else sings during the chorus, so Donnie doesn't. Everyone else keeps their shirt on like crazy people, so Donnie tears his off and refuses to put it back on for the last third of the show.

But hey, he deserves it -- at this point, he's the only one who's "cool". While all these other guys have been raising boring families, and making solo albums that aren't even on iTunes, and judging American Idol spinoffs starring seven-year-olds, Donnie's been doing work. Acting in Blue Bloods, Band of Brothers, and at least 300 Saw movies. Executive producing cop reality shows. Winning Teen Choice Awards. It's very difficult to win a Teen Choice Award if you weren't in Twilight.

The last time I was at Mohegan Sun was three years ago, for Donnie's 40th birthday party. No, I have no idea why I was invited. The scene was a touch bizarre: him in the casino's club, up on a 10ft tower, alternately dancing carefully in the limited space he was allotted and chiming in over songs that weren't even his. The crowd wasn't the crowd in the arena tonight -- the nostalgia-junkies. It was 14-year-old girls who somehow got in, and somehow knew who he was, and were more than ready to scream when he instructed them to. Donnie's the only one of the bunch who continues to be "someone" to NEW people.

Later that night, after kicking open no less than two doors I probably wasn't supposed to kick open in an ill-lit hallway with lots of exposed wires, I came to the suite I was told to go to for Donnie's after-party. I narrowly avoid absorbing a faceful of Southie hospitality when I walked in unannounced. "Whoa! Guys! I swear to god, I'm totally supposed to be here, just let me talk to Donnie for a second!" The goons seem like they haven't beat anybody up in a whole hour. One of them points to a kingly chair at the far end of a long table. I talk fast. "Hey Donnie it's me the guy from this morning with the funny questions about you slow-dancing with Wally the Green Monsterrrr." "Ahhh! What's up, man! I seriously needed that interview after being on The View. Come on in, let's hang out. He's good, guys."

Said hangout consists of a multi-part handshake and him telling me to help myself to whatever I want, before he retreats into a smaller room within the suite. The rest of my night and early morning is spent drinking Bud Heavies with his groupies. After all these years, they were still right there. One particularly busty example was 40-something, had brought her daughter along, and apparently was Seinfeldian-ly known as "the Braless Wonder". A flight attendant, she would game her routes to make NKOTB concerts across the country 20yrs earlier. Now here she was, just happy to be back in her zone, even if -- much like me -- she wasn't actually hanging out with Donnie. Three years later, after The Package (still funny!) concert, I hear rumors that she's lurking around again. But Donnie and the boys have already hopped a bus back to Boston. There will be no groupieing for the Braless Wonder tonight.

Meanwhile, 98 Degrees is sitting a a roped-in table across from a Krispy Kreme just off the gaming floor, signing autographs onto copies of their new CD. One fan, who had somehow listened to it already, calls it "like if they put the BeeGees and the Jackson 5 together." I say damn, that's pretty high praise. "Oh, that's not how I meant it at all. Maybe if you like the '70s."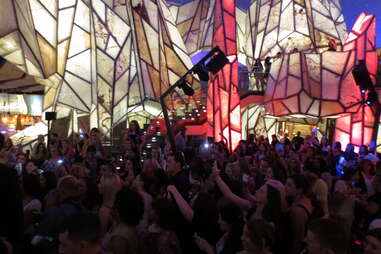 While the Lacheys and Co. sit in folding chairs with a very literal barrier to protect them from women who hate good music, Boyz II Men is up in the planetarium-ish Vista Lounge, dancing the night away under the fake stars. In their walk from backstage to a photo op under the lounge, probably 200 girls realized what was happening and attached themselves to Shawn & Co. like remoras to a shark. Upstairs, the Boyz put back some vodka sodas before plunging into the crowd to happily take pictures with every single female in the place, then dance with them, all smiles, all fun, all very "whatever". Someone hands Shawn a mic. "We don't do too many parties these days, so we want to enjoy this one with you." Ladies and other ladies, your somehow-opening act: Boyz II Men.