Why 'Game of Thrones' Fans Should Watch Maisie Williams' Netflix Movie 'iBoy' ASAP
The Netflix library is already stocked with superhero stories, but this weekend the streaming service treats its subscribers to another: iBoy. This isn't a stealth addition to its interlinked Marvel franchise; it's a movie, imported from the U.K. and adapted from Kevin Brooks' YA novel of the same name, about an average teen whose iPhone weaponizes his brain following a near-fatal injury.
Goofy as this low-budget revenge thriller sounds, Adam Randall's second feature spins the crime-fighting genre into fresh territory by putting a modern twist on a familiar tale -- giving us a familiar face (Maisie Williams, aka Arya from Game of Thrones) in the process. Our guide below should help you assess how well iBoy meshes with your superhero sensibilities.
How do you feel about revenge?
Bill Milner stars as Tom, a geeky outcast growing up in the projects of South London. One night, after walking in on the sexual assault of his high school crush Lucy (Maisie Williams), he sustains a gunshot wound to the head. He wakes up from a coma 10 days later to learn that the bullet lodged fragments of his phone deep into his brain, narrowly missing his temporal lobe. The side effects? The abilities to manipulate any and all electronics, make loud screeching sounds, and f*cking tase people. How? This taut 90-minute movie doesn't have time for "how" questions.
If you're familiar with Alex Proyas' take on The Crow -- the story of a dead groom-to-be coming back to life to get even with his fiancée's killers -- this movie's essentially its down-to-earth little brother. Like a Millennial Eric Draven, Tom embarks on a journey to learn the difference between vengeance and redemption in an urban wasteland run by aggressive drug pushers. First, he uses his powers to quash Lucy's attackers. Then, after grave developments, their bosses. Nobody ever says, "With great power comes great responsibility," but it's clear shades of Spidey's troubles are here, too.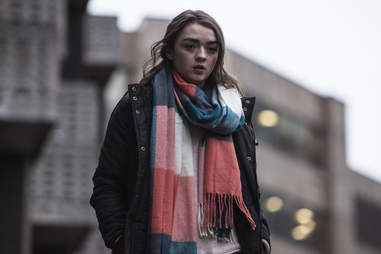 Netflix
Are you a Maisie Williams fan?
As Lucy, the Game of Thrones actress exchanges her tomboy-ish persona for something closer to a damsel in distress. You'll be unsurprised to know she still plays her tragic role with measured shock, playfulness, and badassery, damn near stealing the spotlight whenever she's in frame.
That doesn't mean she's all this movie has to offer, though. Milner, whom you might recognize from X-Men: First Class and Locke, nails his tough job playing Tom, a darker Peter Parker whose hobbies include ditching school and being introspective, while Miranda Richardson (Tom's erotic fiction-writing grandma) and Rory Kinnear (his block's kingpin) round out the main cast with their own convincing turns.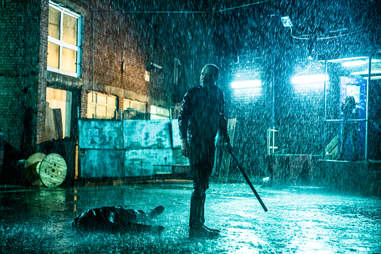 Netflix
How serious do you like your superhero movies?
iBoy takes itself very seriously. The frames are dark, the general mood is dreary, and everyone's future, for the most part, feels hopeless. Moments of cheeky self-awareness -- Tom learning self-defense on the fly, Lucy mocking the absurdity of her hero's moniker, Kinnear's character wishing to tell his back story uninterrupted and, moments later, laughing at the thought of a Star Wars-ian twist -- appear, but they're rare and almost random, perhaps not as light as they could be.
Is seriousness a good thing? Depends. The main way iBoy distinguishes itself from its older brother is with its tone. If you liked The Crow's weird-ass villains and inappropriate jokes, know that such playfulness doesn't exist here. Prepare instead for a video-game-like sprint that's less concerned with making you laugh or immersing you in a love story, and much more intent on picking apart a gang -- deglamorizing its violence, eye-for-an-eye attitude, and superficial lures along the way.
Netflix
Wait, so are his powers as cool as they sound?
Kinnnnnnnnnnnnnnda. As designed by the special effects team, Tom's ability to project data might remind you of the heightened brain power Scarlett Johansson had in her own heady project. Visions of waves and data sure look cool as hell, but the slow growth of Tom's powers, mostly used in chess-like fashion, doesn't leave much room for the kind of high-octane fight scenes action fans desire.
Random: Do you know the difference between shepherd's pie and cottage pie?
You will after iBoy.
Sign up here for our daily Thrillist email, and get your fix of the best in food/drink/fun.
Sean Fitz-Gerald is a staff writer at Thrillist Entertainment. Find him on Twitter: @srkfitzgerald.