Our Favorite Queer Moments in Movies and TV
These scenes featuring LGBTQ+ characters are the ones that have stuck with us over the years.
Design by Maggie Rossetti for Thrillist
Sal Mineo pining for James Dean in Rebel Without a Cause, Shug Avery kissing Celie in The Color Purple, the peach in Call Me by Your Name. Moments like these can spark entire awakenings. Whether coded or overt, they can titillate, inspire, or amuse. Thankfully, queer passion is more common today than it was even 10 or 15 years ago, with a variety of identities depicted on big and small screens alike, even if countries like Saudi Arabia and right-wing personalities like Ben Shapiro protest so much as one measly same-sex kiss in a Disney movie.
Over the years, queerness has provided some of pop culture's sexiest, funniest, most affecting moments—from the joyfulness of The Birdcage to the melancholy of Moonlight. For Pride Month, Thrillist's entertainment writers have selected a handful of these standout moments.
Androids flirting in Alien: Covenant
While watching Ridley Scott's Alien prequels Prometheus (2012) and Alien: Covenant (2017), it's impossible not to notice their utter disdain for their human characters, and for humans themselves: a failed creation clawing its way out of the sand trap of inevitable extinction. The mangled, leggy forms of the pre-Xenomorphs are too, well, alien to connect with, so who do you root for? The robots, of course. In Alien: Covenant, a human colony ship's resident nurse android Walter encounters David, an earlier version of himself who survived his own ship's unfortunate crash-landing on an uncharted planet populated by bloodthirsty monsters. While the humans run around shooting things and exploding things and getting picked off by the planet's parasitic residents, Walter and David (both played by Michael Fassbender, in a mind-bending technical achievement) share a few philosophical chats about whether or not humans deserve to inherit the legacy of higher beings—you know, robot flirting. In a memorable scene, David, who fashions himself after aristocratic British adventurers of the olden days, teaches Walter how to play music, holding a flute to his mouth and saying, "I'll do the fingering." Their connection is riveting and, especially in David's case, highly emotional, which makes his question in a later scene—"When you close your eyes, do you dream of me?"—all the more heartbreaking. —Emma Stefanksy
The Birdcage burial plot
For all of its dated qualities, The Birdcage, which was probably my introduction to queer culture, is still a crucial comfort watch. I could list countless moments: Robin Williams' "Fosse, Fosse, Fosse" tour through the history of modern dance as an uninterested go-go boy watches, Nathan Lane's wearing Barbara Bush drag to impress Gene Hackman, etc. But I keep coming back to the scene at the bus stop after Lane's Albert has stormed off, upset to see Williams' Armand dancing with his son's mother (Christine Baranski). Albert explains he's going to a cemetery in Los Copa, a veiled threat. Armand calmly responds, "My cemetery's in Key Biscayne. It's one of the prettiest in the world. The sky is blue, palm trees, rolling hills. The one in Los Copa's really shit." But then he says he's going to have to sell his so he can be buried next to Albert. In a movie full of broad comedy, it's a quiet moment that allows these actors to explore the love between their characters. In its 90's way, The Birdcage doesn't allow Albert and Armand to show much physical affection, but this exchange tells you all you need to know about their relationship. —Esther Zuckerman
Amy's pining in Booksmart
One of the reasons teen rom-coms can feel like idyllic versions of reality is because so many feature that special, fantastical moment in which the lovelorn protagonist sets her star-crossed eyes on the object of her affection. Like many teen movies before it, Olivia Wilde's Booksmart features that special moment that conveys what it might be like if time could stop, but does so in a way that's uniquely queer for a mainstream comedy. It plays out as BFFs Amy (Kaitlyn Dever) and Molly (Beanie Feldstein) are talking about how Amy hasn't kissed a girl despite being out for years, while Amy stares across the lunchroom at her crush, tattooed skater girl Ryan (Victoria Ruesga). Ryan's glowing and doing ollies in slow motion across the courtyard, scored by the ultimate indie-pop song about an unbearable crush, "Can You Discover?" It's a thoughtful soundtrack choice, as the track comes from Rostam Batmanglij and Wesley Miles' 2009 collab Discovery, which produced an album full of gay themes—and while Amy's eventual attempts at flirting are awkward and befuddled, it's the sweetest representation of sapphic pining. —Sadie Bell
Carol and Therese meeting in Carol
Todd Haynes' Carol, released in 2015 amid a sea of cishet bravado (The Force Awakens, Furious 7, Avengers: Age of Ultron, and Spectre were box office toppers for the year), felt like a warm breeze of sapphic cinema during the early weeks of winter, and it remains a lovely, essential entry in the queer canon. Sure, it might one of the more obvious entries on this list, but it's not without good reason: Carol is fucking good. The intense gazes exchanged between Carol (icon for queers Cate Blanchett) and Therese (Rooney Mara) are some of the most smoldering ever put to screen, and it's nothing short of heartwarming watching Therese open up from being a young, timid department store clerk and amateur photographer to a woman more confident in her own desires, able to hold eye contact with the assured, older Carol. Even their first meeting, as Therese is working at a department store and Carol is shopping to buy a toy for her daughter, shoots off so many chemistry fireworks that the dialogue and purpose of Carol's trip is left in a haze; all you can process is their flirting. Between shared lunches, a glamorous hotel-room hookup, and their many flustering interactions, you're rooting for Therese and Carol to end up together, maybe especially because of the hardships in their personal lives amidst a conservative 1950s backdrop—they deserve joy. And triumphantly, they do, even if it's signaled with coy smiles and shoulder grazes. As the writer Jill Gutowitz said, longing is lesbian. —Leanne Butkovic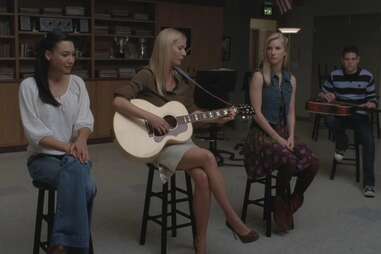 Santana and Brittany singing "Landslide" on Glee
As chaotic as Ryan Murphy's showchoir dramedy Glee could be, it really was a gem of LGBTQ+ representation on mainstream TV in the 2010s. One of the characters whose queer journeys is often seen as the most influential among fans was Santana, the late Naya Rivera's outspoken cheerleader who fell for her best friend Brittany (Heather Morris). Her performance of Fleetwood Mac's "Landslide" with Brittany and sex educator Holly Holiday (guest star Gwyneth Paltrow) is one of the series' most pivotal and heartbreaking covers. Despite all of New Directions watching them, it's as if Santana sees only Brittany and realizes not only her affection for her friend, but how much everything will change when she comes out, as she sings, "Well, I've been afraid of changing / Because I've built my life around you." It's a beautiful moment to see her accept how she really feels—and one that Rivera spoke about, saying she felt a need to handle it responsibly and was touched to see how much it resonated with fans. —SB
Both versions of "Wicked Little Town" from Hedwig and the Angry Inch
When I was a teenager, I rented Hedwig and the Angry Inch from my local Hollywood Video. I saw myself as a "film buff," so I'd basically rent everything that fell into the "independent film" category in the tiny monthly release catalog. I had no knowledge of the musical's off-Broadway history or cult following, but I fell hard for John Cameron Mitchell's directorial debut about a gay German rock singer who unwillingly changes his gender identity to get out of Germany and start a new life in the United States. As she picks herself back up, Hedwig's music is eventually stolen by her younger lover, Tommy Gnosis, who then becomes a rock star. I was instantly drawn in by Hedwig's ruby lips and glam-rock ballads. All of the songs in Hedwig are incredible, thanks to music and lyrics from Stephen Trask. But the parallel pairing of "Wicked Little Town" and "Wicked Little Town (Reprise)" marks the beginnings of Hedwig's tumultuous mentorship and relationship with Tommy, the two connecting over music and creation. And it sours into what happens when the person you love takes everything you've got. These were questions that I couldn't answer as a teen or even now, but seeing Hedwig blew open everything I thought I knew about gender, sexuality, and love. —Kerensa Cadenas
The first time Jenny and Marina meet on The L Word
I was in college when The L Word premiered on Showtime. I had already been an avid Queer as Folk viewer, so I was immediately ready to watch the dramatic exploits of a bunch of hot lesbians living and loving in Los Angeles. I viscerally remember watching the two-part pilot and relished the show's soap-opera trappings. After Jenny (Mia Kirshner) moves to LA to be with her longtime boyfriend, they attend a party thrown by their next-door neighbors Bette and Tina (Jennifer Beals and Laurel Holloman). As small talk stretches on, Jenny ends up meeting the magnetic Marina (Karina Lombard), who understands her ridiculous literary references. But there's this electricity in that moment where the two find palpable connection, all long glances and close-ups of lips as their desire boils over in an illicit bathroom kiss. Jenny is completely unmoored by the situation—not because of her boyfriend in the other room, but because of what her attraction to Marina says about her deep down. And even though Jenny later becomes the villain of the show, in that one moment I saw myself. —KC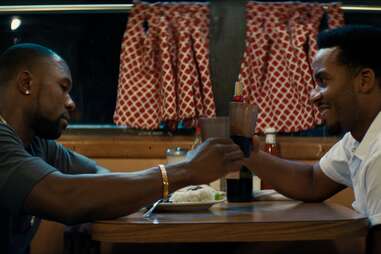 The diner scene in Moonlight
Moonlight's third and final chapter is its most devastating—and its most hopeful. The opening shot of Chiron (played as an adult by Trevante Rhodes) says all we need to know about who he's become over the course of the film, having buried his gayness in the armor of chiseled muscles and a hardened gaze. But one phone call, from the childhood love (André Holland) he never forgot, reawakens what is only barely dormant. "Why'd you call me," Chiron asks Kevin after driving to the diner where the latter cooks for him and plays a jukebox song whose fitting chorus says, "Hello, stranger … / How long has it been? / It seems like a mighty long time." As they sit across from each other, Chiron can't avert his eyes. In another (read: heterosexual) movie, the pair might get up and slow-dance. But even without anyone else in the restaurant, that would be too bold. Merely looking is a feat for Chiron, who has done everything he can to stop seeing his true self. Director Barry Jenkins bathes the characters in the warm haze of twilight, his close-ups begging Chiron to clinch the moment. Soon enough, maybe they will. They wind up at Kevin's apartment, and the film ends with their soft embrace. —Matthew Jacobs
Sailors Uranus and Neptune in Sailor Moon
The girls, gays, and theys who tuned into Sailor Moon after school on Cartoon Network's Toonami block know the ass-kicking girl power that Usagi and her piecemeal-assembled team of Sailor Guardians wield. (Sailor Moon in the middle of a good cry could beat any shonen protagonist; come fight me.) The gateway anime was funny, girly, tough—already ingratiating to a certain age group—and then Sailors Neptune, fighting with elegance, and Uranus, fighting with brilliance, were introduced into the fold in Season 3 and brought in a new gay dimension to the league of sailor scouts, most of whom could be read as bi, even if the English dub declared them as "cousins." The effortless artist Michiru and the cool-as-hell androgynous Haruka, though, were clearly more than cousins, and even the tiny pea brain of a middle schooler like myself knew there was something deeply alluring about the duo. As time has passed, the nature of their relationship became more obvious (after all, they raised a baby Sailor Saturn as a throuple of moms with Sailor Pluto), and the newer TV adaptation, Sailor Moon Crystal, and Netflix's rebooted movie, Sailor Moon Eternal, laid out all their subtextual queerness plainly for all weebs to see. But the original, even with just Michiru and Haruka's shoulder touches and close faces, was special: They, and the other obviously non-straight characters the show brought in, were one of the first representations of queer love a kid could internalize, and even if Sailor Moon wouldn't name it at the time, we all knew it was there.—LB
The first telepathic orgy in Sense8
Sense8, one of Netflix's first original series directed by the Wachowski sisters, is fundamentally about the simple ecstasies of human connection—and what's more human than finding joy in the act of sex? The show was revolutionary for many reasons, one of which was the way it embraced the enthusiastic depiction of all forms of love and sexuality. Look, if you find out that your brain has spontaneously linked itself to seven other people and they're all really, really hot, you're probably gonna try some stuff out. The show kicked into a gear that had not been seen on television in its first season, when four characters—Will, a straight man from Chicago; Wolfgang, a straight man from Berlin; Lito, a closeted gay man from Mexico City; and Nomi, a trans woman hacktivist from San Francisco—test the limits of their telepathic connection and discover that their bodies are just as connected as their minds are. The show was also notable for its commitment to shooting nearly everything on location, all around the world, so a sex scene involving four or five or all eight of the main characters had the added spice of taking place in multiple locations all at once. After watching Sense8, the bar for all future real-life dating encounters is high. —ES
"Le Jazz Hot" in Victor/Victoria
When I first saw Blake Edwards' Victor/Victoria as a musical-theater-loving kid, I didn't really have much of a concept of gender performance. The farcical qualities of the woman pretending to be a man pretending to be a woman worked well enough for me. And yet, over the years, my appreciation for this surprisingly sly film about how we present ourselves has only grown. Look no further than Julie Andrews' debut as Victor, when she performs "Le Jazz Hot." It's an extraordinary bit of experimentation. Andrews must play a drag queen while at the same time seducing her love interest, Chicago gangster King Marchand (James Garner), who then must conceal his own feelings when he realizes he's attracted to a man (who ultimately happens to be a woman). Of course, it's ultimately a hetero relationship, but is it really? —EZ
Gael García Bernal and Diego Luna's kiss in Y Tu Mamá También
Y Tu Mamá También is a movie of ambiguities, but Alfonso Cuarón's camera makes one thing clear: When his road-tripping protagonists Julio (Gael García Bernal) and Tenoch (Diego Luna) begin a threesome with Luisa, the woman (Maribel Verdú) who's been provoking their adolescent libidos, what really piques their interest is each other. As Luisa drops to her knees, Cuarón pans in on the shirtless boys, who do what they can to avoid touching before Julio reaches for Tenoch's face and they share a feverish kiss that suddenly feels long overdue. Luisa disappears from the fame; all that matters is this one embrace. Their friendship, like most youthful connections, won't last, maybe because that night was too much to handle, or maybe because that's just the way things tend to go when adulthood intervenes. We don't get to see what else happens during the ménage à trois, and we don't need to. However Julio and Tenoch might define their sexualities amid the Mexican machismo they've internalized, in that pivotal moment they are able to help each other dismiss their inhibitions. It's at once sensual, thrilling, and sad, and the way Cuarón avoids pat answers enhances the film's impact. —MJ