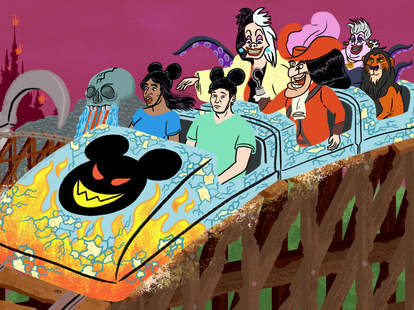 Thrillist's Best, Most Overlooked Stories of 2017
Here at Thrillist, our absolute favorite thing to do is to scour the world around us and report back to you on the best food to eat, movies to watch, and places to go that are somehow underappreciated.
This year we told you about the best movies and TV shows of 2017 that flew under the popular radar. We put in hard work to determine the most underrated craft brewery in all 50 states, and we tapped a wide network of world travelers to tell us about some amazing destinations that not nearly enough people are visiting.
In that spirit, we're taking one final moment in 2017 to tell you about some of the very best and yes, most underrated stories we wrote this year. We already compiled our most popular stories of the year, all of which are well worth reading again, but here's your chance to appreciate some great stuff you may have missed this year. We know you'll love these stories as much as we do.
Jason Hoffman/Thrillist
In theory, eliminating tips and paying restaurant staff a living wage is a near no-brainer. In practice, it gets incredibly difficult, but the sustainability of restaurants could hang in the balance as pioneering restaurateurs put this concept to the test. This is fantastic journalism, from Thrillist's James Beard Award-winning writer Kevin Alexander.
Jason Hoffman/Thrillist
Oh man, there's some weird, wild stuff in these stories, from folks who go by handles such as Ricardo, Frog, and Connecticut Shorty. Read these tales and you won't soon forget them. The best advice of all? "Travel light. And always keep your ears and eyes open."
Evan Lockhart/Thrillist
Far more than a list of songs, Thrillist writer Dan Jackson created this is a truly remarkable index of modern music history that illuminates both the abundance and limitations of our current age of music streaming platforms. It'll test the bounds of your own musical knowledge and taste, and give you plenty of new stuff to listen to.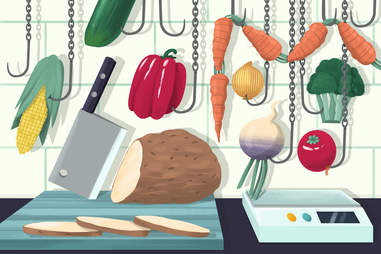 Jason Hoffman/Thrillist
Meat is five things: amino acids, lipids, water, trace minerals, and a small amount of carbohydrate. All of those things are present in plants. So what if we thought about meat differently? If it has certain nutrients in a certain architecture, who's to say it isn't meat?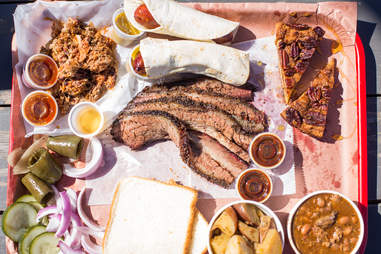 Dan Gentile/Thrillist
This year, we made comprehensive travel guides to New Orleans, San Diego, Miami, New York, and Austin, and we believe they're the best, most useful guides on the internet today. This particular guide, for Austin, takes a particularly keen look at a city that has become such a hot destination -- and all the complexities that go along with that.
Evan Lockhart/Thrillist
Guy Fieri, the over-the-top junk food enthusiast with frosted tips, often ends up a punching bag for the higher crust of food circles. But this interview from Thrillist's Matt Patches will leave you with a very different impression of Fieri via a novel approach: It takes him seriously.
Jason Hoffman & Evan Lockhart/Thrillist
You won't believe the lengths people go to in Newfoundland, Canada to make vodka from -- no exaggeration -- the purest water on Earth. And you really won't believe the affordable price tag. Seriously, go find yourself some of this vodka and contemplate the taste of the Arctic.
Mikayla Whitmore/Thrillist
This story is about so many things: arcade games, bar culture, violence, pacifism, enjoying our lives in the face of the stream of tragedy that flows through our daily existence. But above all else, it's just great writing and reporting. If you pick one story to read beginning to end, let it be this one.
Cole Saladino/Thrillist
It wasn't long ago that pink wine was considered tacky and verboten, but the meteoric rise of rosé as a status symbol for the young and carefree has shown just how much influence aesthetics -- and Instagram -- can have over what we eat and drink.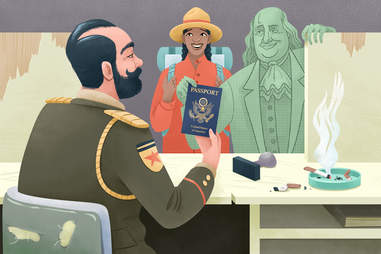 Jason Hoffman/Thrillist
If you do enough travelling, sooner or later you'll probably need to shell out a bribe to make your trip safer, more efficient, or more interesting. So you'll want to know what you're doing -- in most cases, you have more leverage than you realize.
Sign up here for our daily Thrillist email and subscribe here for our YouTube channel to get your fix of the best in food/drink/fun.