How to Dip Your Toes Into the Grimy World of 'Indie Sleaze'
It's a term that keeps popping up, but what is it?
Gregg Gillis of Girl Talk

| Bryan Bedder/Getty Images for CMJ
Gregg Gillis of Girl Talk

| Bryan Bedder/Getty Images for CMJ
There's something in the air. It's something that seems more innocent but also grimy. It's the Wolf Parade needle drop in that episode of The Dropout. It's the slow creep of American Apparel onesies back into wardrobes. It's the return of "indie sleaze."
"Indie sleaze" is a term that's been popping up in the internet lexicon recently. It's been defined for Gen Z on TikTok and is the subject of a popular Instagram account. Spotify has published an "indie sleaze" playlist. In Allison P. Davis' much-shared New York Magazine piece about how we're headed toward a "vibe shift," she wrote that trend forecaster Sean Monahan "thinks the new vibe shift could be the return of early-aughts indie sleaze."
But what exactly is indie sleaze? As with most vague trends, indie sleaze means different things to different people. Generally, it's an aesthetic that took hold in the early aughts and lasted through about the end of that decade. If you're a late millennial in a major metropolitan area it will probably make you think of high school or college, drinking Sparks and listening to M.I.A.'s Arular. You might have attended a Misshapes set. You bought Nylon magazine. You wore bright hoodies and headbands and gold lamé shorts. You read Hipster Runoff.
Olivia, who asked for her last name not to be used, started regularly posting to the "indiesleaze" Instagram account sometime around January 2021, seeing a revival on the horizon. "I had a hunch that there would be renewed interest in bloghouse and electroclash and new rave due to where we're at in music trends," she tells Thrillist. "It's an aesthetic that hasn't really been revisited yet or neatly defined, which made it all the more interesting for me to explore."
On her account, Olivia posts pictures from the era: Karen O of the Yeah Yeah Yeahs makes frequent appearances; Kate Moss is there; paparazzi shots from when Drew Barrymore was dating Fabrizio Moretti of The Strokes dot the page. She also links out to her playlist of "indie sleaze" music—certainly not the only one circulating. Matthew Perpetua, a music journalist who runs Fluxblog, recently posted "This Is Indie Sleaze 2002-2008," which he describes as "a tighter, more historically accurate version of someone else's idea."
So perhaps you're now ready to put on your oversized glasses and neon-colored tights and immerse yourself in the world of indie sleaze. Here's where to begin. Just remember: If you take issue with the definition, indie sleaze means different things to different people, even the ones trying to define it. And if you feel like you have a hangover after reading, it simply can't be helped.
The Music: Metric, CSS, Girl Talk, M.I.A. and so many more
The music of the indie sleaze era can generally fall into the genres that Olivia mentioned above, which themselves are ill-defined, but united by a kind of over-the-top garishness. There are certain artists that will invariably be mentioned if you bring up indie sleaze in conversation: M.I.A., the Yeah Yeah Yeahs, mash-up master Girl Talk, Bloc Party etc. The uniting factor? The music was fun, the kind of stuff you can envision yourself listening to when getting really sweaty and just letting it all out. Olivia remembers dancing on the street with her friend to TV on the Radio's "Wolf Like Me." That kind of music.
What you define as indie sleaze also depends on where you were. For Olivia, who grew up and currently lives in Toronto, the acts that defined the loose genre include Broken Social Scene and Metric. In Britain, you had The Arctic Monkeys and The Libertines, Pete Doherty's outfit defined as much by the sounds as his drugged-out look and romance with Kate Moss.
Unlike Olivia, however, Perpetua cuts "indie sleaze" off in 2008. "To me, this sleaze era is definitely the Bush era, and I think there is a significant vibe shift that happens within 2008 that leads into something else," he says. He wants to be clear that said vibes were not always good in this period, describing it as "proudly obnoxious" and "gross." "If there's any song here that could only exist in this era it's the Louis XIV song 'Finding Out True Love Is Blind,'" he says. "They are just trying to gross you out." As for other artists, he mentioned Brazilian outfit CSS and the duo MSTRKRFT, known for their remixes.
Where do we see indie sleaze in new music now? Well, electronic maximalism is back thanks to hyperpop.
The Icons: Cory Kennedy, Alexa Chung, Agyness Deyn
The "scene" is a crucial element of indie sleaze, and there were people who defined it who were musician adjacent. Call them "it girls," if you want, but they were icons of the world. Perhaps no one better occupies this position than Cory Kennedy, who became a teenage internet celebrity after interning for and then dating the 20-year-old photographer Mark "The Cobrasnake" Hunter. A Los Angeles Times profile explained: "From the moment Hunter posted his first pictures of her, with her doe eyes and her brown hair asunder, it was clear that her childlike face, surrounded by all that L.A.-noir, had its own gravitational pull."
Both then and now, Kennedy's young age was scandalous, and even the Times acknowledged that there was a distinct ickiness to her association with Hunter. But Kennedy's style—defined in the LA Times as "​​a cross between the Little Match Girl and the quintessence of heroin chic"— persists. Perhaps because Kennedy was just a high school student before she became famous, she had a relatability that made her accessible to people looking from afar. It was a trait Olivia identified in other figures that broke out as well. "[Cory] seemed like a friend you would meet at a party," she says. "There was something that felt like you could connect to them." Olivia, for her part, responded to British model and TV presenter Alexa Chung's low maintenance style. Chung, with her shag cut and no-makeup makeup, oozed a sort of down-to-earth, most fabulous girl at the set ethos.
Another model from across the pond, Agyness Deyn, also emanated the kind of effortless cool that made her a phenomenon. Deyn, who is now mainly an actress in projects like Her Smell, became known for her bleach blonde pixie cut and her huge smile. She was a gorgeous model featured in Vogue who you could also see yourself partying with.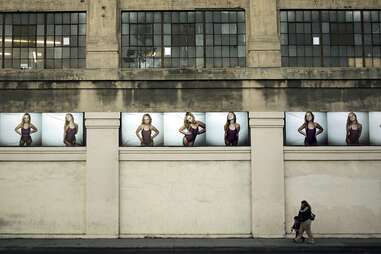 The Style: American Apparel, Jeremy Scott
One face that pops up all over Olivia's Instagram alongside the likes of Deyn is Jeremy Scott, the fashion designer who would eventually become creative director of Moschino. Known for his bright colors and clashing patterns with a pop-art sensibility that pushes the boundaries of good taste, he's arguably the indie sleaze designer. "Jeremy Scott, with a lot of his designs, were the kind of imagery that I associate with this time, a lot of his patterns that he incorporated into his shows," Olivia says. "We've also messaged a bunch on Instagram. He sent me some really great pictures."
Scott embraced the chaos that made the heavily vintage, DIY style fun. "A lot of people were breaking the fashion rules around this time," Olivia says. "It seemed like it was really encouraged to think outside the box. If two things go together that people don't normally think go together or you think would clash, you would try it out or you would wear it and do it anyway." Even if you didn't have access to Scott's pieces, you could go to Urban Outfitters or your local thrift store and throw together an outfit that pushed the boundaries of good taste with kooky spirit. And that's where American Apparel and its basics that also included gold disco shorts comes in.
You can't talk about "indie sleaze" without mentioning American Apparel, a brand that leaned heavily on the "sleaze" in its marketing, advertising basics with barely dressed women in overexposed lighting. Browse the #americanapparel tag on TikTok and you'll find videos mourning the loss of the brand. But it's yet another element of the period that hasn't aged well. American Apparel is now entwined with the downfall of its founder Dov Charney and the accusations of sexual harassment against him. Charney has been slinking his way back into the public eye with Los Angeles Apparel, which essentially imitates American Apparel down to the washed-out lighting of the advertisements.
The Aesthetic: Nylon, The Cobrasnake, Vice
Tying this all together are the journalists and photographers who elevated these people and their looks, chief among them the magazine Nylon, the aforementioned Cobrasnake, and, of course, Vice. The Cobrasnake blog, snapshots of parties illuminated by flashes, was a chronicle of debauchery that still exists. That The Cobrasnake has been out and about at the recently concluded Fall/Winter 2022 Fashion Week is maybe more evidence than ever that indie sleaze is definitely coming back. This spring, Hunter has a book coming out from Rizzoli titled All Yesterday's Parties, described as "a love letter to a time before Instagram and the legendary party scenes of the 2000s that brought together the new millennium's rising stars of pop culture."
Meanwhile, way back when, Nylon put the style in print and even gave Cory Kennedy her own column, along with another "it girl," Peaches Geldof. But Nylon also featured mainstream celebrities like Christina Aguilera and Lindsay Lohan, giving it crossover appeal that allowed indie sleaze to bleed into markets outside the party hubs of New York and Los Angeles. People anywhere might pick it up to see what the tabloid phenoms were up to, and then be introduced to these scenester kids.
Arguably less accessible, but probably more influential was Vice. Back then, Vice was the wild, wild west, not the respectable media company it would now become, known for being profane and gross and offering fucked up "guides" for how to live. It codified hipsterdom with a sneer and a middle finger. It was also at the time under the control of co-founder Gavin McInnes, the troll who would later go onto found the racist alt-right organization the Proud Boys. This is all to say that, for as much as indie sleaze nostalgia can be fun and kitschy, there's a truly dark side to the period that the "sleaze" part of the name emphasizes. If we are trending toward a massive indie sleaze revival, hopefully we can leave the bad parts in the past.