Everything We Know About Season 2 of HBO's 'Industry'
HBO's acclaimed finance drama is worth investing in now.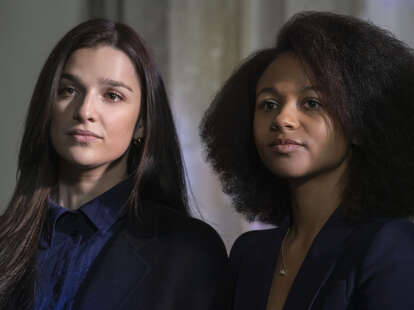 Marisa Abela and Myha'la Herrold in 'Industry' Season 2.

| HBO
Marisa Abela and Myha'la Herrold in 'Industry' Season 2.

| HBO
HBO's finance drama Industry, which followed a group of fresh-faced recruits at the fictional investment bank Pierpoint & Co, was one of 2020's best TV surprises. Packed with sex, drugs, and business jargon, the UK-based show sucked you in with its soapy spin on the high-stakes workplace drama while also providing a barbed critique of its often toxic subject matter. Each episode was more exciting and visceral than the one before.
But, like the characters blinking through a day of work after a ketamine-fueled night of debauchery, we've been left to look around at the wreckage and wonder what's next in the two years since Industry was last on air. Will the company's ever-buzzing open-plan office, where everyone's trying to make a deal for "half a yard" and planning to grab a "bevy" after work, be forced to change in a post-COVID world? Here's what we know about the second season of Industry.
Is there going to be a Season 2 of Industry?
Yes! On December 10, HBO announced that Industry was renewed for a second season with co-creators Mickey Down and Konrad Kay returning as showrunners.
"Mickey and Konrad have captured an authentic, fresh angle on workplace culture from the bottom up and presented a complex look at navigating life in your early twenties–replete with thrills, failures and victories," said executive vice president of HBO programming Francesca Orsi in a statement. "It's exciting to see fans embrace these young graduates, and we join them in anticipation of what's in store for season two."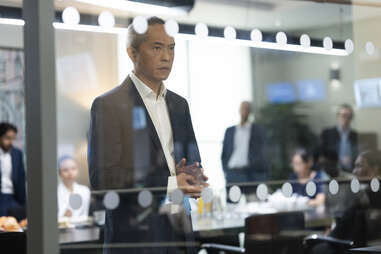 When will Industry Season 2 premiere?
In mid-June 2022, HBO announced, along with some first-look photos of the season, that Industry would be returning on Monday, August 1 in the 9 pm EST slot, at the same time available to stream on HBO Max. Production had been up and running after COVID vaccines became accessible. On June 29, 2021, co-creator Konrad Kay tweeted out a photo of the read-through copies of the first two episodes of Season 2, along with a "Management Offsite" shirt in the background.
Is there a trailer for Industry Season 2?
No trailer yet—the show needs to start shooting first. In the meantime, listen to the show's moody synth score to transform your workday with some slightly menacing Pierpoint vibes.
Who in the cast is returning for Season 2?
While the end of Season 1 hinted at some potential changes, it looks like the core cast will remain in tact for Season 2. Harper (Myha'la Herrold) is back at her desk, placing risky trades and making deals on the phone, as Eric (Ken Leung), back from getting pushed out mid-season, walks around with a baseball bat in hand. Similarly, Rob (Harry Lawtey) and Yasmin (Marisa Abela) will be stalking the halls of Pierpoint as well.
What about characters like David Jonsson's brainy graduate Gus or Freya Mavor's ambitious manager Daria? Both left Pierpont in the finale of Season 1, suggesting that they might not be coming back for the second season. In an interview with Entertainment Weekly, co-creator Mickey Down left open the possibility of coming back into the fold. "There's always potential that these characters can return in some form, within Pierpoint or outside it," he said. In a June 2022 press release however, HBO confirmed that Gus will be in Season 2.
In an interview with Vulture, Ken Leung, a clear fan-favorite from Season 1, indicated that he hoped we'd see more of Eric's wife Candice (Alexandra Moen) in Season 2. "She's even more powerful than he is in her world," said Leung. "So they're like this crazy power couple that, like, who knows? [Laughs.] Anything could be happening to them. Hopefully we'll see more about that."
Also returning is Sarah Parish as Pierpont client Nicole Craig, Nicholas Bishop as Yasmin's family friend Maxim Alonso, Sagar Radia as analyst Rishi Ramdani, Mark Dexter as Pierpont exec Hilary Wyndham, and Caoilfhionni Dunne as VP Jackie Walsh.
Will there be any new cast members in Industry Season 2?
You bet! The new faces headed to Pierpont this quarter are Alex Alomar Akpobome (Twenties, For All Mankind) as Danny Van Deventer, a crack-shot executive from the New York office; Indy Lewis (La Fortuna) as Venetia Berens, a new recruit on Yasmin's desk; and Katrine de Candole (Dominion) as the undescribed Celeste Pacquet. Also joining the fray is actor/writer/director Jay Duplass (The Chair, Search Party, Transparent) as Jesse Bloom, a respected hedge fund manager; Sonny Poon Tip (Anatomy of a Scandal) as Jesse's son Leo; and Adam Levy (The Witcher) as Yasmin's playboy father, Charles Hanani.
What will Industry Season 2 be about?
Though the first season of Industry was building towards "RIF (Reduction in Force) Day," where the graduates had to defend their roles at the company to their superiors, there was always a sense that the series was laying the groundwork for storylines that would extend beyond the intimidating showdown with management. Everyone wasn't going to get fired. Even at her most self-destructive moments, Harper clearly has a future at the company.
One aspect from Season 1 that the show will likely explore in a second season: the upper-management of the company. "We have quite a big story engine for Season 2 about the bank higher-ups," said co-creator Konrad Kay in the EW interview. "Their relationships with the senior figures only become deeper in the second season, so you get more of a sense of that stuff."
Along with more stories involving the bank higher-up's, it sounds like the creators are also hoping to make some of banking material a bit more understandable to viewers without finance backgrounds, noting in a June interview with Awards Daily that they think the show might be more enjoyable with "more intelligible banking storylines." "When we look back at Season 1, there's a lot of character stuff we're really proud of, we're really proud of the performances," said Kay. "But we're trying to do a better job of giving the audience more to hang on to episode to episode."
Could the show extend even further beyond a second season? It all depends on how long viewers stay hooked. In an interview with GQ, Down stated that he and Kay would love to continue the show for multiple seasons. "The idea of doing a version of the show which goes on for a long time is one that we'd love to do," he said. "But it's not up to us. You'll have to wait and see."