The Biggest Airlines Have a New Strategy: Be Like Netflix
Jason Hoffman/Thrillist
Jason Hoffman/Thrillist
In 1962, David Flexer, president of Inflight Motion Pictures, a company that brought feature films to aircraft for the first time, told The New Yorker, "air travel is both the most advanced form of transportation and the most boring," a sentiment echoed by all 12-year-olds for years to come. One year earlier, Trans World Airlines had screened the first feature-length film on a flight, By Love Possessed, thanks to Flexer's technological tinkering that enabled film reels and projectors to fit comfortably and compactly on the plane. The way passengers utilize their time up in the air was forever altered.
Nearly six decades later, in-flight entertainment is now a multi-billion dollar industry, projected to reach $6.91 billion by 2022, and rapidly evolving along with the technology and tastes that support it, from the installation of new high-definition seatback screens to the programming of the biggest Hollywood movies. What customers can watch in the air is a selling point for a major like Delta, which boasts about free access to hundreds of movies, TV shows, and games delivered via a seatback screen (over 550 of their aircraft are equipped with them) or the passenger's personal device. While the act of catching up with The Big Bang Theory or finally watching Oscar-winner Moonlight on your cross-country flight seems passive, there's a hustle happening behind the scenes, with extensive research and airline-approved editing ensuring quality control. The process of programming sky-high viewing has come a long way since Flexer's days of solitary air travel.
"Programming for an airline is like programming for a city or a country," says Walé Adepoju, the executive vice president of content and media at Global Eagle, an in-flight entertainment content service provider that supplies digital content to 185 airlines worldwide, including every single carrier out of India, some French and Italian airlines, and a few North American airlines, including Southwest. And because of the vast cultural differences between each airline's brand and customer base, the company conducts extensive research on the personalities of the carriers to which they're providing entertainment. And unlike Netflix, which can crunch big data using a single platform, inflight entertainment content service providers have to compile dynamic information from across all of the airlines.
In their research, Global Eagle takes a look at genre, time of year, and previous best performers. For instance, children's programming sees a spike in the summer due to school breaks and family vacations, so they'll package family-friendly programming for airlines during that time. Travelers heading to cultural hotspots like Italy or France tend to have more interest in "artistic" movies, Adepoju says.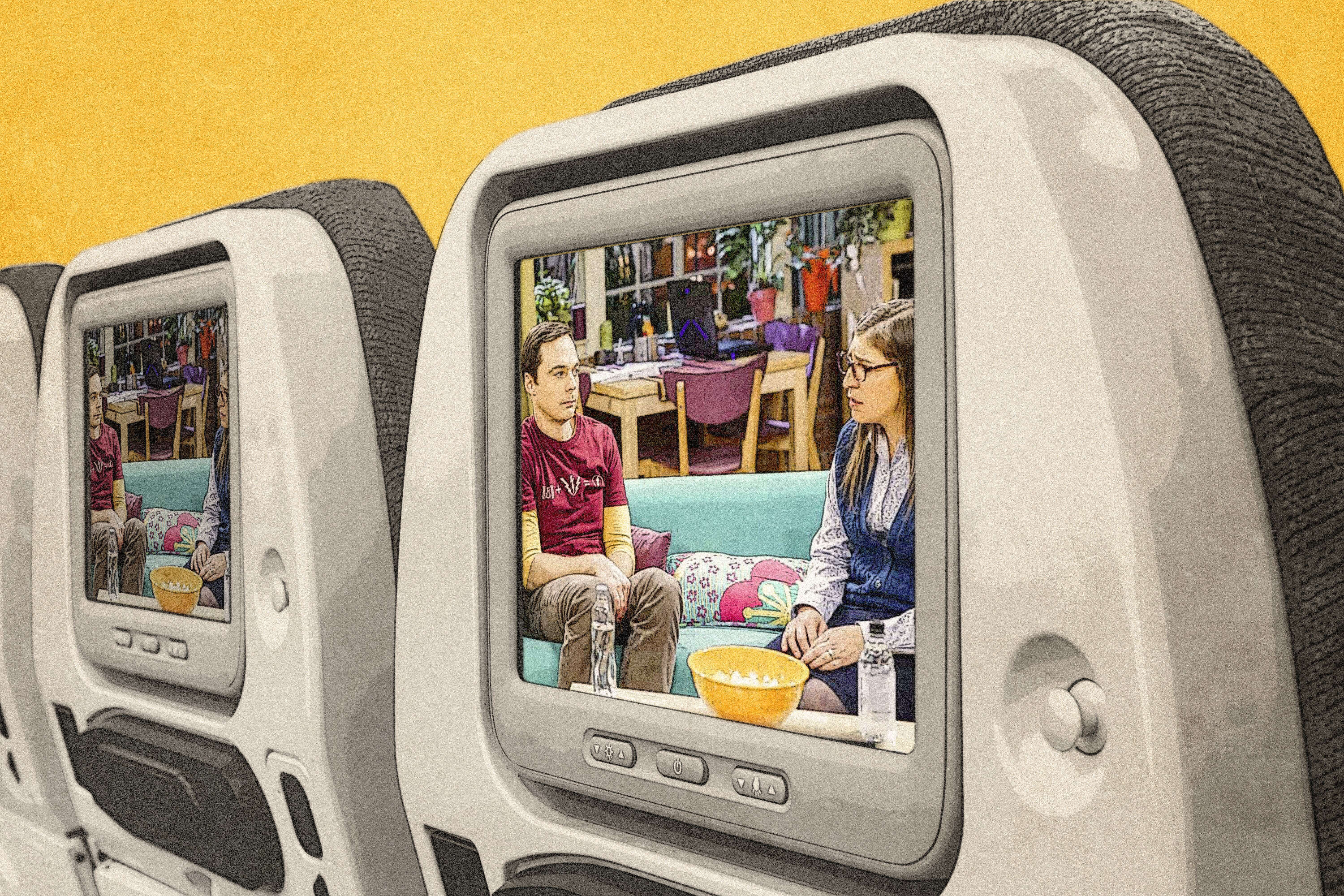 To gather data on its passengers' entertainment interests, JetBlue looks at social media interaction and even deploys brief surveys to customers. Because the airline has free in-flight Wi-Fi, which it affectionately brands as "Fly-Fi," customers essentially have boundless access to all the content that lives on their personal devices. But with expectations to fill, JetBlue also needed to cater to the seatback experience. Surveys and social media polling found that passengers enjoy curated, bundled content, so JetBlue put together a Halloween movie package, a bundle for Women's History Month, and an Oscar-winning feature. "We see with a lot of the Oscar-nominated films, we try to use research and our gut to plan to put those on board if we know they're going to probably be nominated," says Caroline Kelly from JetBlue's in-flight entertainment and connectivity team.
After polling customers, Alaska Airlines replaced underperforming sports content with more sought-after lifestyle programs, like shows from National Geographic and HGTV, and formed localized partnerships like with the Seattle International Film Festival, showing one movie from the fest a month. "We look at that data to see these movies did really well, let's bring on more of those," says Alaska Airlines' manager of in-flight entertainment and connectivity, David Scotland. "Action/adventure and comedy do really well on airplanes."
Knowing passenger tastes -- or algorithmically processing Big Data, as Netflix might put it -- enables the airlines to create a targeted entertainment palate so flyers don't have to worry about spending time sorting through a wealth of titles to pick their flick. "Rather than telling customers what they should be watching," says Andrew Wingrove, Delta's managing director of product and customer experience, "we're investing in what they're already watching."
Once airlines have a good sense of passenger preferences, they'll work with studios or content service providers like Global Eagle to build out their entertainment calendar, usually two to three months in advance, though oftentimes airlines are looking at film titles as much as a year out. Southwest, who works with Global Eagle, have already begun plotting their moves for 2019, though as they get closer to the films' premieres on-board (typically around three months following theatrical release as in Delta's case), Global Eagle will begin negotiating with the studios, whom they've been in talks with before the movie's even been made. "We're in at script level on some titles where we think it's going to be really of value travel," says Adepoju.
Another content service provider, Spafax, works with carriers like Delta and Alaska on forming an entertainment strategy and brokering deals. "They're in the room with us when we're working with Fox and Warner and Disney," Scotland says. "I'll say that we've got a really strong relationship with two studios in particular where we can say, 'Here's our budget.'"
Each airline-studio deal differs depending on size and entertainment needs: some have an all-you-can-eat plan where there's a flat fee for unlimited content, while others may pay per movie. "A deal between Disney and JetBlue is a very different deal between Disney and Emirates," says Kelly.
Informed by similar data points and driven by the consolidated business model, every airline finds itself pulling from a similar pool of films, which is why we tend to see crowd-pleasers like superhero movies, La La Land, Battle of the Sexes, Goodbye Christopher Robin, and The Hitman's Bodyguard on a handful of major flights. Only carriers who've worked out major deals with movie studios -- like JetBlue has with Disney's upcoming A Wrinkle in Time -- land exclusive titles that can debut a few weeks to a month before all other airlines. It's these partnerships with studios -- and most importantly, those with the blockbuster hits that passengers are dying to see -- that airlines hope translate to impressionable, in-flight experiences that are subtle, but which they believe are the difference between your next round-trip decision.
Gone are the days of airlines competing to get a movie on their carrier first. Instead, the race is on to beat the home entertainment market. Thor: Ragnarok, for instance, opened in theaters on November 2017 and became available to purchase on Amazon on February 20, 2018. Airlines got access February 1, 2018. "We get some complaints that 'You don't have this movie, it's going to be on DVD,'" Kelly says. "We get early window content, which is when we get it before home entertainment, [but] that window has been collapsing over the years."
"Individual airlines would work with distributors to get it a month earlier [than home entertainment]," Scotland echoes. "All of these windows have shrunk with the advent of Netflix and Hulu. It's less about competing for the titles [then airlines] differentiating themselves."
Alaska Airlines touts a chat feature which lets passengers iMessage, Facebook message, and WhatsApp chat for free. All of the airline's movies are free and are frequently bundled by themes (like a recent '80s month), and an in-the-works satellite Wi-Fi system will allow customers to stream their own Netflix and Hulu accounts from the comfort of their own devices. Believing that the joys of some minor bonuses never change, JetBlue has a new seatback entertainment system prepped for a 2019 launch.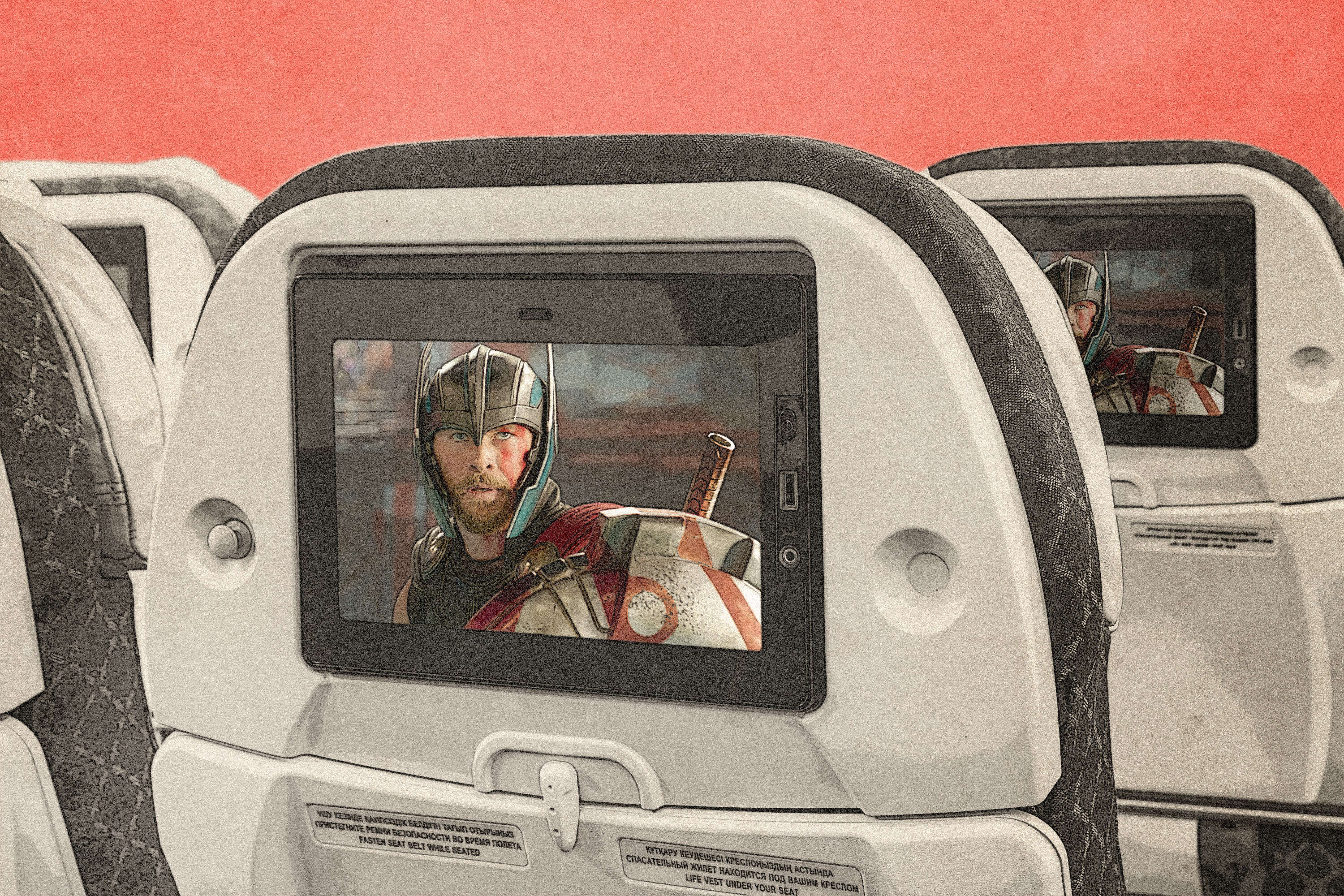 Accessibility is also a scrutinized factor. While every airline and content service provider imposes different edits to their in-flight movies based on customer standards -- Southwest, for example, edits some of the violence out of their action and adventure movies to make them suitable for all ages -- it's offering films in a variety of languages and with closed captioning that open the entertainment up to a wider audience. Delta provides both subtitled and dubbed versions of movies in several languages including Japanese, Mandarin Chinese, Portuguese, and Spanish.
Working alongside the studios in the post-production editing process, Global Eagle will translate films into about 50 languages, include closed captioning, and cut multiple versions of the movie that are compatible with every seatback, iOS, and Android device, tablet, and screen on which the movie could possibly be viewed. "We want it to look the same if you're on first class on Emirates," Adepoju says, "or if you're sitting in coach on a four-hour domestic flight."
JetBlue shows films that have been edited by the studios themselves, sometimes to the ire of passengers. Since the airline opts not to have privacy screens on their seatback devices in order to maintain the most high-definition viewing experience, they err on the side of caution with edited versions; however, they are likely shifting away from heavily altered movies, instead displaying a warning slate before showing a theatrical version.
No longer do the space constraints of David Flexer in-flight reel and projector create concern for the distribution of airborne films: everything is delivered digitally via satellite or a file upload into the seatback system. If Flexer were to peer into Delta Studio -- Delta's in-flight entertainment platform loaded with hundreds of movies, TV shows, and songs, updated monthly, on a cross-country voyage -- instead of marveling at the advance of air travel, maybe instead he'd comment on how it's become incredibly unboring.
Sign up here for our daily Thrillist email and subscribe here for our YouTube channel to get your fix of the best in food/drink/fun.
Allie Volpe is a writer based in Philadelphia. She has contributed to
Rolling Stone
,
The Washington Post
,
Glamour
, and more. Follow her on Twitter @allieevolpe.