Adapted from her career-catapulting web series Awkward Black Girl, Issa Rae's HBO series Insecure has become one of TV's best series. It's been praised for its diverse team of writers and ability to tell nuanced stories about a pair of 20-something best friends in LA, navigating love, their careers, and the black American experience. Rae, showruns the series she stars in, has gotten her fair share of awards recognition with two Golden Globe nominations and one Emmy nom for her performance as the relatable Issa Dee. 
There's been a lot to both laugh and cry about over three seasons as Issa and Yvonne Orji's Molly weave in and out of toxic relationships and face the conflicts of everyday life -- and the end of Season 3 set up a ton of intriguing storylines to look forward to in the show's fourth season. Old flings come out of the woodwork, new flings abound, and tensions run high among their friends. In anticipation of what's coming Issa and Molly's way, here's everything we know so far about Insecure Season 4. 
Recommended Video
This Hot Cheetos Cookie Is a Sweet Kick of Heat
Is there going to be a Season 4 of 'Insecure?'
Hell yeah! Back in September 2018, Issa Rae announced the HBO series would be back for a fourth season. 
While Rae once joked that she would cancel the show if she found out Melania Trump watched it -- a comment she made to Glamour when explaining what it was like to talk to Michelle Obama about Insecure -- it is, in fact, coming back. (Whether the First Lady will continue tuning in, as her Director of Communications says she does, remains to be seen, but it looks like Rae couldn't care less). 
When will 'Insecure' Season 4 premiere?
In April 2019, Deadline reported that the series won't return until 2020. HBO programming chief Casey Bloys explained to Vulture that the show isn't following its typical yearly release schedule (Season 1 debuted in October 2016, 2 in July 2017, and 3 in August 2018) because "Issa became a big movie star" with roles in films like Little and the forthcoming The Lovebirds, so she's had to take some time away from her series. While you may have to wait a little longer, don't worry too much: Bloys stressed that the star "partly wanted a break to come back to [Insecure] fresh," so it should be better than ever. 
The writers are back in the writing room
According to Rae's social media, it looks like Insecure's team of writers are officially back to work. In April 2019 she shared a photo of the whole crew assembled, so if they eventually got off the golf course and into the writing room, it's possible filming will kick off late summer/early fall. Were that to happen, it seems likely the show will be back on air in spring 2020. 
How many episodes will there be?
Given Seasons 1-3 each had eight episodes, eight seems likely. 
Who will be in the cast of Insecure Season 4?
The show is created by and starring Issa Rae, so she'll obviously be reprising her role as Issa, and Yvonne Orji will definitely be back as Molly. Plus, their core friend group like Lisa Joyce (Frieda), Y'lan Noel (Daniel), Natasha Rothwell (Kelli), and Amanda Seales (Tiffany) should also be back, too. It also seems likely that you can bet on last season's newcomers Alexander Hodge (Andrew) and Kendrick Sampson's (Nathan) returning as well.
There are two pivotal characters who have yet to be confirmed for Season 4, though: Christina Elmore's Condola and the Best Buy employee you can't help but love/hate, Jay Ellis' Lawrence. When Lawrence and Issa broke up way back at the end of Season 2, it was said that he would no longer be on the show -- an absence that pissed off the #LawrenceHive so much, they started a petition for his return. Inevitably, he was back toward the end of Season 3, this time with a new beau whose identity remains unknown to Issa. She just so happens to be Condola, Issa's potential new business parter, who we see gets increasingly more serious with Lawrence throughout the end of the season. Although neither cast member's Season 4 fate has been announced, it seems this was setting up for a seriously uncomfortable confrontation if Issa is to pursue working with Condola, and their relationships and histories might make for an interesting work/life balance.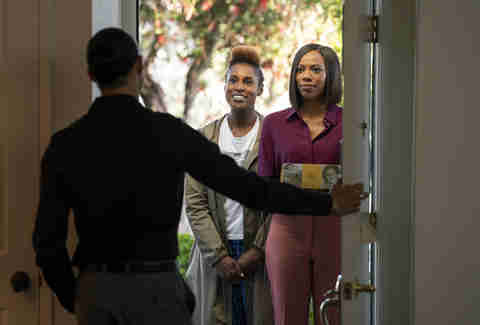 What will 'Insecure' Season 4 be about?
Aside from a potential conflict between Issa and Condola, it seems like best friends Issa and Molly's relationship could be put to the test in Season 4. Never have the two really dated men from the same circle, and they've both kept those parts of their lives relatively separate from their friendship with each other -- meaning they're entering uncharted waters dating a pair of roommates. Molly is moving into a new relationship with Andrew (Alexander Hodge), AKA Asian Bae, and Issa seems to be picking things back up with Nathan (Kendrick Sampson). As Refinery29 pointed out, in the Season 3 finale post-show special Wine Down, executive producer Prentice Penny said fans can expect these new relationship dynamics to be a large focus of the upcoming season. He said, "Typically we've always had their relationships as 'Issa's dating this guy' and 'Molly's dating this guy.' And never the twain shall sort of meet... what's interesting now is what will this friendship be like [in a new situation]?" Sounds like a lot of close proximity and boundaries drama to come! 
It's also a possibility that mental health becomes more of a central focus, as it was revealed that Nathan ended up ghosting Issa not because he didn't want to see her anymore, but because he needed to go home to Houston to sort out his personal issues. 
While little information has been announced, it's hard to say what more we can expect from Insecure Season 4. So, just try to hang tight until that 2020 release date, and in the meantime, we'll continue to update this post as more information is announced.