I Got All of My News From 'Inside Edition' for One Whole Week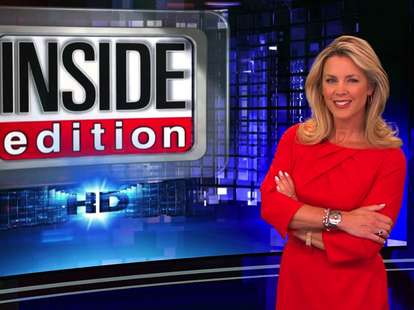 For as long as I've been watching TV, Inside Edition has been there for me; it's the only show I watch. The syndicated newsmagazine has aired five days a week since January 1989, and I cannot imagine a world without it.
Warm and comforting in its inanity, Inside Edition is the fast-food equivalent of TV news, and it has been impossible for me to look away from it. Its sensationalistic stories of true crime, viral video recaps, and celebrity soundbites are wholly irrelevant and quickly forgotten. The Pew Project for Excellence in Journalism describes it as a "pseudo news program," but what the hell do they know?
One afternoon, I wondered, What if I got all my news from Inside Edition? And for one entire week recently, I did just that, disavowing myself from all other forms of information that exist beyond its limited narrative. Here's what I "learned," day by day, in the process -- juxtaposed with what I missed, according to the Associated Press.
Monday, April 18th
Inside Edition top stories:
Swim for your life: the reporter's live TV rescue!
What a catch! Saved by her coach -- she could have broken her neck!
You won't believe what US presidential candidate used to own this old jalopy!
Sleep -- you're doing it wrong!
AP top stories:
Supreme Court considers President Obama's immigration programs
US delivers aid to Japanese village after earthquakes
Heavy rains cause flooding in Houston
Brazil's lower house votes for impeachment
When it premiered in 1989, Inside Edition featured highbrow news, investigative reporting, and the hosting prowess of legendary British newsman David Frost. He was soon replaced by lead reporter Bill O'Reilly, whose six-year anchor stint produced one of the most delightfully rewatchable viral videos of all time. Its authoritative ethos was quickly abandoned, and ever since 1995, the trash barge has been captained by Deborah Norville.
On the first day of my experiment, Diane McInerney, a chipper blonde with a comically long neck and a blissfully vacant smile, is subbing for Norville. She grins her way through a series of stories about people in the Heartland experiencing adversity ("A brave woman shot by the crazed Uber driver speaks out today, and says all she wants is to walk again") and virality ("I've been driving cars for 50 years. I've never had one drive me!" says the 70-year-old granny behind the wheel of a car on autopilot in "the video that's charming the nation!").
A story about a 1986 Cutlass Ciera, previously owned by Hillary Clinton and now sitting in the driveway of a former White House gardener ("His last name is really Lawn!" the anchor exclaims), is given far too much airtime. The gardener's daughter, contacted via Skype, recalls being aghast by the interior of the 30-year-old vehicle her father purchased for her to putt around in during high school. "No offense to Mrs. Clinton, but [it's] just not my style," she proclaims.
Later that night, my friend asks me, "Did you hear what Trump said today?" I did not. Apparently, she tells me, he referred to 9/11 as "7-Eleven" in a speech and didn't correct himself. I tell her that I'm trying not to hear news that isn't given to me via Inside Edition this week. She is apologetic... until we both realize that Inside Edition will no doubt deliver this news to me the next day. Crisis averted.
Tuesday, April 19th
Inside Edition top stories:
Daytime TV viewers in shock as Michael Strahan says he's leaving his show!
Everybody Loved Doris!
Donald Trump's 9/11 slip-up!
Elvis… and NIXON? Now, the story behind the legendary photo!
AP top stories:
Voting begins in New York primary
More rain possible for flooded Texas
Deadly attack in Afghanistan
Earthquake rescues in Ecuador
Diane McInerney is hosting again; she looks tired, sallow, and gray in the face. I'm worried. About Deborah Norville. Where's Deborah?
The story of Michael Strahan leaving Live! With Kelly and Michael is treated as though it is the story of God abandoning mankind; the death of Doris Roberts takes a backseat to what feels like eons of speculation on Strahan's future plans. Doris is eventually given a touching tribute, though, in which she is described as a "friend of Inside Edition." In 2001, the show talked to her about her battle with severe acid reflux. She will be missed.
In other news, "It's a medical crisis for Sofía Vergara's husband," who's actually also famous. His name is Joe Manganiello, he was in Magic Mike, and he has appendicitis. An interview with Vergara's ex, Nick Loeb, who is suing her for ownership of their frozen embryos, is tacked on to the end of this non-story. Loeb's taken up acting now, starring in the film Precious Cargo. And he's willing to take his case against Vergara "all the way to the Supreme Court!"
True to form, Inside Edition comes through in informing me that Donald Trump had a "bit of an oops moment," but that's all I currently know about America's political climate, as my vow of CNN abstinence has rendered me unable to even glance at the results of the New York primaries. Every morning, I sigh and delete my daily email from the LA Times, as it contains news, and I cannot consume news that isn't disseminated via Inside Edition.
Wednesday, April 20th
Inside Edition top stories:
Is Kelly Ripa on strike? She's a no-show at today's show!
Huge win for Trump!
The Prince George photo the whole world is talking about!
She's been eating Ruffles potato chips every day for the past 20 years -- how they saved her life!
AP top stories:
Clinton, Trump win New York
Utah declares pornography health crisis
President Obama meets with Saudi king
Three charged with crimes in Flint water crisis
I must wait to hear the results of the New York primary, as Inside Edition's lead story is, once again, dedicated to the saga unfolding behind the scenes of Live! With Kelly and Michael.
"Is Kelly Ripa boycotting her own show?" the anchor asks breathlessly. According to reports, Ripa called in sick because she's livid her co-host is leaving. An adult male with a lisp who writes for the internet says Kelly "threw a fit" and is "very, very hurt." My mind literally shuts off halfway through the story, desperate for air and relevance.
Next, a fitness coach is found brutally slain inside a church. Her killer was caught on surveillance video wearing tactical SWAT gear. But could the killer… be a woman?! "There's a lot of speculation based on gait" that it could be. Said gait is described as a "waddle."
Finally, I learn the results of the primary. It's a "big win" for Donald Trump, which elicits even bigger smiles from Diane. The program dedicates more time to the eventual freeing of a squirrel trapped in a wall ("That's one happy squirrel!" Diane, grinning like an idiot, says upon his release) than to its story about the primary, which mostly focuses on the fact that, due to Trump's landslide victory, "former Dancing with the Stars contestant" Marla Maples is now eligible to receive Secret Service protection. Secret Service protection has never been extended to an ex-wife before, for obvious reasons.
Little attention is paid to the Democratic candidates, other than a brief (and by "brief," I mean less than 10 seconds) mention that Clinton won. Approximately three minutes of airtime is dedicated to the existence of a woman who, in the process of eating Ruffles ("Ruffles… you know, the potato chips with the ridges," the anchor clarifies), discovered she had tonsil cancer.
Thursday, April 21st
Inside Edition top stories:
The shocking death of a music legend! Could he have died from a terrible case of the flu?
Kelly Ripa's great escape!
Wrestler Chyna! Gone too soon!
Donald Trump's surprising message to Caitlyn Jenner!
AP top stories:
Obama meets Gulf leaders
Trump blasts Clinton by quoting Sanders
Houston flood rescues
Border tunnel discovered
Prince has died; the news is inescapable. Diane is wearing an understated black blazer, presumably in mourning. His ex-wife "was photographed hearing the terrible news," and Demi Lovato wrote "OMG" on Twitter in response to the legend's death. Grainy, pixelated Instagram footage of Prince, shot from a distance on a smartphone, is played in between interviews with whichever talking heads could be procured on such short notice.
There's "also sadness over the loss of another big name" -- former professional wrestler Chyna, found dead of a presumed overdose in her Redondo Beach apartment. But, more importantly, "Kelly's a no-show… again!" caught by paparazzi avoiding her daytime hosting duties. "And what's that book in her hand?" the anchor asks. The book in her hand is David and Goliath by Malcolm Gladwell. We are told there is something to be learned from this.
Friday, April 22nd
Inside Edition top stories:
Prince's women… in mourning!
The Ted Cruz dead ringer!
The Kelly Ripa saga… day three!
The classic sitcom Three's Company… wait until you hear who Suzanne Somers wants to play her on the big screen!
AP top stories:
Preliminary autopsy completed on Prince
Eight dead in Ohio Shootings
Obama criticizes North Carolina "bathroom law" as discriminatory
Kerry signs Paris Agreement at UN
We're learning more about the shocking and untimely passing of Prince -- was it the flu or drugs that took his life? Dr. Drew Pinsky has his own hot take. ("Don't BS me with flus!") We've also learned that Prince feared elevators, which is why his friend found it "haunting" that his body was found in one. The same pixelated Instagram video of Prince performing "Purple Rain" shown yesterday is replayed today.
After a brief story about Prince's former protégés ("His appetite for beautiful women seemed insatiable!"), attention turns to a woman who looks like Ted Cruz. "No, this is not Senator Ted Cruz dressed in drag," the anchor tells us -- it is, rather, a sad woman from Mississippi who was first discovered on Maury trying to find the father of her child. Talking via Skype, she tells Inside Edition that she sees no resemblance between Cruz and herself; nevertheless, she says she'd like to meet him in person, despite the fact that she had never heard of him before she went viral.
Meanwhile, the Live! With Kelly and Michael drama heats up. Some speculate that Kelly may never return! And Suzanne Somers tells Inside Edition EXCLUSIVELY whom she wants to play her in the Three's Company movie! (Turns out it's her own 20-year-old granddaughter. Small world!)
Diane turns her enormous, shit-eating grin off, a complete 180, changing her attitude from bubbly and excitable to respectful and pained. I refuse to believe that anyone can be upset with that much lip gloss on. "We'll leave you with this," she says, "an incredible scene in Downtown Minneapolis." Footage of people holding their cellphones aloft and nodding in time to "Purple Rain" plays over the credits. Said footage is grainy and nearly unwatchable.
I turn it off and immediately visit the website of the New York Times, opening tab after tab of world news like a ravenous addict. Ultimately, there was more overlap between Inside Edition and the AP than I might have anticipated; the former was usually just a day late. (The celebrity death industry does blockbuster numbers, after all.)
Yes, I may have learned a lot in a single week about cancer prevention tactics, the elderly, and Michael Strahan, but in an election year especially, closing myself off to the grittier realities of the outside world proved to be downright dangerous.
Sign up here for our daily Thrillist email, and get your fix of the best in food/drink/fun.
Megan Koester is Thrillist's senior Hulu correspondent. She's glad Ted Cruz's female doppelganger, with the help of Maury Povich, finally found the biological father of her child. Follow her on Twitter: @bornferal.