Paid Content For
Hotel Thrillist
Trumpet Legend Irvin Mayfield On Why New Orleans IS Jazz
Paid Content For
Hotel Thrillist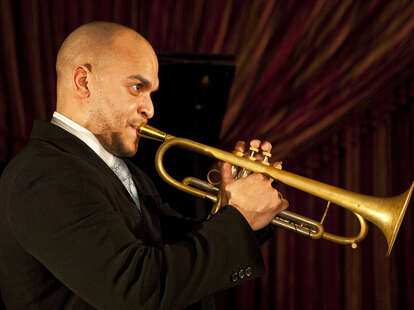 Courtesy of Playhouse Media
Jazz is one of those genres where if you "break," you're there for life; living, touring musicians can be considered legends and cornerstones of the entire genre's trajectory. Trumpeter Irvin Mayfield, proprietor of Irvin Mayfield's Jazz Playhouse at the Royal Sonesta New Orleans, and recent representative for President Obama's Council For the Arts, is one of those guys. And he contends that his home city isn't just a cornerstone of jazz -- it is jazz. We asked him why that is, and the best places to check out New Orleans jazz on your own.
New Orleans jazz is singularly important
For Mayfield, there's no point pitting New Orleans against other prominent jazz markets. "There is no comparison. New Orleans is the birthplace of jazz.
"The people migrated out of New Orleans and went to Chicago first, then New York, and then the west coast. When you look at the trajectory of American music, there's a relationship [with other cities], but again, there's really no comparison."
"No other city in the world can match [New Orleans] from a cultural and music standpoint."
"It wasn't really until I started recording these records on-location -- in Cuba, Haiti, Jamaica -- that I recognized that New Orleans is special," says Mayfield. "We have a unique American experience. You don't have 'Tennessee music' or 'Nashville music'. New Orleans has its own jazz dialect, there's the New Orleans clarinet, the New Orleans-style piano. No other city in the world can match [New Orleans] from a cultural and musical standpoint."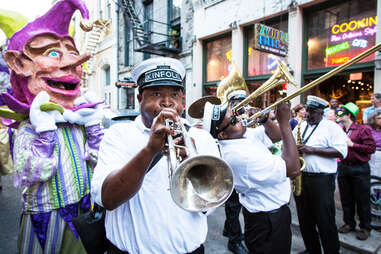 The city's history plays a huge part
The reason New Orleans stands in the same cultural category some entire states and nations, Mayfield tells us, is because of its unique history with the slave trade. "Africans had a tremendous amount of freedom in new Orleans," Mayfield says, "They were the first true Free People of Color, and that's what makes the music. For instance, in Trinidad, the slave owners were very restrictive over drums, so musicians had to make drums out of steel cans (hence: the steel drum). New Orleans music presented such an opportunity of freedom that the first, indigenous jazz sound in the 1800s was allowed to develop freely."
So does the cultural mix
"Native Americans gave us the tom toms as the first sort of drumset, so New Orleans was the birthplace of the modern drumset," Mayfield says. "Add that to the French, Spanish, and English-speaking settlers, plus the Africans performing as free people, and you get a really democratic experience that plays out in the music."
He goes on: "It plays out culturally, it plays out in the food, you can taste it in the gumbo, it plays out in how we celebrate Mardi Gras. There's no experience like it outside of New Orleans, because of all the other-world influences that were allowed to stay."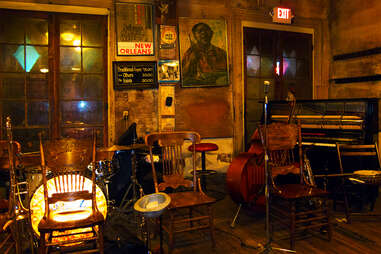 It still all comes together in today's jazz clubs
Mayfield turned us on to a veritable treasure trove of clubs that you can still access every night of the week. Tuesdays at the Maple Leaf Bar draw in the youth for serious, danceable live jazz. "It's a bunch of college students who are dancing for their life, with musicians playing tuba, trombone, bass drum, the Rebirth Brass Band" says Mayfield, "And it's 11/11:30pm on a Tuesday!"
"Another place to go to is Snug Harbor. Every Friday Night Ellis Marsalis, who's 82 years old, is playing at 8:00pm. Every Friday. He used to be the chairman of Jazz Studies at the University of New Orleans. He's not playing the piano on Friday because he has to. He plays because he wants to, and that's some fundamental New Orleans shit."
"Then you got Kermit Ruffins (who was on HBO's Treme). He has the Mother-In-Law Lounge on Claiborne Ave," Mayfield continues. "He plays with his band the Barbeque Swingers, and when they gig, they pull up with a big ass grill that's connected to his truck. And he grills and makes red beans and rice for free for everybody." (Southern Hospitality -- it's not just a restaurant Justin Timberlake owns in New York.) "And then there's Preservation Hall! Foo Fighters recorded there, My Morning Jacket recorded there. And even though it's so huge, you can still get in for 25 bucks!"
Mayfield reluctantly closed his list (because he said he'd be rattling off venues for days) with the House of Blues. "It was the first truly built House of Blues… the founder of that and Hard Rock wanted to bring the provision to New Orleans 25 years ago, and that was a big deal."
"A lot of people come to New Orleans and look for jazz, but it's all over. You've got to open your eyes."
Mayfield's newest club at the Royal Sonesta New Orleans is a big statement
Mayfield is no stranger to opening jazz clubs -- his first spot was on the 33rd floor of the World Trade Center. "When I started with Sonesta… we thought it would be interesting to have jazz in the center of a hotel right on Bourbon Street," he says. "On Monday nights, we have the oldest continuous jazz band in the world, The Original Tuxedo Jazz band. We have burlesque on Friday nights with a live band. We have the best jazz singer in the city named Germaine Bazzle. There's different shit every night."
But when it comes to bringing NOLA to the world, Mayfield is at the center of it all
We couldn't let Mayfield get off the phone with filling us in about his role on Obama's Council. "By the time I got nominated and approved under President Obama, it was a given. When the president calls, you answer. It's an opportunity to really see what we're doing with the arts from a global standpoint. And while I always think of New Orleans as unique, I have to say there are so many other really great cities that are into these things, and what I learned is that anybody great can come from anywhere. In places like LA, Harlem, even Minneapolis. It really opened me up."
And Mayfield's final takeaway on the scene?
"A lot of people come to New Orleans and look for jazz, but it's all over. You've got to open your eyes. It's not gonna be as simple as just a tourist or visitor attraction. Open your eyes and get with the culture."