Is Taron Egerton Really Singing as Elton John in 'Rocketman'?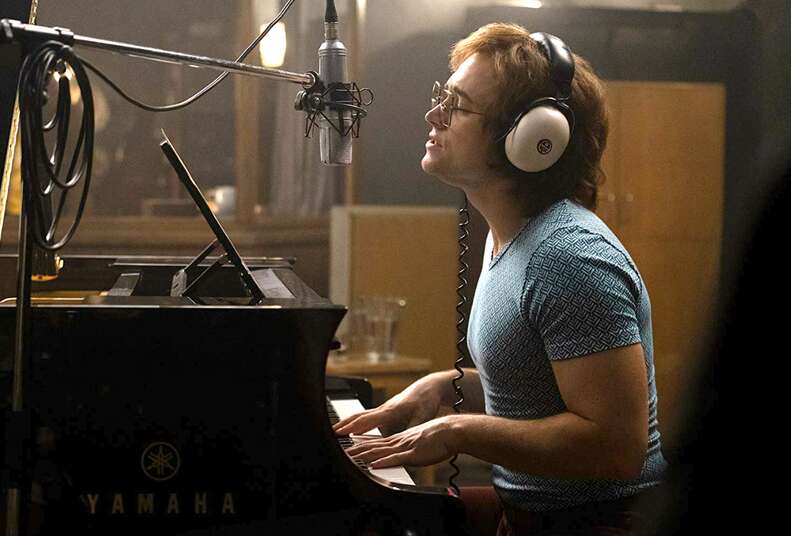 Rocketman is no Bohemian Rhapsody. The movie's creators want to make that very clear from the start. Yes, it's a musical biopic about one of our most iconic rock/pop stars; yes, it's set in the '70s and '80s; yes, it's directed by Dexter Fletcher (who finished BoRhap after Bryan Singer was fired); and, yes, the star dons a menagerie of outlandish outfits to set himself apart from the rest.
But there's one key difference: unlike Rami Malek, who lip-synched most of Queen's songs with the help of a Freddie Mercury sound-alike, Taron Egerton, who won Best Actor in a Musical or Comedy at the 2020 Golden Globes for playing Elton John in Rocketman, is actually singing all of Elton's songs.
Yes, Taron Egerton has the range. If you recall, he starred in Sing, in which he played a gorilla who would rather be a rock star than follow in his gangster father's footsteps, and during the movie's climax, he actually sings the classic Elton John song "I'm Still Standing." He and John have known each other since the singer had a cameo in Kingsman: The Golden Circle, and Kingsman director Matthew Vaughn announced that he was interested in perhaps producing the long-gestating Elton John biopic, as long as Egerton was in it. A few months later, negotiations were done, and Egerton signed on, stepping into a role that, in the past, had been circled and contemplated by the likes of Tom Hardy and Justin Timberlake.
Since then (ramping up after Bohemian Rhapsody became an Oscar contender, and eventual winner for Malek), the stars have done all they can to emphasize the fact that it's Egerton's voice you'll be hearing belting out "Tiny Dancer," "Bennie and the Jets," and the rest. He clangs "Crocodile Rock" while nearly doing handstands on his piano during his first concert scene, croons "Don't Go Breaking My Heart" in a recording studio with Kiki Dee (played by Rachel Muldoon), and even shares a duet of "Honky Cat" with Game of Thrones' Richard Madden. Egerton and John recorded a new song together for the movie's soundtrack called "(I'm Gonna) Love Me Again." They even shared a duet at the afterparty of Rocketman's Cannes premiere.
"I don't sing anything," John said in an interview with Egerton. "Taron has re-recorded all the songs that are in the movie." So, that means Egerton himself sang them in a sound studio before performing them on camera; this isn't a Les Misérables scenario or anything, in which he's singing and being recorded live as the filming is taking place. John also complimented Egerton's version of "I'm Still Standing" he did for Sing, which he sings again in Rocketman. In the above featurette, Giles Martin, the music director for the movie, even said that Elton John had told him, "I don't think I've heard anyone sing my songs better than Taron," which is pretty much the highest praise an actor can get. At least, an actor who's actually singing the songs of the artist he's portraying.
Emma Stefansky is a staff entertainment writer at Thrillist. Follow her on Twitter @stefabsky.